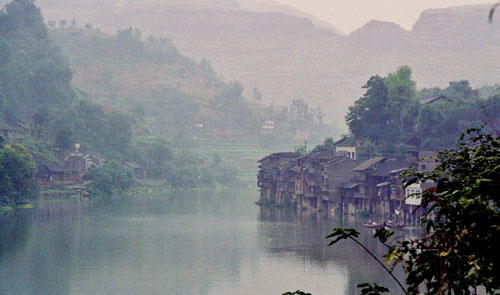 The early morning mist and heavy cloud cover bestowed an eerie atmosphere over Chong'an. The river was motionless and silky smooth like a millpond. The town and the surrounding scenery seemed as if suspended in a landscape painting. Silence reigned. Then there was a shout, a curse and the haggling began. Chong'an Market was open for business.
CHONG'AN MARKET PRACTICALITIES:
Coming and going: We visited Chong'an from Zhenyuan in a car we had hired. The trip took about two and a half hours as we stopped at a few places on the way and back. However, if you are using public transport, then it is better to travel from Kaili, from where regular buses leave throughout the day.
Accommodation: We saw a couple of nice and simple guesthouses with signs welcoming foreigners near the wooden suspension bridge. Near this area there are also a number of interesting looking paths leading off into the green hills, towards other Miao villages.
Food: There is a food ally in the market, selling noodles and other simple dishes. The other speciality here is, as in most Guizhou small towns, dog hot pot.