Helanshan Yanhua (贺兰山岩画)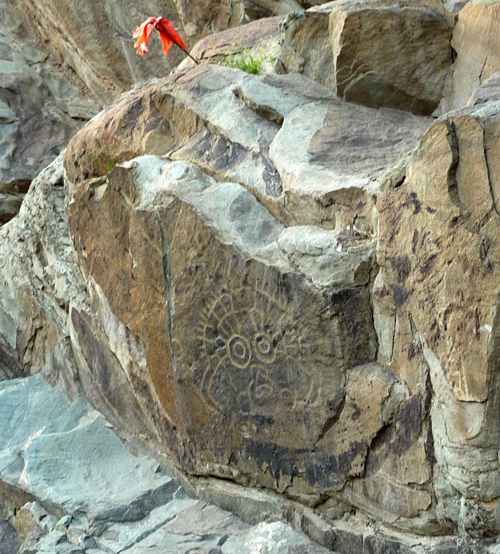 Yinchuan & The Helan Shan Rock Carvings 贺兰山岩画
Helan Shan Rock Carvings or the rock paintings of Helanshan Yanhua贺兰山岩画, are said to date back 10,000 years. They were our last stop of the day and we have to hurry to get there before they close. Here as well, the local authorities have made a huge effort and developed a major tourist reception center, complete with a brand-new museum and little electric trains to take visors out to the rocks (with ticket prices to match).
On the positive side, the site buildings are all housed in tasteful, beige cubes that blend in very well with the countryside.
Helan Shan Rock Carvings: The Striking Canyon
The striking canyon cuts deep into the Helan Shan range and has its own small river running through it, and even a small waterfall. The whole place is exceedingly atmospheric, particularly in the late-afternoon light, and the carvings are well marked by arrows and explanatory signs.
However, unless you are an expert in primitive cave art and rock paintings, the pictures might leave you somewhat underwhelmed. With so much restoration going on in China, the thought did cross our minds that local school kids might be responsible for some of the art here…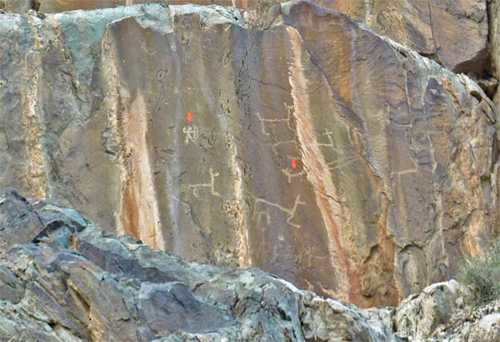 Helan Shan Rock Carvings: Practicalities
Entrance ticket: 60 RMB
Opening hours: 08:00-18:00
Getting there: You can take No.2 Bus from Xinyue Square to get there directly. Alternatively, you can hire a car at the Zhenbeipu West Studios, which costs around 30 RMB and takes about 15 minutes to get there.
Other Sights
Helan Shan (贺兰山) / Suyukou guojia senlin gongyuan (苏峪口国家森林公园)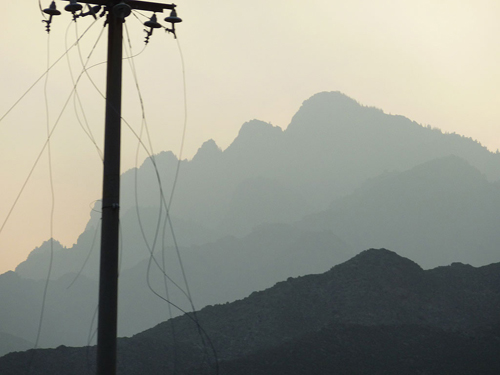 Unfortunately, we didn't have enough time to visit the Suyukou National Forest Park, the entrance to which we passed half-way between the pagodas and the rock carvings. This was a real pity, as the scenery looked spectacular.
Practicalities:
Entrance ticket: 40 RMB per person, 45 per car; museum 20 RMB
Cable car: 25 RMB single / 45 return
Access: 6 kms past the Pagodas
Getting there and away: there are tour buses from Yinchuan's north bus station between May and October, departing when they are full ( 30 RMB return).
Western Film Studios (镇北堡西部影城)
Nor did we have enough time to visit the Western Film Studios; another one of Yinchuan's highlights, with over 300,000 visitors a year.
A bit of background
Western Film Studios
Like the rest of Yinchuan, these film studios have an interesting history. On the site, there used to be a Ming fortress, Zhenbeibao, or Pacify the North Fortress, built to block the Helan's main pass. Eventually, this Ming castle was shattered by an earthquake in 1739. In the Qing Dynasty, a new castle was built next to the ruins of its predecessor, only to be abandoned in 1958.

As it happened, renowned author Zhang Xianliang lived nearby and mentioned the forts in his writing. Apparently, a few scenes of the film 'The Herdsman', based on one of his short stories, were shot here. The film director Zheng Junzhao (member of the so-called Fifth generation) thought the place would be a good setting for his film 'One and Eight' (1984). His then cinematographer Zhang Yimou (张艺谋) shot parts of his own film, 'Red Sorghum', here and in 1992 helped convert the place in a 'film city'.
These days the Western Film Studios are apparently a somewhat confusing mix of the authentic and the make-belief: an authentic Ming fortress housing fake film decors, some of them including real antique furniture and implements dating from various epochs…
Practicalities:
Add: Zhenbeibu, Yinchuan
地址:银川市镇北堡
Entrance ticket: 60 RMB
Opening hours: 08:30-17:30 (winter); 08:00-18:00 (summer)
Getting there: It's best to hire a local driver to take you there and wait outside for you for 3-4 hours. Otherwise, a minibus leaves from Wenzhou Shangcheng (温州商城) in Daqing District.
Further reading
For film buffs, there is a nice article about the film studios on this blog:
http://yourenotfromaroundhere.com/blog/2011/06/23/zhenbeibu-china-west-film-studio-yinchuan-china/
For people interested in history and travel, much of the information about the Yinchuan Tombs, the Xi Xia Empire and the Western Film Studios was based on John Man's books, The Great Wall, published by Transworld Publishers, 2008, and Genghis Khan, published by Transworld Publishers, 2004.Further details can be found on various Internet sites, such as the Wikipedia.
The Great Wall in particular makes a wonderful travelling companion for people exploring Yinchuan and its surrounding areas. The book closely links Yinchuan to the history of the Great Wall and many of the sights you can visit are mentioned in it. Genghis Khan , on the other hand, is especially interesting for people travelling around Mongolia, Inner-Mongolia and even Russia.
If you want to read more about Yinchuan and its tourist attractions, here is another site with interesting information:
http://www.echinacities.com/yinchuan/city-life/must-see-sites-and-attractions-in-yinchuan.html
Last but not least, for anyone interested in literature, Zhang Xianliang's book, 'Grass Soup', makes for fascinating reading. 'Grass Soup' is an autobiographical novel, based on the diary the author kept between July 1960 and March 1961, while he was doing time in a labour camp in western China.
It is beautifully written work that seamlessly mixes dry humour and irony with touchingly poetic scenes.
Click here for where to stay and eat in Yinchuan