The Badain Jaran Desert (Mongolian) or Badan Jilin Shamo 巴丹吉林沙漠 (Chinese) is desert a landscape copied and pasted straight from the ancient tales of Chinese mythology. Humongous sand dunes, herds of wild Bactrian camels, shimmering lakes and a gold roof temples dot this spectacular and mysterious land.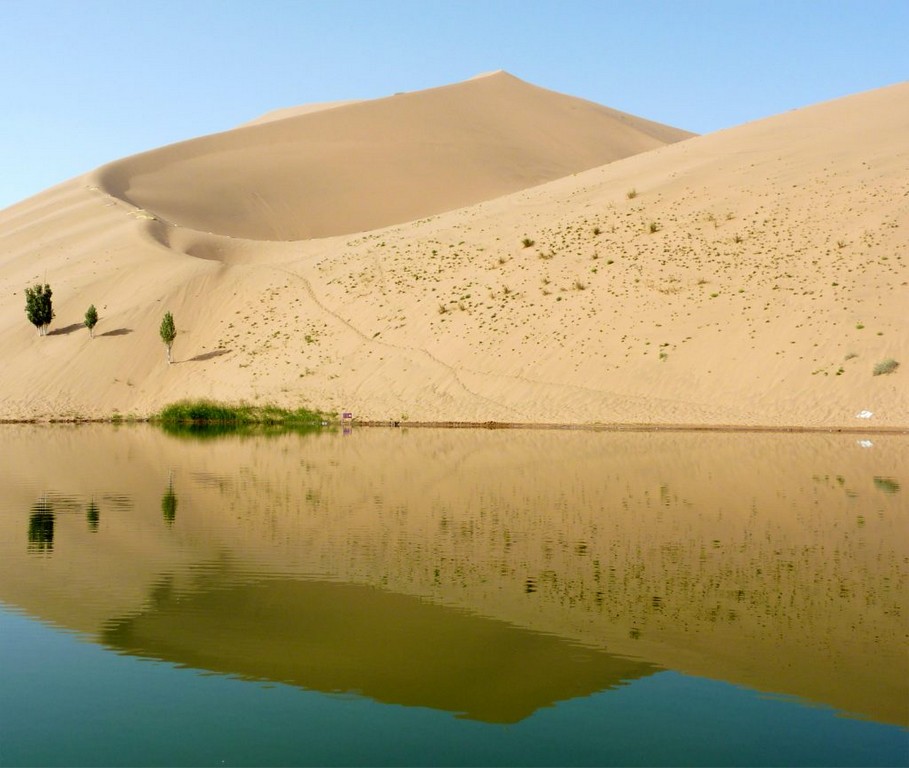 The new bus station looks a lot like an airport terminal and there isn't much in it yet. The bus, however, does leave on time (7.20 am) and that's the main thing. It fills up completely, of course, and our seats are quite far to the back, but overall it's ok.
We start off on the brand-new motorway we had been on yesterday – and it's still empty – but soon we turn onto an older road. All around us there is an ugly, greyish desert and lots of empty space.
The only exotic element is provided by the camels of which we now see whole herds, on both sides of the road.
Can there be too many Camels?
In fact, there are so many that even their exoticness wears off eventually. Toilet stops are few and far between and usually on the primitive side: often there is no toilet, just a bush, dip or hollow to hide behind or in, which is preferable because it's cleaner.
Bayan Hot to Alashan Youqi: The Pit(s) Stop
We stop for lunch at an authentic Wild-West village, consisting of a single, wind-blown street, lined by pinkish-grey mud-brick houses. The toilet is an insalubrious rickety hut and most women prefer to squat behind a small hill instead.
The highlight of social life around here is the one and only grocery shop, run by a fairly attractive young woman, which also sells beers, sweets and ice creams and hosts a pool table. Lunch, a filling set meal of mostly vegetable stews and rice, is not bad though.
It's Hot
Towards the end of the ride we all grow hot and weary, with headaches from being bounced about on the bus. Adam as our tour leader suffers another scare as we briefly stop at a dusty, one-street town with not a single hotel in sight. Could this be Alashan Youqi? Fortunately, we soon realize that we're not there yet; our bus is just delivering the mail.
Bayan Hot to Alashan Youqi: Arrival at last
Eventually, shortly after 14.00, after a seven- hour ride, we roll into the Alashan Youqi bus station, which seems to be on the outskirts of town. To our relief there are a couple of taxi drivers, waiting for passengers to disembark, so some visitors must get off here…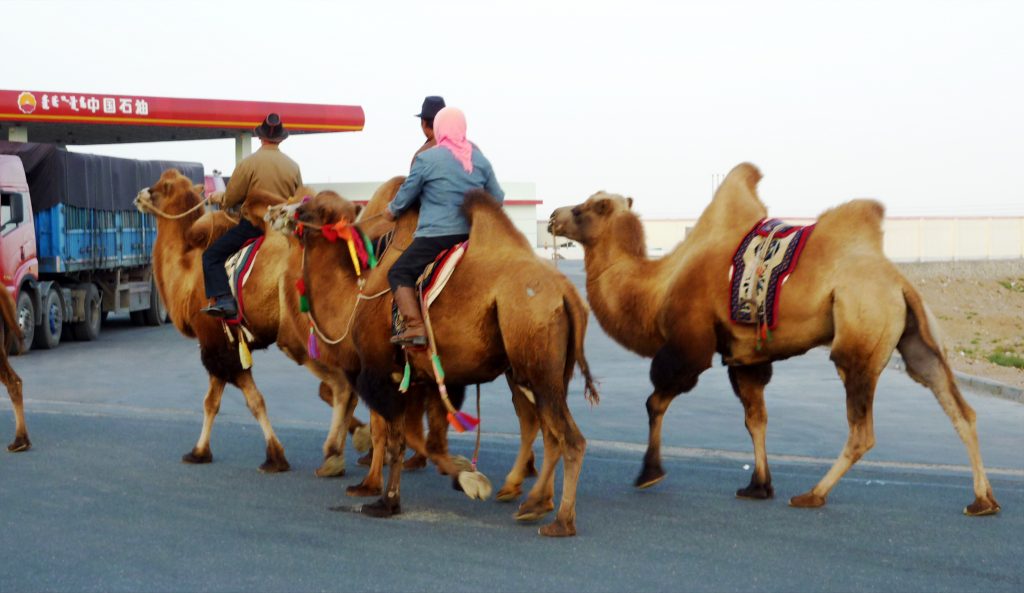 While David and I approach the drivers (actually he does, as he speaks fluent Chinese), Adam (he also speaks fluent Chinese) heads straight for the ticket window to enquire about buses out of town. It's amazing how travel in China sometimes seems to consist of arriving in a place, only to queue up and buy a ticket out straight away…
Adam establishes that there are two daily buses out of Alashan Youqi, but tickets can only be bought a day in advance. Meanwhile, David has gotten us a driver who will take us to a hotel and put us in touch with the agency that organises the desert trips. Obviously, the Chinese, savvy as they usually are, know exactly why we are here.
The first hotel the taxi driver takes us to is a 'Holiday Inn', though we suspect it's not the real thing. Even so, at 360 Yuan a double we decide it's too expensive, so we ask him to drive us to the second best option. This one , the Yangguang Hotel (阿右旗阳光宾馆 ), is willing to give us a little discount, from 280 to 260 Yuan, as long as we accept that we have to check out after two nights. After that, they claim the hotel is fully booked!
Meanwhile, our taxi driver has phoned his friend, the desert jeep driver, who in turn has phoned the agency he works for. Said jeep driver, plus a young girl from the agency turn up at one of our rooms, and the negotiations begin. Initially, Adam is shell-shocked to learn that the excursion will cost us 2,000 Yuan, regardless whether we do it in one, or two days. If we choose to take a one-day trip, we'll just have to leave earlier and drive more, but we'll see the same places.
Additionally, we'll have to fork out 200 Yuan each for permits. In return, the agency is willing to book our bus tickets to Zhangye, for the modest sum of 10 Yuan each. As there seems to be no space for bargaining we accept the one day package, and clearly indicate that we also want them to book the 8.30 bus to Zhangye for us, and not the 15.00 one.
Once the deal is concluded, we kick back with a couple of cold beers, for there is precious little else to do in town. When we go out for dinner, we find that Alashan Youqi also goes in for the coloured party lights, illuminating all buildings at night; must be a regional thing.
The nearby recommended restaurant claims they are full; it is of course the Moon Festival. Thanks to a friendly local shop owner we end up in a cheerful newish place where family groups are enjoying themselves in curtained off cubicles. This time David goes for huge chunks of braised lamb, with much gnawing of bones. It's funny, but we'd never realized just how big a carnivore he is.
The Badain Jaran desert
The big day has finally come; we are going to visit this desert Adam's been dreaming of, the one that is supposed to have the highest sand dunes in the world!
The jeep driver
The jeep driver is already waiting for us in reception at 7.30 am. He's a small, thin man with slicked back, black hair and large sunglasses, a bit like a jockey. Though Han Chinese, he is a local man who can speak Mongol; a sign of integration we're very impressed with.
The jeep is a closed vehicle, complete with seatbelts and a reinforced metal frame on the inside; not the open, glorified little buggy I had expected. We'll soon find out just how necessary a decent car is around here.
No Permits
As we're approaching the police check post on the edge of town, the driver tells us that the agency hasn't been able to get our permits – because it's a holiday – but that he'll persuade them to let us in anyway. And effectively, after a somewhat tense five-minute wait, we are waved on. This also means the agency will give us each 200 Yuan back upon return.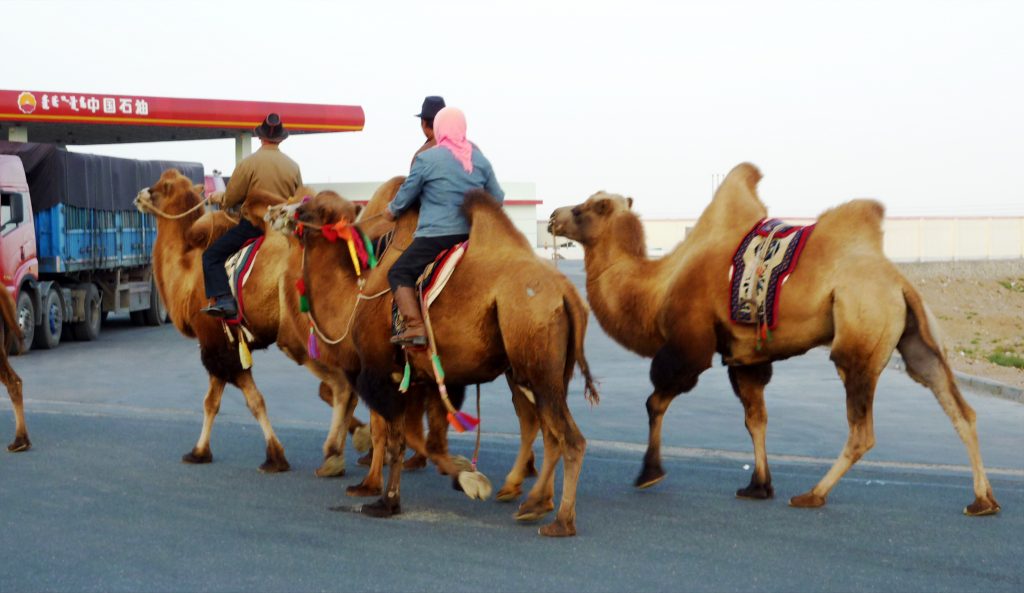 Still on the outskirts of town, and incongruously heading for a petrol station, we pass a group of camels and their riders; the animals are bedecked with ribbons, while their mounts, both men and women, are wearing traditional costumes.
By the sides of the road, we also spy many nomad camps with large groups of horses and camels tethered beside the yurts.
Annual Camel and Horse racing Festival
When we ask about them, our driver tells us they are here for the annual festival featuring horse and camel races, which takes place around the 14th-15th of September. This year, as it's the 50th anniversary of the festival, the event will be even more important. Obviously that's why our hotel is fully booked. What a pity we won't be able to stay!
It takes about an hour to get to the entrance of the Geo Park (the new tourist concept of the year), where we are surprised once again by its state of development. In front of our eyes a huge, gleaming, white and blue building, meant to resemble a yurt, looms up; though it could just as easily be an Arab building, say in Mecca.
The Badain Jaran Desert at Last
This, apparently, is going to be the hotel. Then there are numerous side buildings, including the ticket office and a desert museum, still under construction. A whole fleet of jeeps is parked outside these buildings, but for the moment we seem to be the only visitors.
As soon as we cross the gate, we are in the desert proper, amid the rolling, yellow dunes. It's stunningly beautiful, but what I hadn't bargained for is how scary it is to drive around them! Our little jeep leans sideways, slips, slides and skids, accelerates furiously to go up and brakes sharply on the down slopes. I hold on tightly to the frame, expecting our vehicle to overturn any moment or, even worse, to go spinning down a hill. Adam and David seem to be enjoying it though.
Lakes Dunes and Temples
Our first stop at a small lake, not very far from the entrance, isn't too promising: another large hotel is under construction here, while all around the lake lights, speakers and stages are being put up for the desert music festival that has been held here for the last seven or eight years. As a result, a massive crane, piles of litter and ample evidence of the workers' bodily functions all mar the landscape. We can only hope that all this 'shit' will be cleared up afterwards!
More interesting is the massive head of Genghis Khan that is being sculpted nearby, is if it were sticking out of the sand. It's curious to see the workers walking along his lip, or balancing on his brow, wielding blow torches and various other tools.
After this short intermezzo, the scenery just gets more and more spectacular. Of course, there are many more dunes, rolling away as far as the eye can see; some are rounded, others slightly pointed.
We drive along narrow ridges, cross the occasional area covered in tall grass or thorny bushes, and pass many little lakes, both salt and fresh water.
There is life in the Desert
In some of the lakes there are tiny red creatures, like miniature shrimps, without shell or skeleton. Apparently they are used to feed shrimps and therefore quite expensive. The only other signs of life we see are some small, almost colourless lizzards, the occasional herd of camels or goats, and David sees a scorpion. According to our driver, the desert is also home to rabbits, desert foxes and snakes, but we don't see any of those.
The highlight before lunch is when we stop and sit on a ridge from which we can look out over two lakes at the same time. One of the lakes has a small temple on its shore, reflected beautifully in the deep blue water.
The low point was the actual getting to the ridge, an absolutely hair-raising piece of rally driving which involved charging straight up some steep slopes, almost falling backwards, swerving sideways, left and right, nose-diving down another slope, over and over again, until we finally made it to the top.
Several times I just closed my eyes and commended my spirit to God, Buddha, or any other deity that might be willing to listen. How could I ever have thought this was going to be a gentle roll? No wonder people get injured and die in the Paris- Dakar rally!
Lunch
Lunch is at a simple, but spotlessly clean little inn, run by a jolly Mongolian woman; the place where many of the two-day tours stop for the night. When we get out of the jeep, somewhat wobbly on our feet, we are greeted by two affectionate little goats who seem to like being stroked, while a baby camel shies away from us.
Our hostess shows us round the kitchen where we are amazed and pleased to find a functioning fridge, stocked with cold beers! Afterwards she takes us to the dining room and serves us a tasty vegetable noodle soup, a dish of greens and some boiled lamb for David.
Mongolian and Chinese Relations
Looking around at the many slogans on the wall and the posters of and by local authorities, we realize that the 'dining room' also doubles as the party meeting room for the herding community. All notices are written in Mongolian, in accordance with Chinese policy.
When we ask our driver about the integration policy around here, and whether Chinese and Mongolian people get on, he says that the Chinese authorities are pressurizing the nomads to settle down. He also says that whereas Mongolian children all study Chinese at school, very few Chinese bother learning Mongol. He himself learnt from his play mates when he was a child.
Puking
There is another very hairy bit of driving just after lunch, followed by a low point of a different nature: Adam shouting at the driver to stop the car and then leaping out and puking his guts up! Of course he blames it all on his stomach problems, but if I'd have done such a thing, I'd never have heard the end of it.
Even David is looking a little white around the gills by now. Afterwards, both men have to admit that there were moments….
A final highlight is the stop at the site where a ladder has been laid up a huge dune. Going up is hard, dizzying work, but 'wading' down is great fun. When you step in a certain way, you can make the sand 'sing'.
The End of the Trip
Finally, around 6 o'clock we get back to the entrance. During the whole day, we have seen only one other vehicle, a jeep with Oriental tourists, possibly Hong Kongers. While we are waiting for our driver to put more air into the tyres, we take a look around.
From the information boards we learn that there are actually four different scenic areas and our desert is just one of them. One of the others, called Mandela, has lots of rock carvings, much more elaborate than the ones in Yinchuan.
However, when we ask our driver about the other areas, he says nobody goes there; they are too far and hard to get to. Well perhaps people are not going there yet, but they undoubtedly will in the future, judging by all the infrastructure that's going up around here.
Mafan / Hassle
The ride back into town is relaxing, i.e. not scary, and soon we are driving into the old part of town where we stop in front of a mud brick house, home of the young lady of the travel agency. She is supposed to give us back the money for the permits we never got, plus our bus tickets for tomorrow.
And that is where the hassle starts: she has apparently entrusted the task to another girl who never bothered asking what bus we wanted and just bought tickets for the 15.00 departure. In true Chinese fashion, both ladies deny any responsibility and claim that the morning bus was full… they suggest that we can always hire a car.
After a lot of palaver, it is finally arranged that yesterday's taxi driver will pick us up at 8 tomorrow morning and take us to the bus station to see if there are any seats, and if we can change the tickets. If not, he'll take us to Zhangye for 300 Yuan. Out of principle, we also demand our 10 Yuan booking fee back.
When we get back to the hotel at last, the men are elated; the desert has exceeded all their expectations. As for me, I can honestly say that though it was the most stunning desert I've ever seen, I wouldn't like to get into that jeep again!
Baijiu and a great meal
After washing tonnes of sand out of our hair and ears, we have an excellent dinner at the hotel restaurant. Among other things we have delicious strips of lamb seasoned with cumin and cooked on a hotplate and…. All the staff and the few other diners stare at us. A somewhat inebriated official, probably here for the festival, comes over to shake our hands and thank us for visiting his region.
When we've finished eating he returns with a couple of mates, all in various stages of drunkenness, and tries to persuade us to join his private party in a side room. We manage to get out of it by promising that we'll drink one glass of baijiu with them and they will sing one song to serenade us, and that's what we do. Fortunately, the baijiu is expensive stuff which means that even I can drink it without my eyelids beginning to twitch, and the song is quite funny.
After this, we make a quick exit before they can drag us into their room, from where we can hear loud voices and more singing. David, who has a liking for baijiu, is looking somewhat wistful, but we're glad to get off so lightly.
Alashan Youqi practicalities:
Getting there and away:
There is a daily morning bus 7.30 for the 7 hour return trip to Bayan Khot (Alashan Zuoqi 阿拉善左旗). Coming the other way the bus from Bayon Hot to Alashan Youqi that leaves at 7.20 in the morning, buy your ticket the day before.
If you are moving on to Gansu, there are two daily connections for the 3 hour trip to Zhangye in Gansu province at 8.30 and 15.00, as well as a 10.00 bus to Shangdian Shan from where there is plenty of onward travel to Zhangye, Wuwei or Lanzhou.
Getting there from Zhangye: In the other direction, there was an afternoon bus from Zhangye to Alashan Youqi 阿拉善右旗) at 15.50. There also has to be a morning bus that should leave Zhangye at around 8.30 as we passed it on the way, at around the half mark of the journey.
Accommodation:
We stayed at the comfortable Yangguang Hotel (阿右旗阳光宾馆 ) for 260 Yuan a night. There were other options, including an even plusher hotel with a name vaguely similar to the Holiday Inn and various cheaper dives. Some of the cheaper places didn't take foreigners.
Places to eat:
Locals recommended a couple of restaurants just up the road from the Yangguang Hotel that specialized in lamb and camel tripe. They were obviously a popular choice as getting a table was far from easy.
However, our best meal came from the restaurant attached to the Yangguang Binguan. Superb and excellently presented dishes came with cold beer. Try the aubergine hot plate (Tiebanqiezi 铁板茄子), fried lamb with cumin (Ziran Yangrou 孜然羊肉) and the delicious onion pancakes (Congyoubing 葱油饼).
Things to do / travel agency:
Even If you travel independently to Alashan Youqi, you'll find that you can only visit the Badain Jaran Desert by taking a jeep; and all jeeps are organized through the Zhufeng travel agency ( 珠峰旅行社) that seems to have the monopoly on trips into the desert. Don't worry about finding them; they'll find you, within minutes of your arrival!
Details: Zhufeng travel agency ( 珠峰旅行社)
Tel-0086-483-6024888/13804736888
Fax-0086-483-6024888
E-mail: badanjiling@126.com
MSN: badanjiling@hotmail.com
Http://www.badanjilin.net
Vehicles cost one thousand Yuan a day for a two day trip. This is the price for a jeep and driver only. If you want to do the same trip all in one day the price is the same, i.e. two thousand Yuan, no negotiating. It is the same route; you'll just be driving for around 10 hours. You can basically spend as many days as you want in the desert as long as you pay the 1000 Yuan a day for the jeep and driver. The jeep will collect you from, and deliver you to your hotel.
Permits and entrance tickets:
Officially foreigners need to get police permits to visit this area. The permits cost 200 Yuan per person and the Zhufeng travel agency takes care of arranging them. However, we visited on the holiday of the Spring- Autumn festival and the Police office in charge of the permits was closed.
At the police check-point just outside town, our driver managed to persuade the police to let us go in anyway, as we had only one day. At the ticket entrance to the Badain Jaran Desert we were asked to show our passports and our driver did a bit more sweet talking, which seemed to be enough (we were quite happy with this hefty saving). The cost of the entrance ticket was 80 Yuan.
Routes
There are various routes you can choose from. We did a route that included various salt and fresh water lakes such as Mystic Spring (Shenquan神泉 / Yinde rituhu 音德日图胡), and the fantastically scenic area around an isolated Mongolian temple (shamo gugong/badanjilinmiao 沙漠故宫 / 巴丹吉林庙). It also gave us the opportunity to view Shamo Zhufeng 沙漠珠峰 the highest sand dune in the world at 400 meters.
Bayan Hot / Alashan Zuoqi to Alashan Youqi and the Badain Jaran Desert/Badan Jilin Shamo (from our diary)
The Route of 2011, Stage 5: By Margie (click here for Adam's version)