Sikou Scenic Area / 寺口风景区 /Zhongwei; Ningxia Province 2011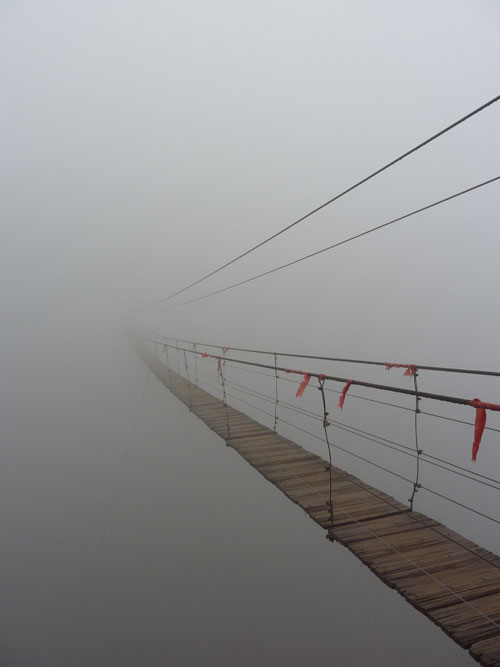 Margie and I looked at each other, looked at the dodgy hanging bridge disappearing into the mist, remembered having seen some missing wooden planks from below and decided no, this definitely wasn't worth it!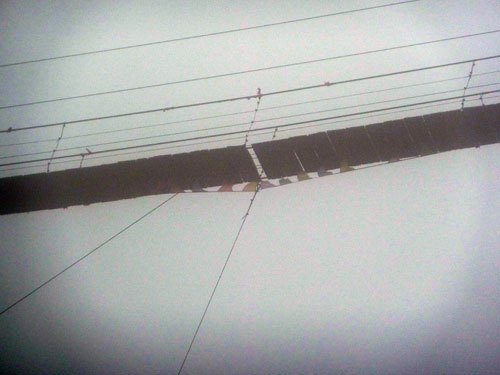 A park ranger offered us a harness, but even that failed to convince us and, apologetically, we beat a hasty retreat.
The Sikou Scenic Area is a striking area of sandstone gorges. It's a fantastic place if you love clambering over rocks and don't suffer from vertigo. If your idea of fun is getting pleasure from clinging on to rusty chains as you scramble along narrow paths, with only a flimsy railing separating you from an abyss of several hundred meters, then Sikou is for you.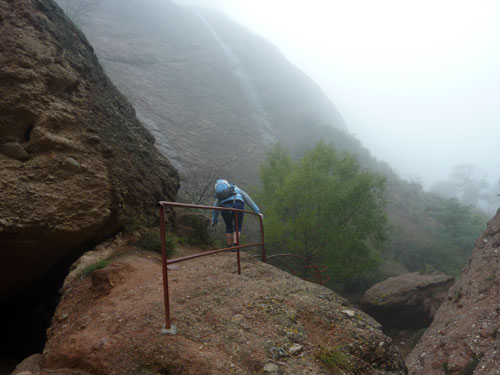 The highlight of a visit to Sikou is crossing the gorge on a near 100- meter long, swaying suspension bridge, a precarious looking structure, made of rusty cables and wooden planks, many of which are  missing. I imagine the views must be spectacular, weather permitting.
However, neither Margie nor I have much of a head for heights; I get vertigo just standing on a chair changing a light bulb. As a result, we found ourselves confined to the bottom of the valley, as all routes out meant some serious climbing with vertical drops.
The paths are narrow and have been hacked into the rocks by hand and, despite wearing gloves, the rusty protection chain often cuts into your hands. We tried various paths, but after a short while we invariably reached a point from where we felt too much vertigo to continue.
Of course the weather didn't help. A dense fog and a persistent drizzle had descended into the valley, reducing visibility to about 5 meters and making the paths damp and slippery. For once, we missed the clamour and banter of Chinese tour groups. If there had been some young girls climbing over the rocks on their stiletto heels, as they tend to do, we might have been shamed into not giving up so easily.
As it was, we were alone and neither of us was able to encourage the other to go on.  Occasionally, through gaps in the mist we could see the path clinging to the rock, hundreds of meters straight above us. We knew we were beaten and after exploring what we could (about 2 hours), we returned to the exit.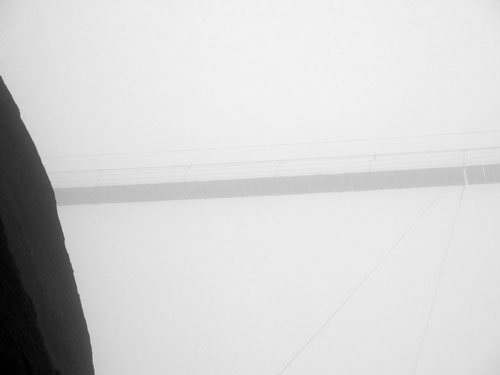 There is a sign at the entrance warning people about the dangers of entering the park. You are advised not to climb up if you:
Suffer from vertigo
Have high blood pressure
Have heart disease
Suffer from Epilepsy
Have a Mental disorder
Are drunk
Are under 10 years old or over 60
If the weather is bad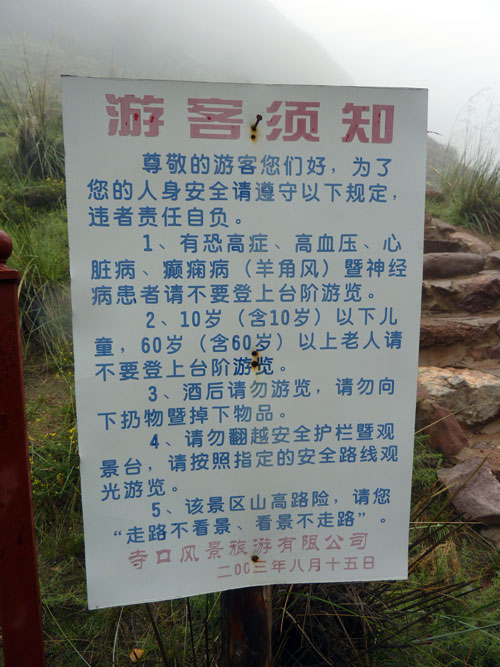 Getting there and away:
We took a taxi from Zhongwei (Ningxia Province) for the 65  kilometre trip to Sikou fengjingqu. It cost 150 Yuan including waiting time. As so often happens when we hire a taxi in China, the driver brought along somebody to keep him company for the duration of the excursion. The previous day the same driver had brought his wife to collect us from Shapotou. On our visit to Sikou Scenic Area, he unashamedly took (a young lady we assume to be) his mistress. He had obviously brought her along for a bit of hanky-panky while we went walking in Sikou.  We caught them in a compromising position, glued together on the front seats of the cab, when we returned from the scenic area earlier than planned. The ride back started in an embarrassed silence until I told the driver we had been charged 5 Yuan for a pair of crappy gloves for holding onto the railings and chains. Such was his indignation that he nearly stopped the car on the outskirts of Zhongwei to turn back and reclaim our money. The gloves supposedly come with the 60 Yuan entrance ticket. We convinced him not to return, as it would be even worse if we now missed the bus to Yinchuan for which we had already booked tickets.
There's no public transport to Sikou Scenic Area from Zhongwei at the moment, but you could join a Chinese tour via a travel agency in Zhongwei.
Zhongwei Practicalities:
In Zhongwei we stayed at the excellent Fengmao Yuan Jiudian  丰茂源酒店 right opposite the  Zhongwei Da JiuDian (which was closed for renovation), a mere 5 minute walk from the train station). A  clean and comfortable wood panelled double with a modern, flash bathroom and a flat screen T.V cost us 160 Yuan.