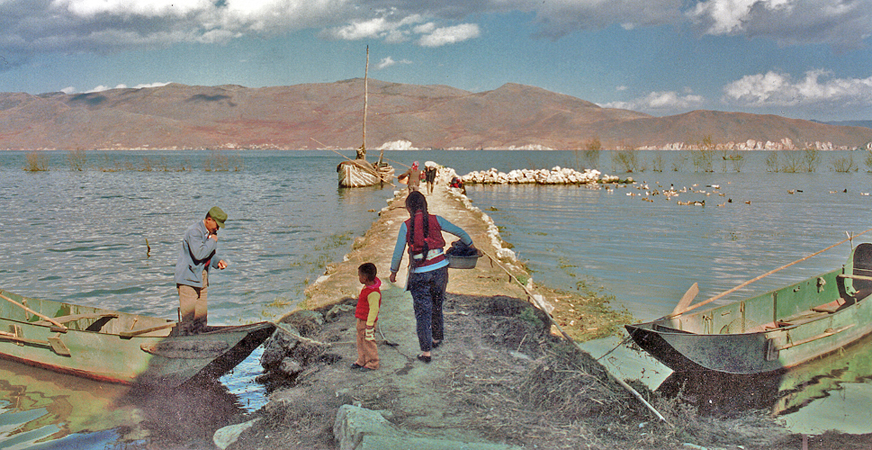 The historic city of Dali, situated on the shores of Erhai lake in China's Southwestern province of Yunnan,  has died and risen again several times during its long history. Kublai Khan's Mongol armies raised it as part of their destruction of the Nanzhao Kingdom. Chinese Imperial troops put the city to the torch when crushing a Muslim rebellion in the mid-nineteenth century. And an earthquake destroyed it again in 1925. After the earthquake, Dali was rebuilt in keeping with its traditional style, a mixture of large Bai courtyard mansions and small wooden shops and stores. Its layout within the old city walls remained the same, and the city was criss-crossed by beautiful flagstone streets. This was the Dali that we found in 1990 and liked so much. But Dali has died again and this time the enemy is probably much more dangerous than anything that came before.  The enemy is called Shangri-la Tourism. My reaction on revisiting the town after 15 years was: Benidorm!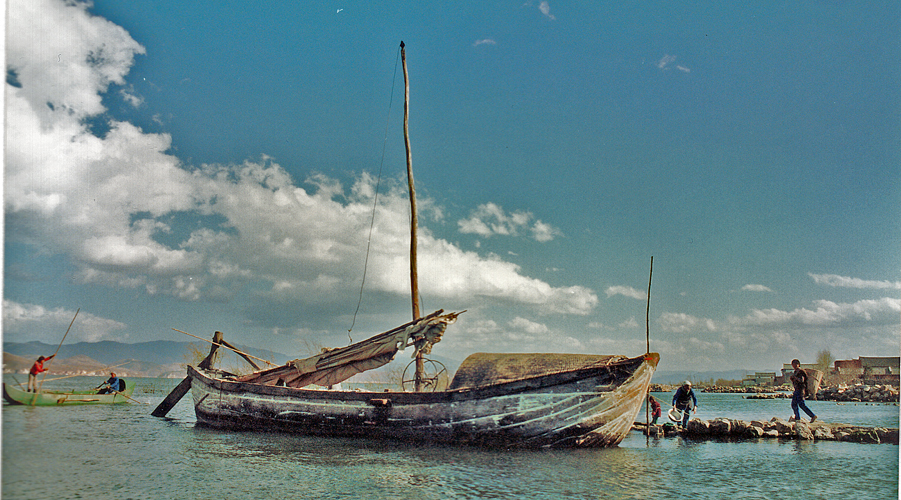 It has to be said that Dali was fairly touristy even in 1990. Hordes of local Bai women used to pursue the newly arrived backpackers down the streets, trying to flog batiks, earrings, hairpins and change FECs (the Foreign Exchange Certificates that foreigners got at the bank instead of the local currency). Restaurants offering the dreaded banana pancake and other so-called Western food were ubiquitous. It wasn't the 'real' China; not even then. However, the businesses dealing with backpackers were generally family affairs run on a small scale, and once you had settled in and the grannies had given up on you as a lost cause, Dali became a pleasant place to chill out, recharge your batteries and recover from the considerable effort of getting there. Moreover, the scenery around Dali was and is spectacular, the surrounding villages beautiful, the local Bai culture (see Xizhou) fascinating and the markets pretty amazing.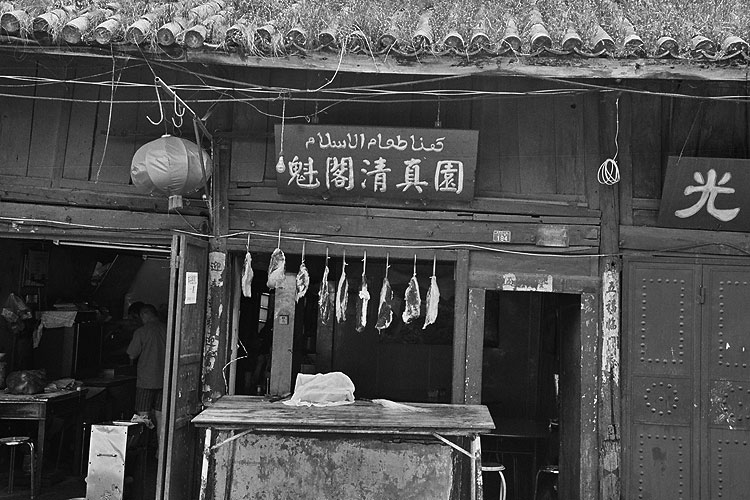 Nowadays, Dali is no longer remote, nor undiscovered: endless tour groups are bussed along brand new motorways from Kunming or Lijiang in a matter of a few hours. The infrastructure improvements form part of the government's wider attempt to boost China's underdeveloped South-West; a cause it is difficult to disagree with. One of the key areas that have been earmarked for development is Tourism which, in this part of Yunnan, means Shangri-La Tourism.
Shangri-La Tourism refers to the promotion of North-western Yunnan as the mythical Paradise-on-Earth, immortalised in James Hilton's book 'Lost Horizons'.  It is an area of small and isolated towns and villages set in a landscape of outstanding beauty and historical interest. The ideal setting, in short, to attract tourists and generate wealth and prosperity. On paper this sounds fine. The problem lies in the implementation and planning.
In order to cater for the invading tourist hordes, much of Dali's original architecture has been bulldozed an subsequently re-built as a new 'old Dali', in a fake Qing style and with conveniently widened shopping streets, lined by tacky souvenir stalls. Heaps of new hotels have opened their doors, alongside a wide variety of Pizzeria's, German Bakeries and English Pubs, advertising Shepherd's Pie and Premier League Football. The streets are thronged by thousands of avid shoppers and obedient tour groups led by screaming guides with megaphones. From the terraces, the scene is observed by an ever decreasing number of misguided backpackers, attracted by Dali's past reputation as a Travellers' Mecca. Grim would be an understatement.
The fear is that now Dali has become oversaturated and lost most of its charm, other unspoilt villages around Erhai Lake, such as Xizhou or Wase, will be designated as tourist destinations. Already, Western tour groups have started avoiding the tourist trap that the Monday market at Shaping has become and heading straight for the Saturday Market at Wase instead. As a result, the central square of nearby Xizhou is under threat of demolition, with a view to modernising and sanitising the town in preparation for the expected increase in visitors.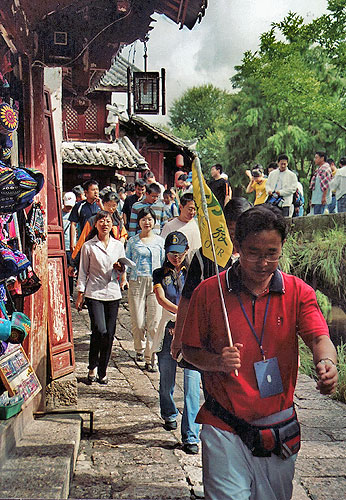 Old Dali has died. Further on, the equally renowned town of Lijiang, the ancient capital of the Naxi Kingdom with its intriguing matriarchal culture and distinctive language, has been mutilated. Once again, it was done in the name of Shangri-La tourism. Development of the Tibetan town of Zhongdian is well under way and, no doubt, Deqin will soon follow. As more and more towns are keen to have a piece of the pie, Shangri-La tourism, unless controlled, threatens to devour some of the China's most beautiful and authentic places.
One final, positive note: it seems that town planners in Zhongdian have taken a critical look at the excesses of Dali and Lijiang and are keen not to repeat the same mistakes. Meanwhile, my only advice if you want to visit is: get there sooner rather than later and travel individually and independently.
For more on this area and topic, keep a look out for our Shangri-La Special that will soon be published on the web.