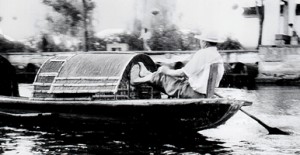 A few years ago we posted an article about Shaoxing on HolaChina: Your Gateway to China.
I have just found this rather nice video about Shaoxing, its wine and smelly tofu, on Youtube. They film it in the same restaurant we describe in our 2001 visit. However, it seems that the place has been somewhat sanitised since we were there.  But it is great to see that the wooden benches and tables are still there.
The Video is in Chinese with English Subtitles. Click below and enjoy it..