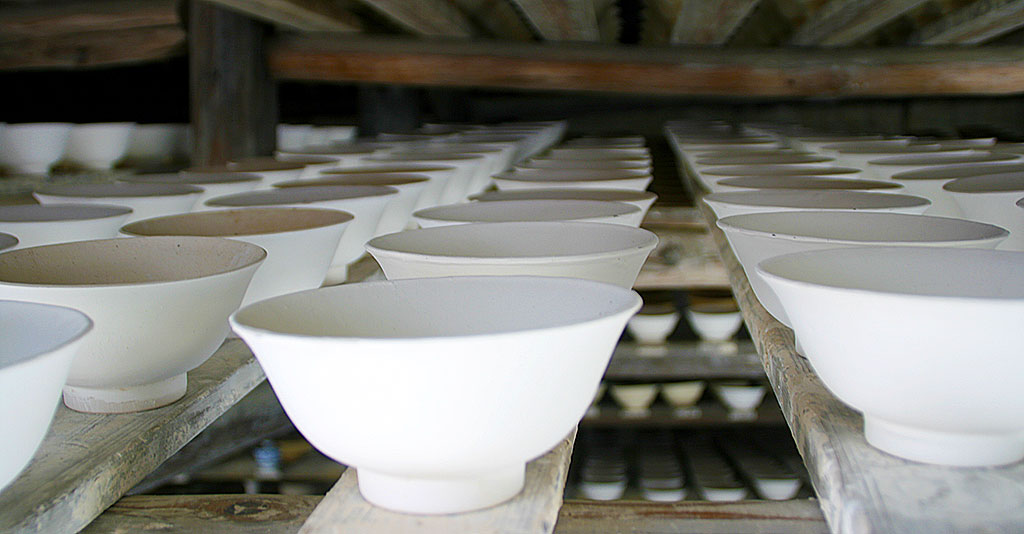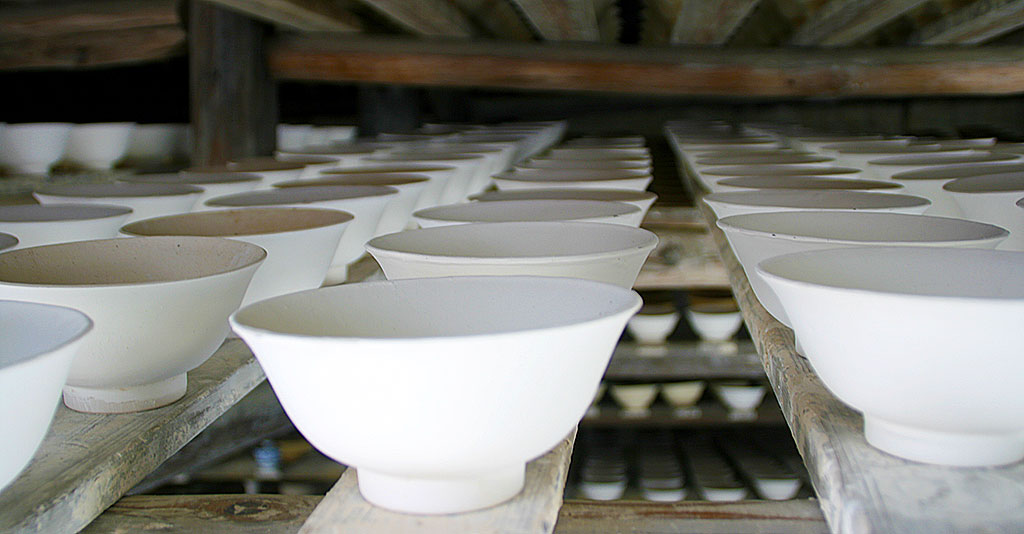 Jingdezhen: the Porcelain City
Imagine a city where the street lights, traffic lights and just about any other public amenity are made of porcelain: this is Jingdezhen, one of China's foremost Porcelain Cities!
Here, crowded street markets flog almost anything imaginable, from plain crockery to huge, tacky vases and life-size Buddha's, all made of porcelain, while the chimneys of the kilns belch black smoke into the sky.

Porcelain from the Imperial Kilns is what converted Jingdezhen into a household name in China and worldwide too; at least for those in the know. Production dates back well over a thousand years.
In times past, the finest pieces would be sent to the palaces of China's emperors and the ruling elite. In the 17th and 18th centuries, Europe discovered the quality of the porcelain produced at Jingdezhen and, as a result, a huge export market sprung up, which only added to the city's prestige.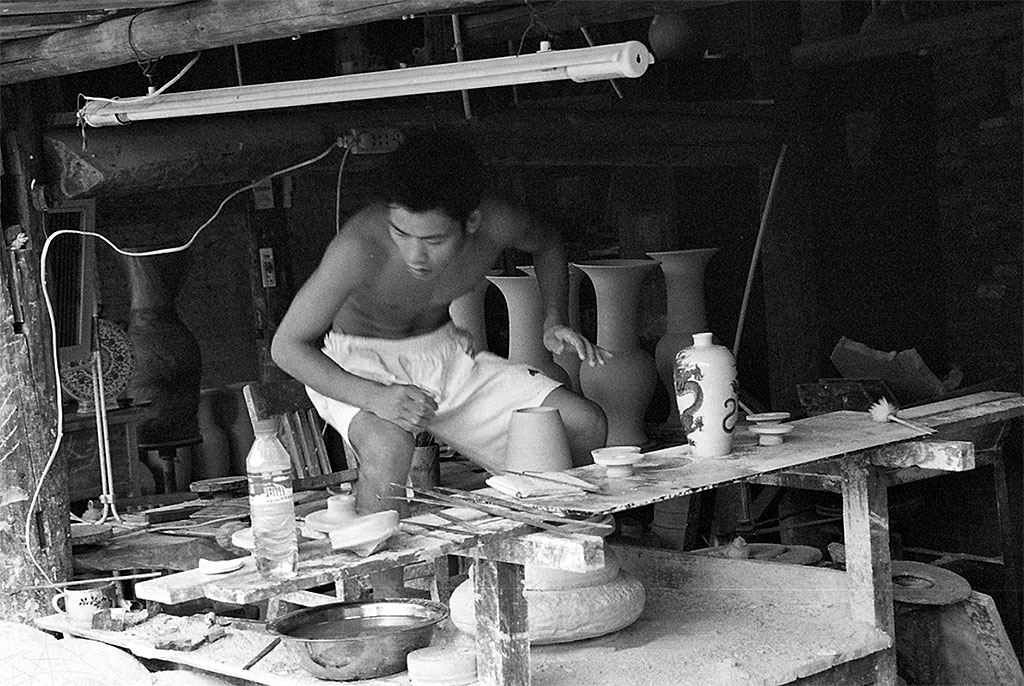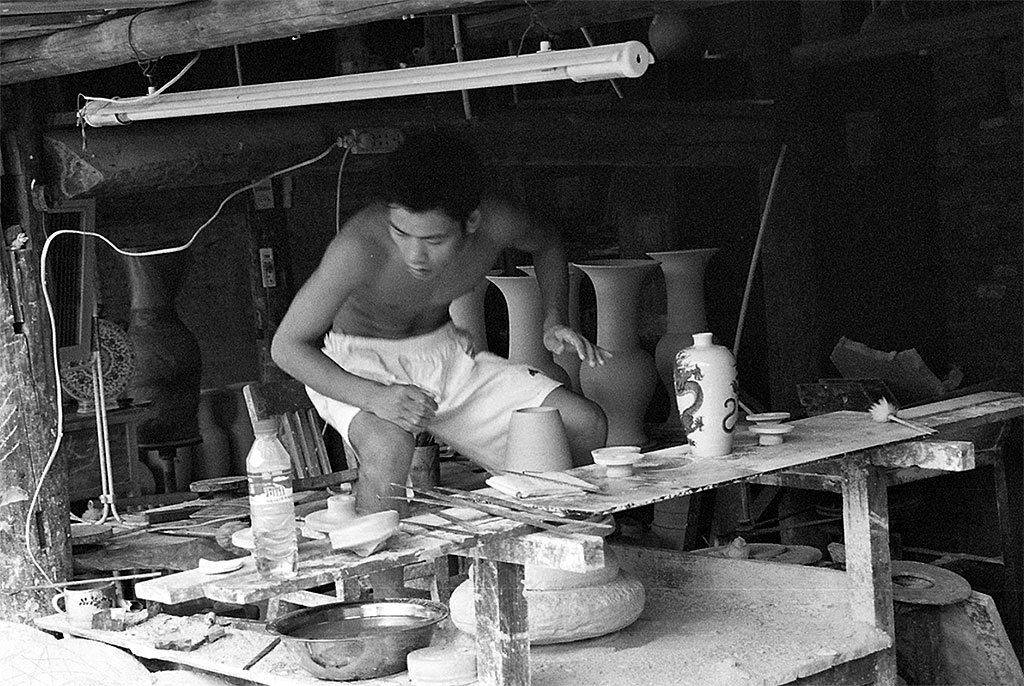 While location and river transportation may have contributed to Jingdezhen's growth, it is the reputed quality of the eponymous clay found at Gaoling village, just a few kilometres outside the city that has turned it into the centre of China's porcelain industry.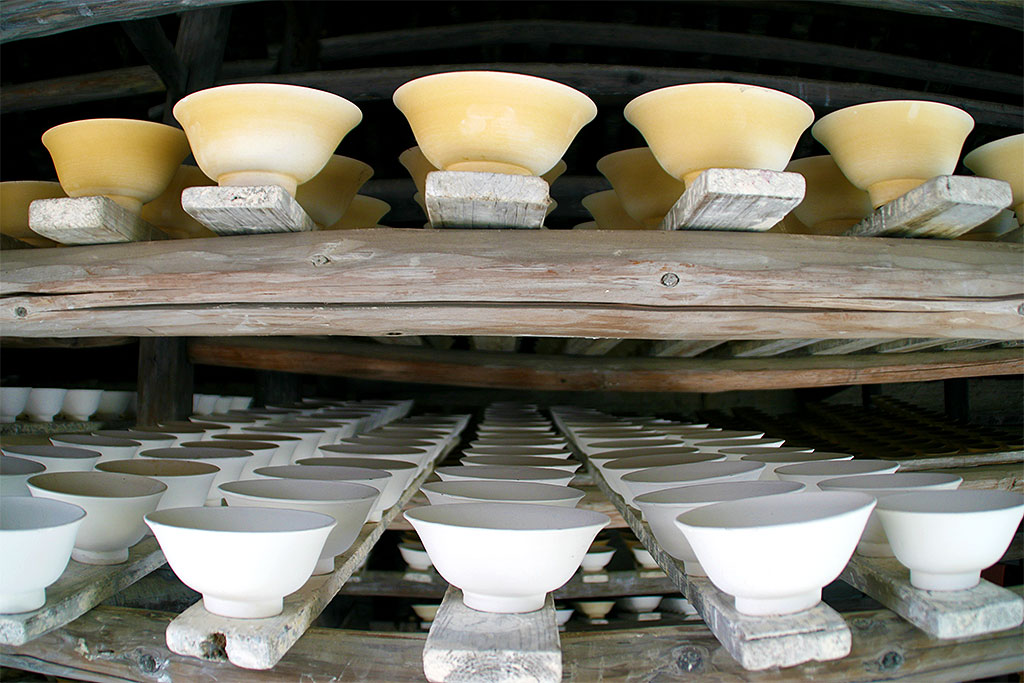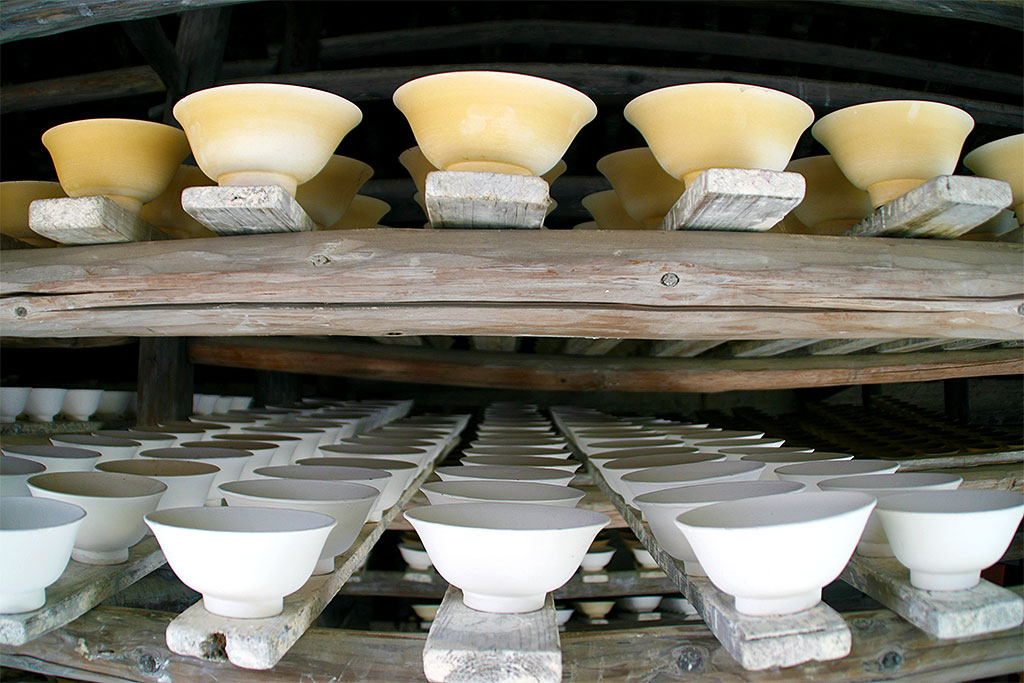 Today, the business is still thriving with factories continuing to pump out a haze of dirty smoke. While most of these factories have now been moved to the outskirts, the occasional hidden kiln can still be found in what remains of the dwindling, historic old town.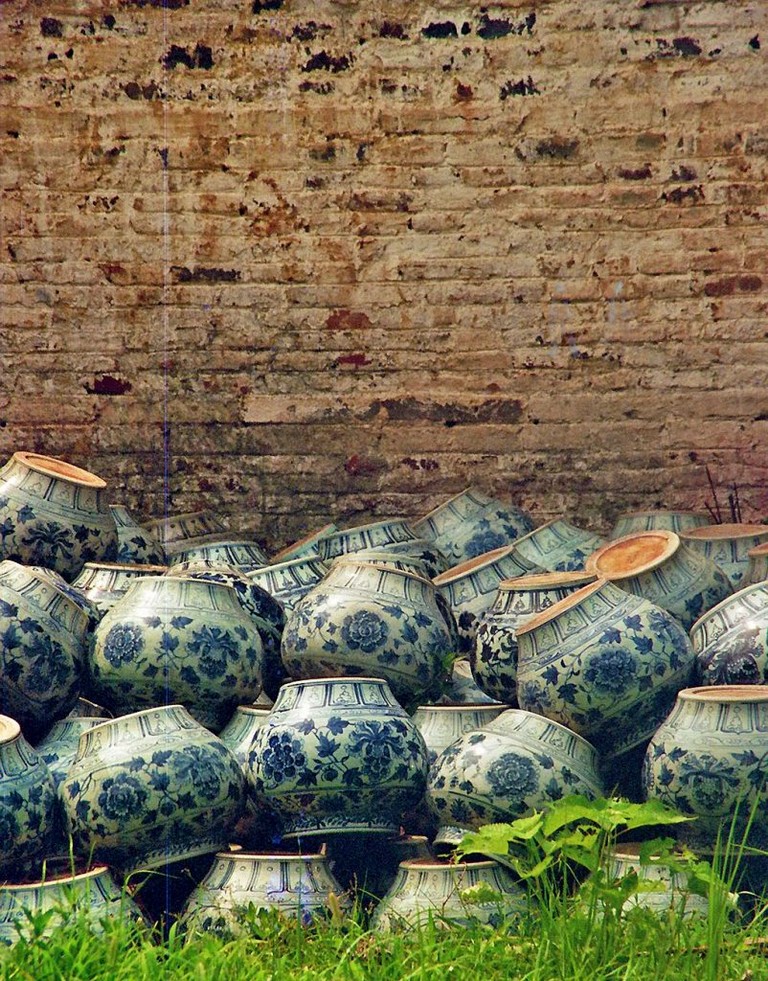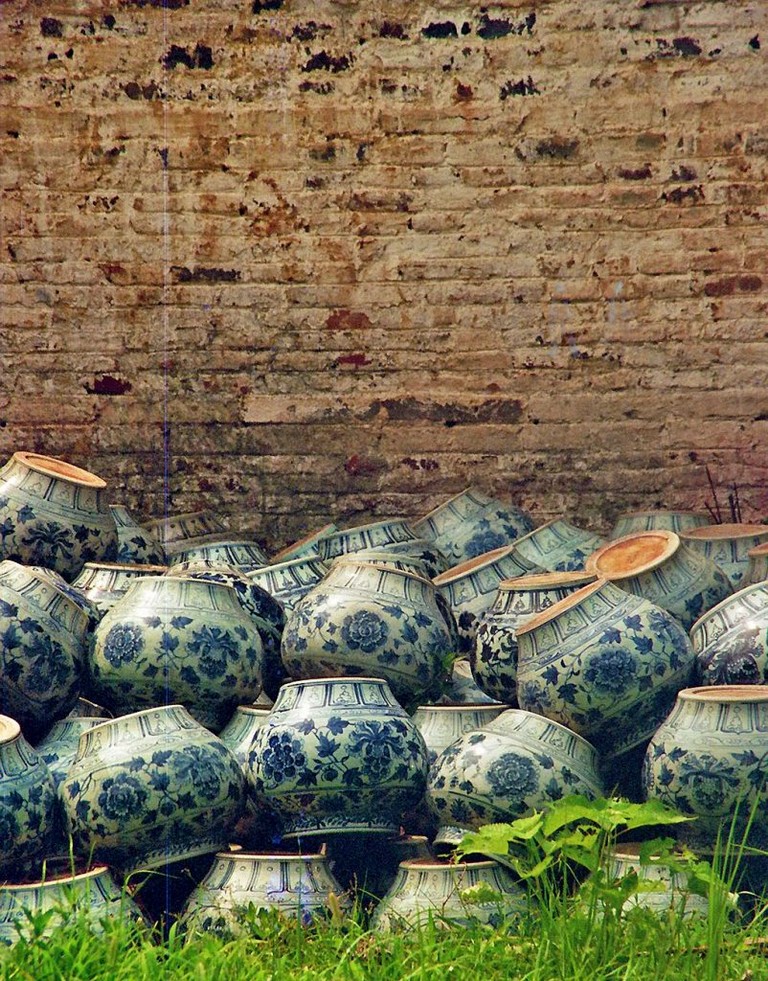 Street markets sell the bulk of the cheap and roughly made porcelain goods, while plusher shops deal in the more exquisite pieces. If you are not an expert, the rule of thumb is caution, as there are apparently many fakes that abuse the trade mark 'made in Jingdezhen'. However, there are plenty of cheap curios that make good souvenirs.
Whether you are interested in buying porcelain products or not, we certainly weren't, as a backpacking overland trip to Tibet is hardly the ideal way of transporting a fragile vase, a visit to Jingdezhen is well worth it. For one, it offers plenty of opportunities to see porcelain production from beginning to end.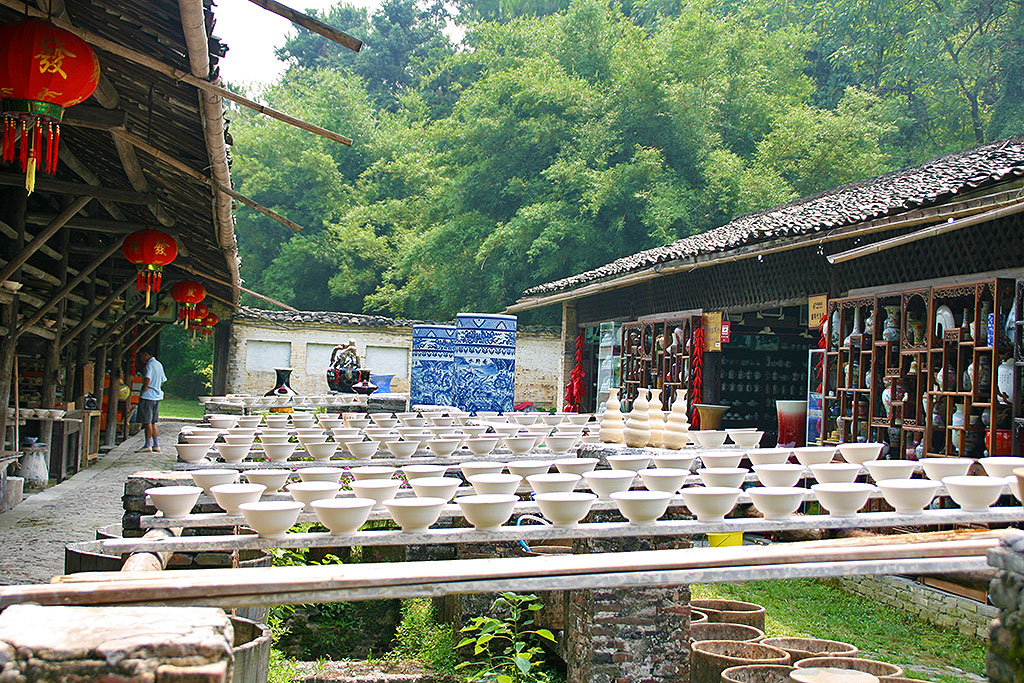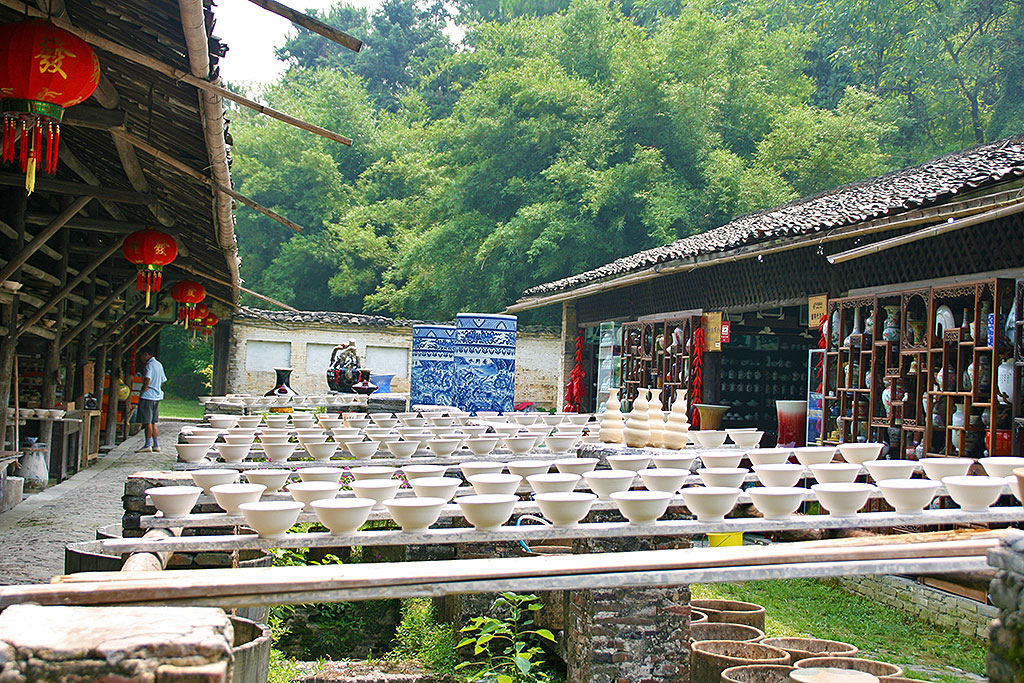 Without a doubt, the best place to start is at the Museum of Ceramic History and the Ancient Pottery Factory, a few kilometres out of town across the river. This place would be worth a visit just for the building alone: the Museum is located in a stunning Ming mansion, built in Huizhou style, with beautifully carved doorways and beams.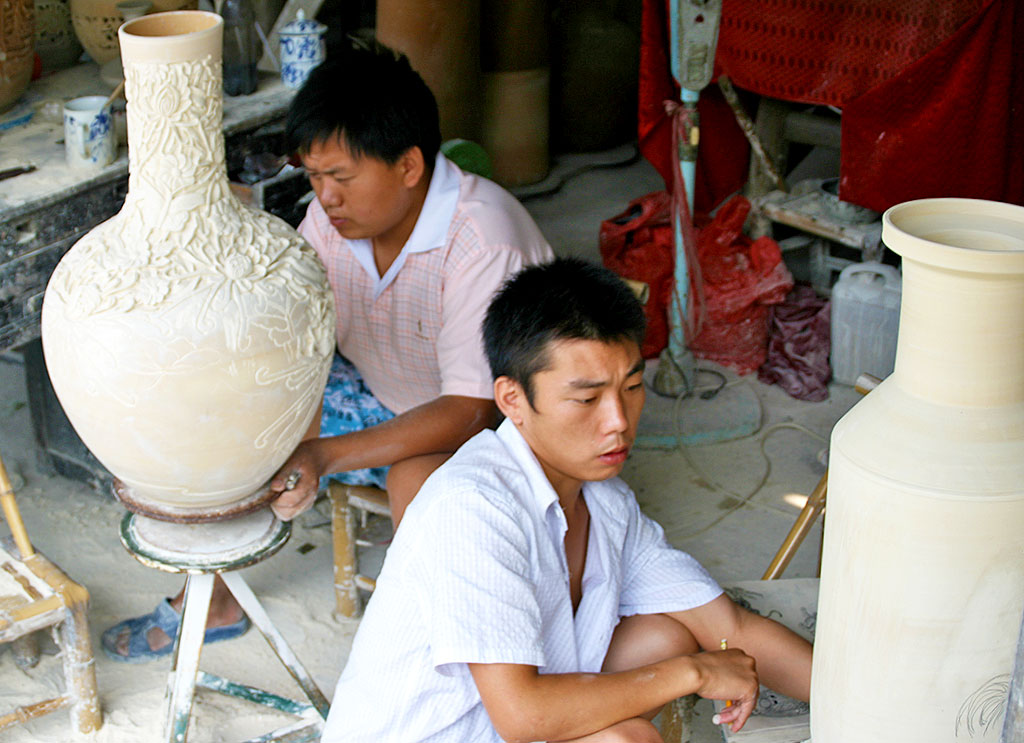 For us, it rates as one of the most beautiful buildings we've seen in China, on a par with the Zigong Guildhall, and we've seen quite a few! The setting, all lush bamboo groves and tranquil, landscaped gardens adds to its charm.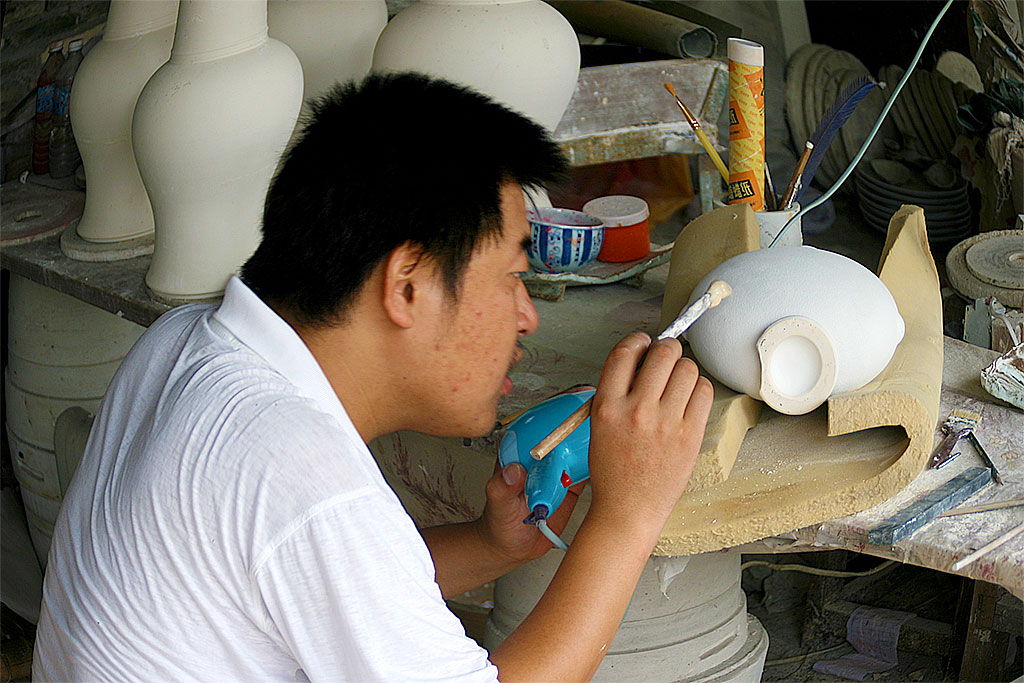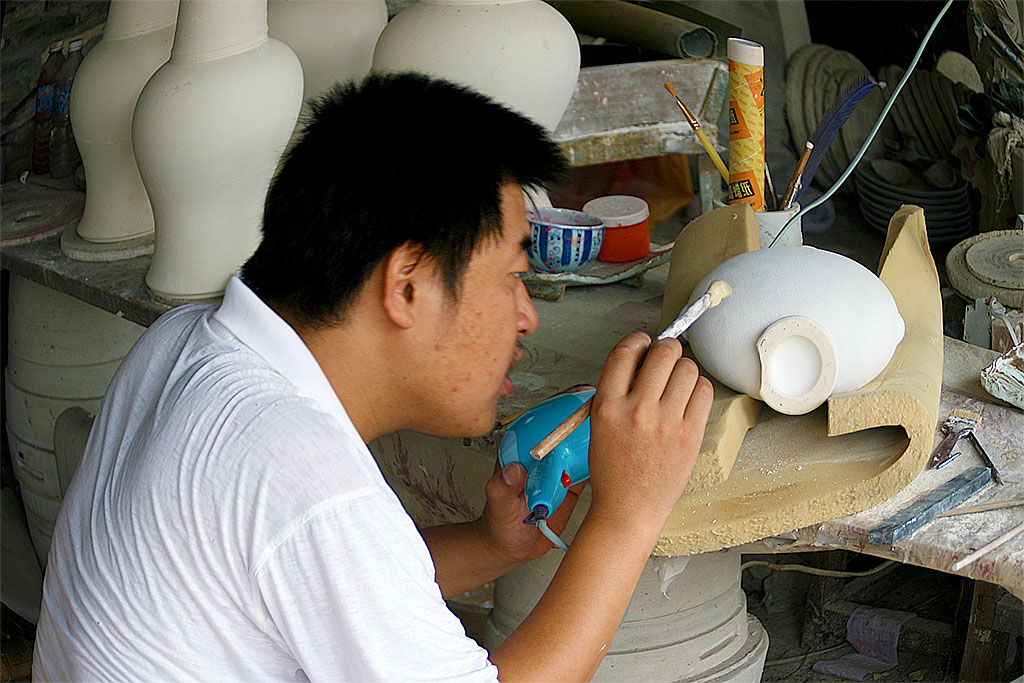 Walking around the site, you come past an artificial lake with a water-stage: if you are lucky you may catch a performance of classical Chinese music played on traditional instruments which, yes, you've guessed right, are all made of porcelain.
In the Factory/ Workshop area, you can watch the artisans at work: shaping and moulding the wet clay, painting and glazing the semi-finished products, or setting them out on racks to dry.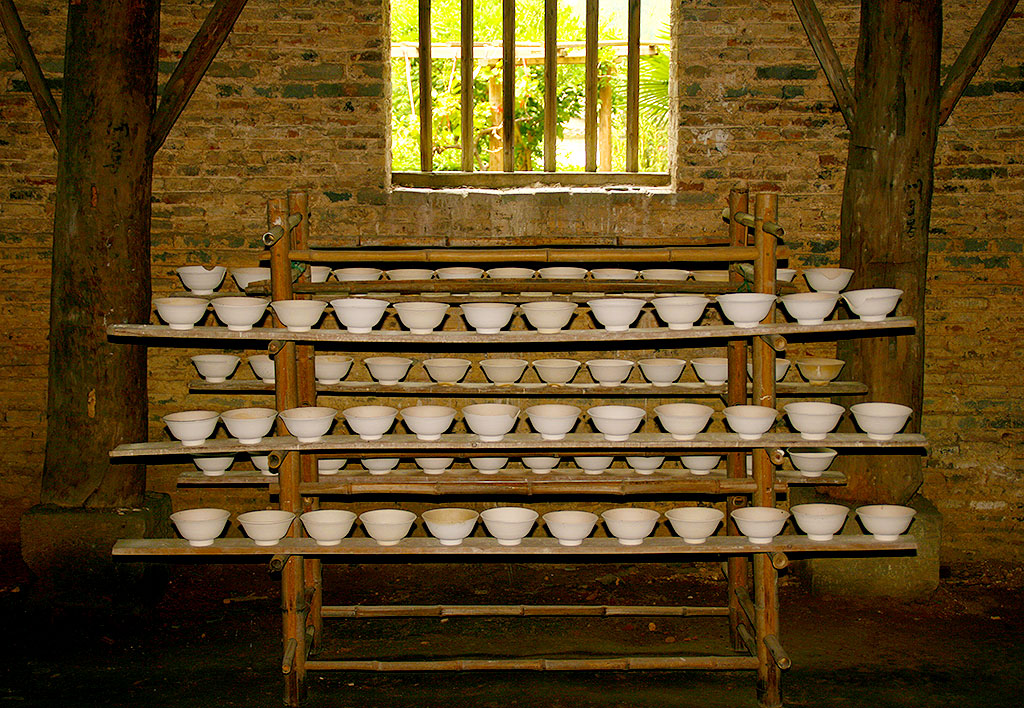 The techniques have hardly changed in centuries and, in fact, most of the workmen look as if they haven't either. Some of the venerable gentlemen we spoke to said they had been working at the kiln for over 50 years.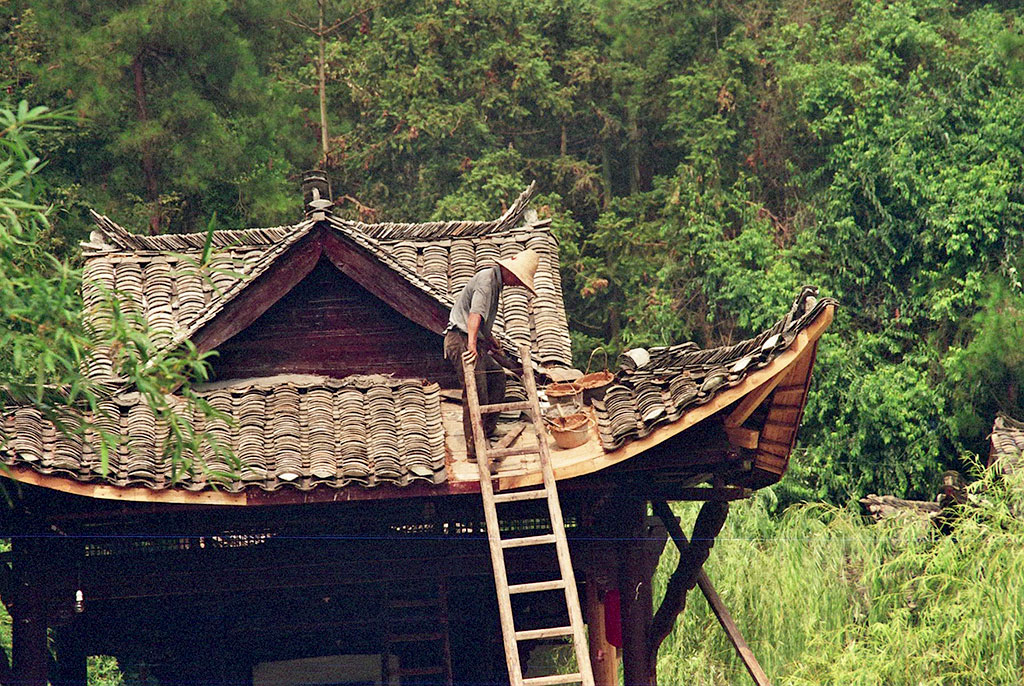 We are particularly impressed by the huge, two-storey kiln, which predates the Industrial Revolution. How could people stoke those mighty furnaces, incorporated into the half-timbered factory, without the building catching fire?
To get there, you can take Bus 3 to its terminus, past the old, long-distance bus station.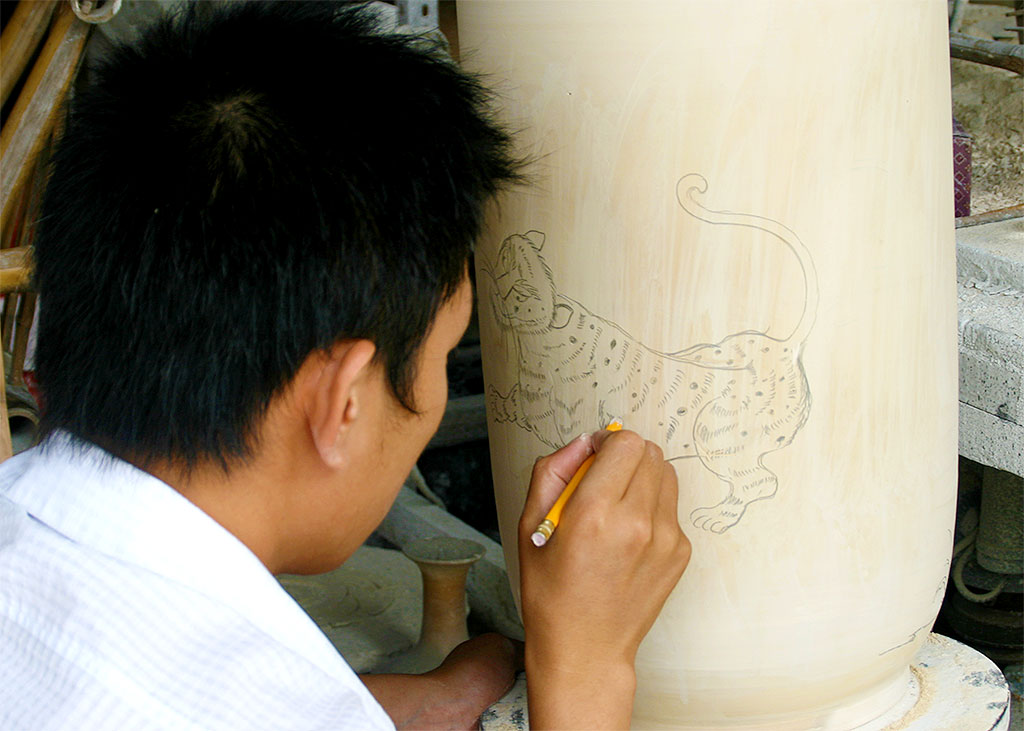 Jingdezhen's second sight is its Museum of Porcelain. Though the actual museum is quite small, stuffy and fairly unexciting, we were able to go upstairs and visit the ateliers where we found a Master and his apprentices at work, diligently painting vases and tiles.
While some of the designs, all copied from drawings, seemed lifeless and stilted, others were quite exquisite. We were particularly taken by a tile, covered in a pattern of purplish-blue flowers, with calligraphy to one side. Unfortunately, it was too large for our backpacks and too pricey for our budget…
Jingdezhen Practicalities
Coming and Going
There are frequent buses to and from Nanchang – the capital of Jiangxi – which can take between 2 to 4 hours, depending on the road works. These buses will drop you at the new, long-distance bus station.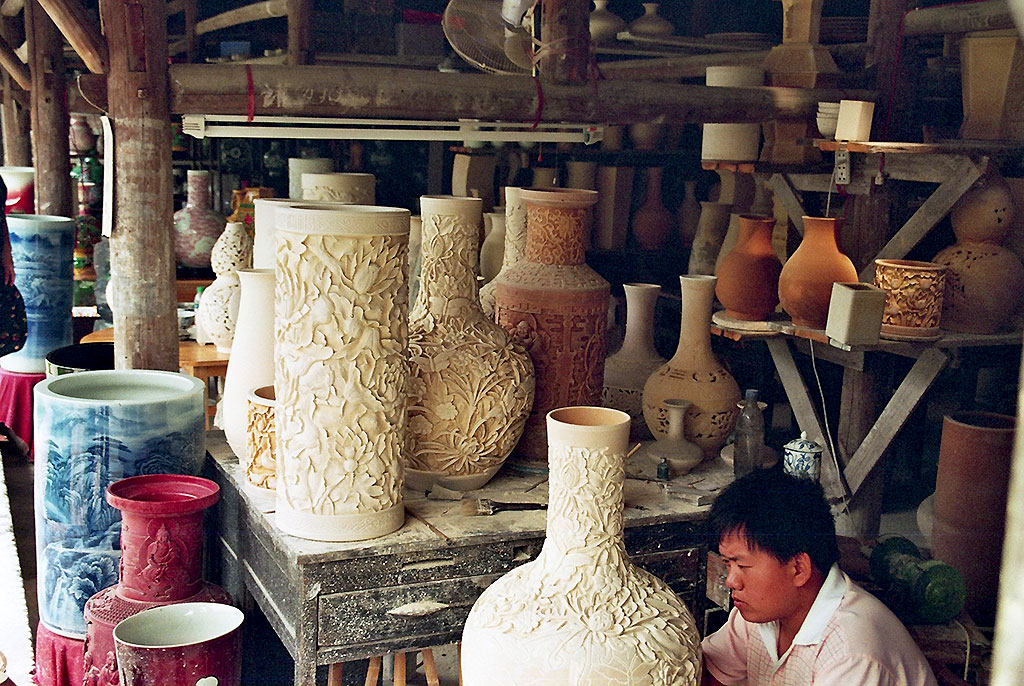 We visited Jingdezhen en route to the fabulous scenery and villages of Wuyuan. To get to Wuyuan, you need to go to the small eastern bus station from where regular buses take little more than an hour along a lovely, rural route.
Accommodation
We stayed at the Jingdezhen Jinsheng Dajiudian. Rooms were standard but okay at 180 Yuan. The most important factor was that the air-conditioning worked; given that outside it was a stifling 38 degrees under a merciless sun.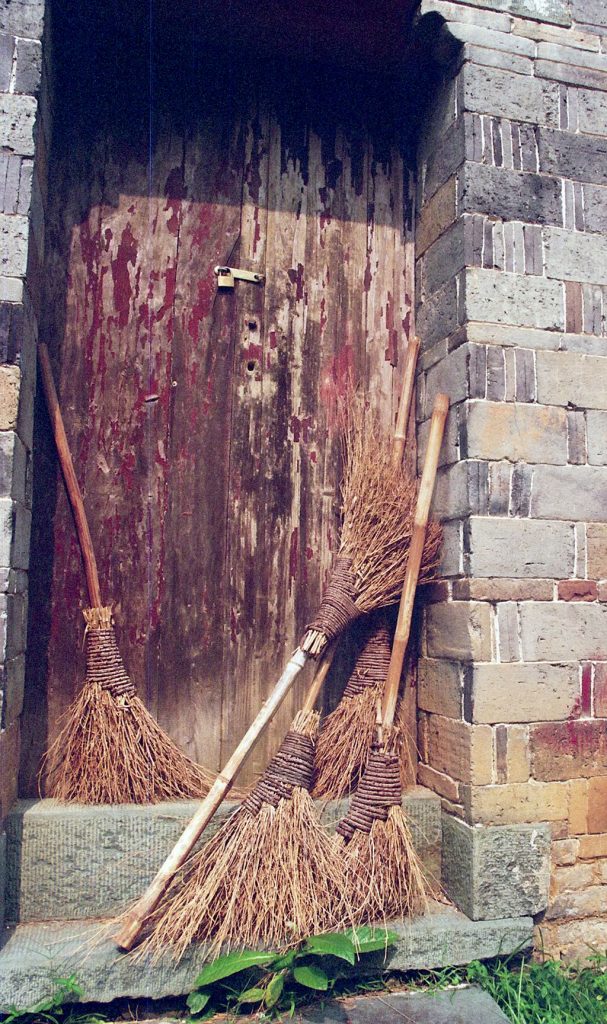 Food
Food options in Jingdezhen were nothing to write home about. We were lucky to find a few stalls set up at an impromptu night market on the corner of Zhushan Lu and Zhonghua Beilu. More than the food, it was the availability of ice-cold-beer that saved the day.