Lijiashan 李家山窑洞村
山西省
Lijiashan 李家山 is probably one of the best examples of Northern China's cave dwelling architecture 窑洞风格. Situated in a steep valley above the Yellow river 黄河, it exudes bucolic charm. However, if you are not going to stay the night or go off hiking, an hour or two is enough to see everything and have a cold beer.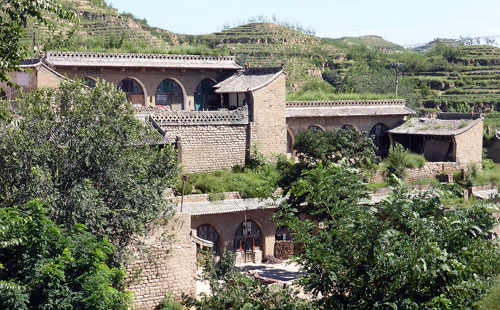 Lijiashan (from Margie's diary 26/8/2016)
Qikou 碛口Guesthouse 13.00
The driver, who had taken us to Qikou 碛口 from Lüliang Lishi 吕梁离石, has convinced us that Lijiashan village is much too far too walk. For another 30 Yuan he'll drive us, wait and take us back. But first we can have a beer and something to eat. As we fancy the home-made noodles which have to be ordered for three, our driver joins us for lunch. We have cucumber salad, aubergine with beans, plus the delicious noodles with a simple fresh tomato, coriander and chive sauce.
The ride to Lijiashan is not far (5kms), but the road is windy and at times exceedingly steep. It's also a scorching day and there's little or no shade from the merciless sun, so we are pleased we took the lazy option.  The village is really tiny, much smaller than I'd expected. Our guidebook had written a whole column about it. The setting is nonetheless lovely: the village is surrounded by green hills, some of them terraced, and there are lots of fruit trees and plants.
There are cave-dwellings, mostly abandoned, as well as more elaborate complexes, set around courtyards with cave-rooms at the back. Most buildings are dilapidated, though some have been partially restored. There is some new building work going on as well.
Adam talks to an owner of one very rustic hotel who is going to build a new one. All his guests at the moment are young art students. In fact, the place is swarming with them, both in Lijiashan and Qikou. They are everywhere: sitting quietly and sketching or painting, or hiking along the roads with their sketch books under their arms.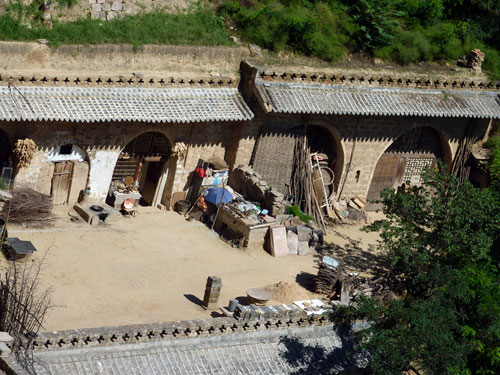 Pretty as it is – though smelly, due to primitive toilet facilities – an hour or so is more than enough to see the village.  The ride back, almost vertical in places, is even scarier than the way there.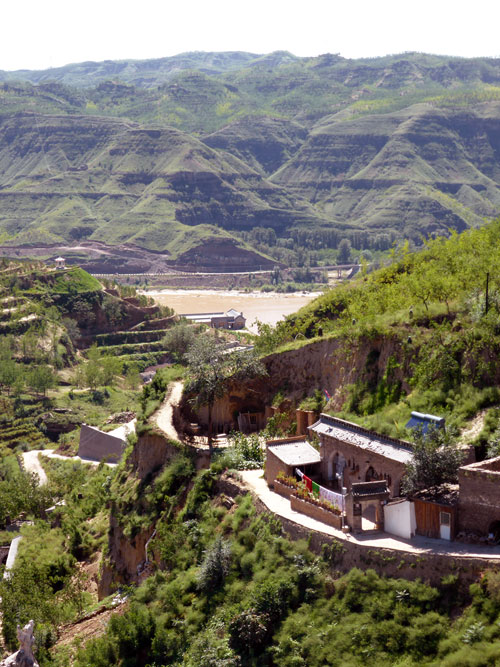 About the Cave house dwellings 窑洞
The Shanxi cave houses are fronted by large courtyards where farming implements, pots and pans and anything else for that matter is kept. Towards the back there are arched doorways, covered in lattice work, which lead into the caves. There is one main door leading to a kitchen and other doors to (bed) rooms. People sleep on kangs, heated sleeping platforms, which are usually by the window and are often used for both sleeping and cooking. One family would typically share the kang.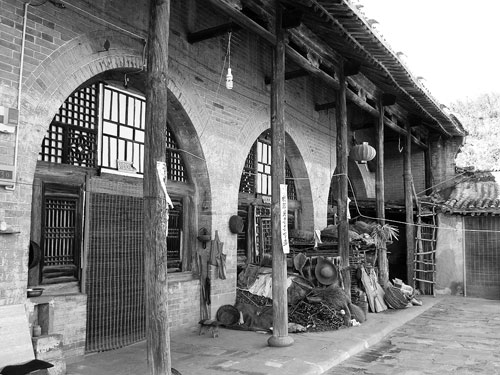 The main advantage of living in a cave is that they are cool in summer and stay warm in winter. However, the caves can turn into death traps when an earthquake hits. The 1556 earthquake which had its epicenter in neighbouring Shaanxi province 陕西省 killed hundreds of thousands of people (830.000 according to statistics, making it the world's worst ever earthquake); mostly cave dwellers in Shanxi province 山西省 and Shaanxi Province 陕西省.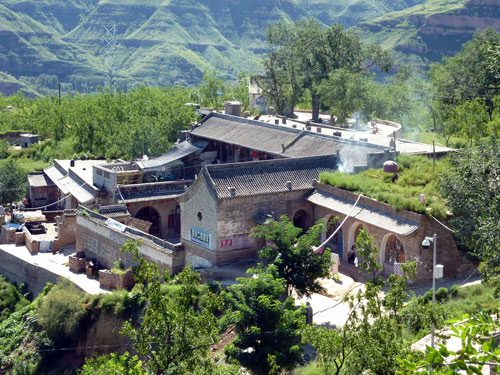 In Lijiashan, there are 8 types of residences, ranging from luxurious Qing dynasty houses to earth cave dwellings.
For the moment, locals in Liajiashan don't seem to mind visitors popping into their houses and nosing around.  As yet, there's no entrance ticket to the village.
Xiwan Village 西湾村
Even closer to Qikou is Xiwan village 西湾村, which also has cave dwellings and a number of ancestral halls. In Lijiashan 李家山 nearly all families have the surname Li 李, where as in Xiwan nearly all villagers have the surname Chen 陈, after the village's founder, Chen Shifan.  Xiwan village is on the banks of the Qiushui river, one kilometer from Qikou.
Accommodation and Eating:
You can stay the night in Lijiashan. We saw at least one simple cave guesthouse with dormitory-style bedrooms set around a central courtyard with basic washing facilities. Locals can also offer cave rooms for rent and will cook economical meals for their guests. Moreover, there are a couple of small shops selling water, soft drinks and cold beer.
We stayed in Qikou (see previous articles)
Getting there and away:
There are two ways to get to Lijiashan from Qikou: you can either walk, which will take about an hour, or hire a car. Walking is a good option, but bring plenty of water and an umbrella to keep off the sun and set out early.
For getting to Qikou (see previous articles)