From our Diary
Monday 24 September, 2001.
Huanghua Cheng 黄花城 Walking the Wild Wall: 2001. We are picked up at 7.30 sharp by Sue Lin in his shiny black car and leave Beijing via a four-lane road, lined with old trees. The road looks innocent and pleasant enough, but apparently people get killed here everyday. Although Sue Lin is a good driver, we ourselves experience a couple of near misses, due to the crazy manoeuvres of other vehicles.
Huanghua Cheng 黄花城 Walking the Wild Wall: 2001: Not so easy to get to
It's supposed to be only 60 kilometres to the village, but it takes us more than two hours. We have to stop and ask for directions a couple of times and once we even have to backtrack a bit. We don't mind at all, because the scenery is absolutely gorgeous; we are surrounded by those dark, rolling mountains that I remember from my first visit to the Wall, so many years ago.
In fact, our route takes us quite close to Mutianyu. From time to time we can actually see crumbly bits of the Wall, running along the tops of the hills. At the foot of the mountains there are fields of corn, wheat and beans, and small villages. There is a busy traffic of donkeys and carts because this is September and the harvest is in full swing. We are in the middle of the real, rural China, we have seen so little of on this trip, and so close to Beijing as well!
Huanghua Cheng 黄花城 Walking the Wild Wall: 2001: A Great Lunch
Our journey ends at the refreshment stall of an incredible old lady who whips out a copy of 'Lonely Planet' and explains all the pros and cons of the two possible routes. She proudly shows us her collection of photos, taken by and with foreign visitors.
Apart from selling drinks, snacks and film, she also keeps the most amazing toilet: it's a concrete box, open to the air and entirely without doors, so that you have to climb over the wall to get in, or out. Most importantly, it's clean, airy and quite pleasant.
The views from here are stunning: there is a very steep piece of Wall right in front of us, and a reservoir on the other side. Something that looks like a luxury hotel has been built on the water front, but it is completely empty. If it were open, it would make a brilliant base for a couple-of-days' outing.
After considering the old lady's advice, we decide on the round walk, which also takes in a village. The disadvantage of this one is that it is rather overgrown and we may get scratched by bushes and such. The second route, apparently, is steeper and gets dangerous after a while, forcing you to backtrack. Sue Lin has decided to accompany us and gets a pair of trainers out of his boot, then we set off.
It's a splendid walk, it is a bit overgrown, but the locals have maintained a path of sorts, which is easy to follow. After a short, steep climb we find ourselves on the actual Wall, with good views in all directions: stretches of wall, the reservoir, watchtowers, little signal towers, lots of trees and lots of greenery. We have the whole path to ourselves, all the way.
After about an hour and a half on the Wall, it is crossed by an ancient stone path. There is a gate in the Wall, which obviously once had doors, and this is where we turn off towards the village. The path takes us away from the Wall, towards some orchards, from where we have a good view of the different sections and can appreciate the different stones they are made of.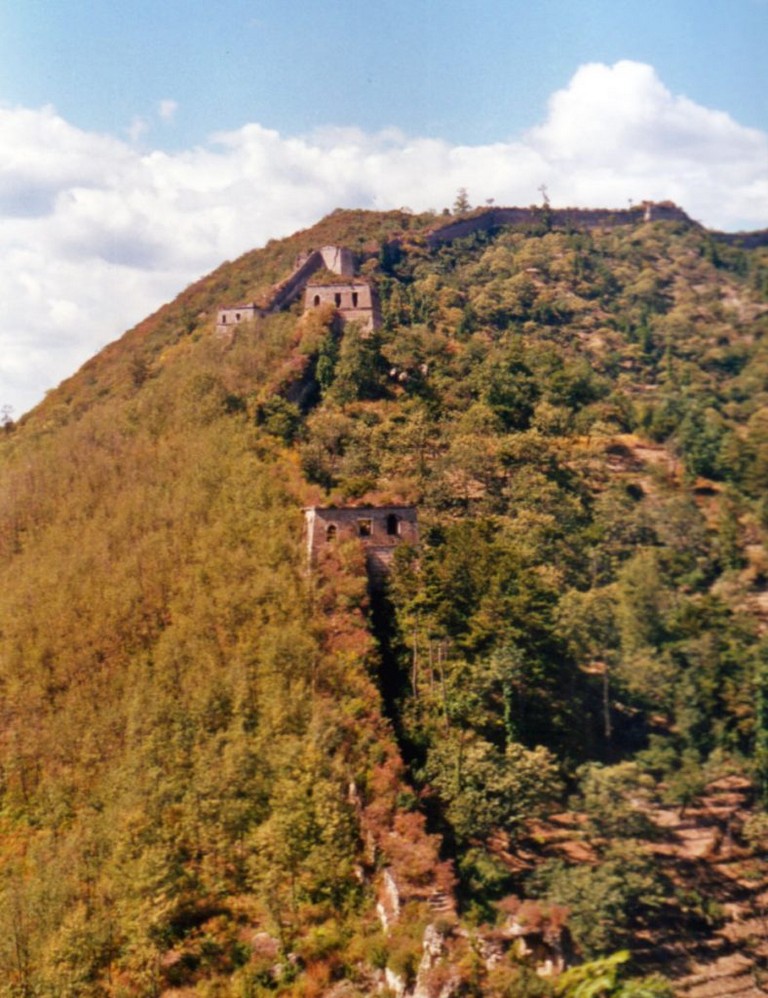 The village is rustic, but prosperous. It's a collection of sturdy stone houses, some with eaves, others with flat roofs. Cobs of corn, red chillies and beans are being dried on the roofs and in front of the houses. Donkeys and bicycles are being loaded with hay and wheat all along the road. Some villagers are busy shoving the wheat – or whatever it is exactly- onto the road, so that the passing cars will drive over it and help thresh it.
Our path leads us along a brook with ducks in it, past a small cemetery for resistance fighters opposing the Japanese, and back towards the few small restaurants that we had noticed near our starting point. We finish our excursion with a real feast in one of these restaurants, in the open air and with great views of the Wall. The highlights are a gourd dish and some delicious corn cakes, stuffed with green vegetables.
Huanghua Cheng 黄花城 Walking the Wild Wall: 2001: Update:
In the years following our visit, the un-restored areas of the wall, commonly known as the 'Wild Wall' became increasingly popular, with hiking guidebooks and maps appearing on the market, and hikers flocking there in droves. As a result, local people, who didn't want to miss out on this boom, started pressurizing visitors, sometimes aggressively, to buy tickets. Recently, we have heard rumours that the government has put an end to all individual hiking, to protect both the wall and its visitors. You are advised to check up on the situation, before heading out there.
Furthermore; It seems that much of this section at Huanghua Cheng has since been restored. However, it is still a beautiful place.