In recent weeks a number of articles have appeared in the international press, warning us about the imminent destruction of the old historic quarter of the city of Kashgar. Kashgar is an oasis town in the Western province of Xinjiang, inhabited by Uyghurs, Muslims of Turkic origin. Historically, it was one of the most important stops for the caravans on the Silk Route, and its Sunday Market was, and is, renowned.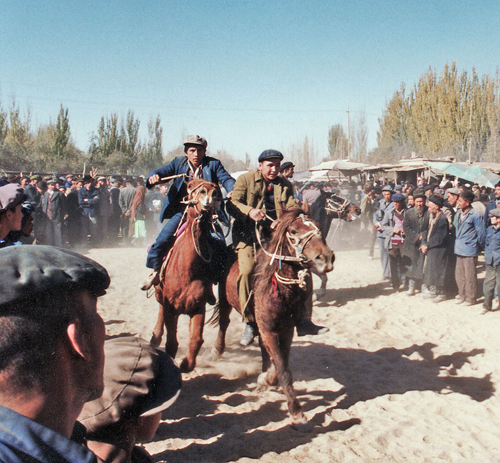 According to these articles, the Chinese Authorities' pretext for demolishing Old Kashgar is to protect the residents from the risk of earthquakes and generally improve their living conditions. The mayor of Kashgar has deemed the old buildings to be unsafe and decided that the residents should now live in new ones. The New York Times sums it up perfectly with the title 'To Protect an Ancient City, China Moves to Raze It'.

My reaction is one of horror, first of all for selfish reasons: I visited Kashgar twice, in 1990 and then again in 2002, and I still have romantic images of the Old City. From 1990, I remember the Uyghur story tellers and street comedians performing to huge crowds in front of the Id Kah Mosque during the day, and then at night the food market with its smoking spits, emitting wafts of roasted meat and grilled fish.  The back streets were a hive of activity where you'd be drawn to bakeries by the smell of freshly-baked bread, or you'd pop you head into a blacksmith's to see horse shoes being smelted. The humongous Sunday Market was stunning: the whole town was clogged up with traders driving in on donkey and camel carts to sell their wares. Meanwhile, in the animal section, prospective buyers busied themselves inspecting cows, or 'test driving' a new horse or camel. Finally, there was the availability of cold beer and Kashgar Pizza which, after 6 weeks in Pakistan, was manna from heaven.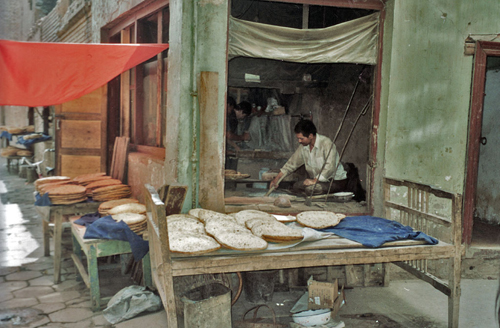 By 2002 things had already changed in Kashgar, especially on the outskirts, where a soulless Chinese white-tile town had sprung up, surrounding and moving in on the Old City. In 1990 we got lost for hours, trying to find Abakh Hoja's Tomb. We cycled through a maze of alleys and mud- brick walled compounds with elaborately ornamented and carved doors. We passed the odd mosque, came across farmers using donkeys to thresh the corn, children tending to herd of goats, or even real Bactrian camels. It was amazing.  In 2002, a huge asphalted road led directly to the Tomb. On both sides of the road new apartment blocks had sprouted up, replacing the maze of alleys.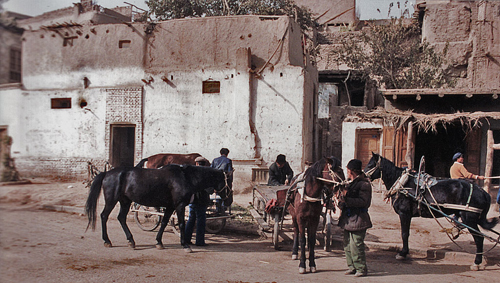 However, the central part of Kashgar's historic city was still pretty much intact. So much so, that in 2006 the American filmmaker Marc Forster used Kashgar as a location to shoot part of the film 'The Kite Runner'. Kashgar was chosen because "its traditional Central Asian architecture closely resembles that of the Afghan city of Kabul in the time the story takes place…".
Moreover, the people of Kashgar seemed to be enjoying a newly-found sense of prosperity and were certainly much more receptive to visitors than they had been back in 1990. We particularly noticed this in the Sunday Market, where we were greeted by smiles all around and nobody seemed to mind our camera in the least. However, there was another change to the market that we liked much less: the animal section, which formed such a fascinating part of the Market and which had originally been located in the centre of town, had been moved to a more sanitized open space, way out near the railway station. Perhaps just one of the tell-tale signs of the Market's diminishing importance.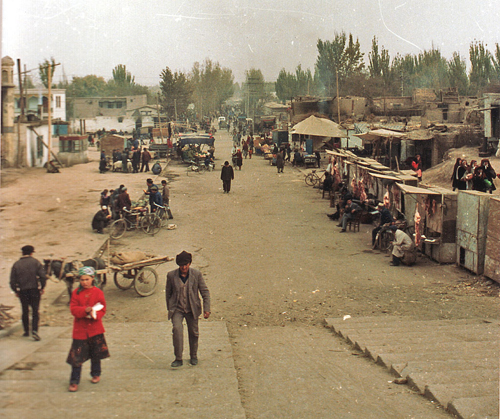 Just before leaving the city, we did realise that some winds of change were blowing, when we read that the local authorities had plans to remodel the bustling and vibrant square in front of the Id Kah Mosque, and replace it with a 'civilized park'.
Of course sanitation and cramped living conditions in the Old City were a problem. Besides, the maintenance of many old buildings left much to be desired. Kashgar was, however, a real living Uyghur city that oozed Uyghur and Islamic culture.

This leads us to the other, more sinister, motives the Chinese authorities may have for their intervention: by destroying the Old City and relocating its inhabitants, would they not find it easier to control and kerb Uyghur nationalist feelings?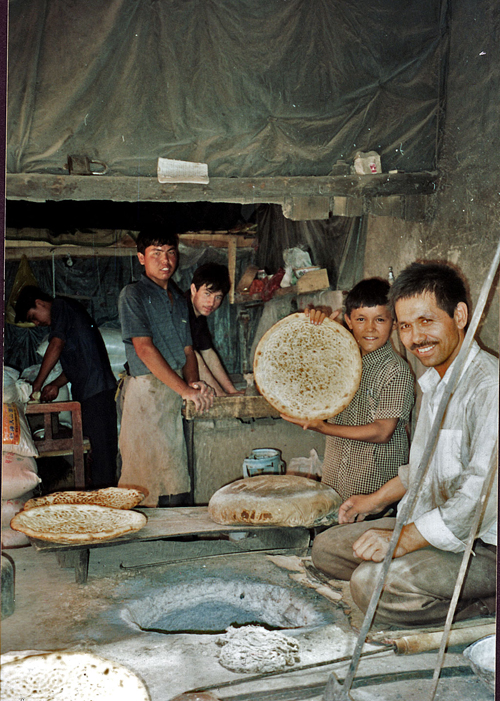 Speaking about the relocation of those residents: there are already indications that the compensation being offered to owners and dwellers to move out of their homes and businesses is inadequate. The authorities claim they can relocate to new buildings in the centre. However, there are fears that they will be forced to leave and live in new featureless and shoddily- built apartments on the outskirts; as has happened in all historic cities that have bitten the dust in China's recent modernisation. What's more, given the overall quality, or lack of it, of  this type of apartments, they are quite likely to fall down in the event of an earthquake (see dofu jianzhu).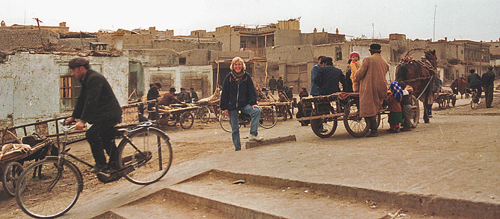 There are people, including Chinese academics such as Beijing architectural professor, Wu Dianting, who are trying to stop the destruction of the Old City. Unfortunately, their efforts will probably be in vain, as the demolition has already commenced in earnest. Many defenders of the Old City point to its tourist potential: Kashgar receives a million tourists every year, and many argue that a restored and sanitised Old City could play an important role in promoting tourism.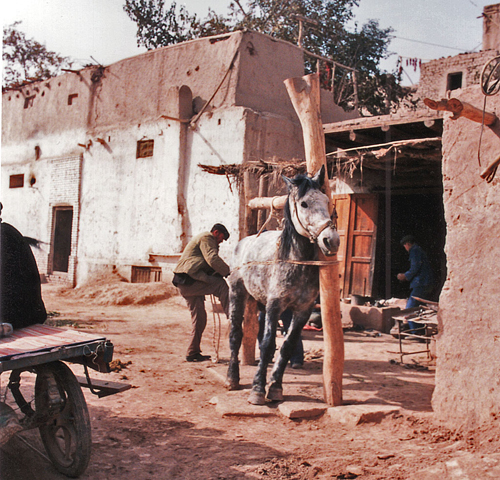 While I believe that protecting the Old City, for whatever reason, is a welcome development, I can't help asking: why is it that historic cities are never protected, restored and improved with the well-being of their original habitants in mind? An Old City, restored for the sake of tourists, will bring with it all the crass souvenir stalls, hordes of tour groups and a surge in upmarket restaurants and boutique hotels for the well-to-do. The original inhabitants will no doubt be forced out for economic reasons, and the town will be converted into a museum, rather than a living and breathing place. Lijiang, Dali and Suzhou are fine examples of this type of development.

For me personally, the destruction of  Kashgar is a real shame and a great loss; for the people of Kashgar it is a tragedy; for the Uyghurs it is something close to cultural genocide. For the Chinese authorities? I don't really know what they gain from this, apart from control…
For further more detailed  information try this article:  Kashgar demolition is a "serious political issue": official document reveals aggressive nature of propaganda work used to enforce Kashgar resettlement
And this:As China destroys its culture, Hong Kong proves that its people care | Simon Jenkins | Comment is free | The Guardian