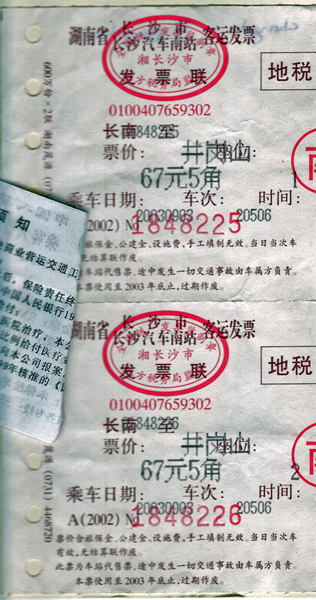 Changsha to Jinggangshan 3/9/2003 a ride to remember. As we had established on yesterday's exploratory visit to the bus station, there were two buses, a modern one and an old one, covering the Changsha – Jinggangshan route.  And, as Adam had already glumly predicted, today's bus is the old one…
Where is the bus?
Clutching our tickets, we walk out, looking for our bus. When we eventually find it, Adam's worst fears are confirmed but, for once, he is absolutely right: it is definitely the worst-looking vehicle in the whole station, by far! We are standing in front of a mud-splashed rust bucket with dented fenders, corroded patches everywhere, rips in the outer tyres, and dirty seats, covered in bamboo mats…
Fortunately, when our drivers turn up, they at least strike a favourable impression. They are two thin, young chaps, but they seem to be serious, friendly and concerned for their passengers.
We needn't have worried about the bus not filling up, of course it does. What little space there is left when we leave the bus station at 12.30, is gradually taken up by boxes, sacks, bundles, and even some more passengers, as our two boys do a bit of wheeling and dealing on their mobiles along the way. At one point, large bags full of quaking ducks and yelping puppies (poor things) are loaded onto the roof.
Changsha to Jinggangshan 3/9/2003: not a great road
The road is atrocious; pot-holed, full of stones, and often unpaved. My first impression is right though, at least where driver number one is concerned, he is proving himself to be a careful and conscientious driver.
After about two hours, we begin to hear a worrying noise, which is soon followed by a breakdown. Driver number two disappears underneath the bus and starts clanging and banging. Adam prophecies, for the umpteenth time, that this bus is going nowhere… the other passengers smile patiently and repeat the Chinese mantra 'mei wenti/no problem'. Relatively soon, we are on the road again.

Chaling Bus Station
At 6 o'clock we drive into Chaling station where the bus is serviced. By now, our estimated arrival time has gone up from 10 to 12 o'clock at night! Resignedly, we decide to have some noodles. Bad move; everybody else has dinner one hour later, in another, better spot. We are now told that we might be arriving at 3 or 4 o'clock in the morning! Something to do with there having been lots of rain and us having to take a different road… Not to worry; if the worst comes to the worst, they'll let us sleep on the bus. This is not much of a consolation, but there is nothing to be done, except try and get some rest.
If it's at all possible, the road gets even worse. In fact, there is no road; we are bumping along a kind of construction site, where one day a road may exist. Large pieces of equipment, tools, mounds of sand and stone have all been left carelessly all over the place for our bus to drive into, in the increasing darkness, frequently obliging one of our two drivers to walk in front of our vehicle, torch in hand.
Now it's getting dark
As it gets darker and darker, there are times when, staring out into the pitch-black night, I am convinced that we have strayed from this so-called 'road' altogether and are in imminent danger of falling into some kind of hole, or getting stuck in the thick, red mud. At one point, we have to cross a ditch full of fast-flowing water, across a couple of flimsy, rickety planks. However, as the hours go by and I get more and more exhausted, I no longer care: whether the bus breaks down, we get stuck, or even crash, it's all the same to me…
Sometime during the late evening/night, we suddenly arrive in a town and frantic activity breaks out: many people get off and there is lots of loading and unloading going on. Numerous handcarts are pushed up to the bus, and most of the passengers disappear. Only one woman with 4 different sets of brooms gets on. We have no idea where we are.
Changsha to Jinggangshan 3/9/2003: We plod on
We plod on. Driver number two is very good too. However, number one stays alert all the time and sits up with him, shining ahead with the torch every time things get really hairy.
Suddenly, the road situation improves dramatically. We are now driving through a thick pine forest, and signs announcing Jinggangshan have started appearing by the side of the road.
Quite unexpectedly, we arrive at 1am; though our weary, sore bodies seem to tell us it's much later. We don't know whether the boys changed their minds about taking the other road, or whether we simply made better time than they expected. We don't know and we don't care; fact is, we have arrived!
A Dodgy Hotel
After some more surreptitious unloading in a dark backstreet, our drivers stop the bus in front of a Chinese hostel, wake up the owner and persuade him to give us a room.
At first, as usual with Chinese hotels, everything seems fine: we have entered into a biggish room with a TV and attached bathroom. Once the owner has left us and we take a closer look, we discover: enormous, disgusting brown stains on the wall, unsavoury carpets, distinctly grimy pillows and dubious bedding, soapy shower water that fills the bathroom and won't drain away..
Anyway, after our off-cold shower, the one that floods the bathroom, we just have some instant noodles (that we have brought ourselves) and drink the cold beers the hostel owner has kindly sold us, and crash; never mind those sheets…
Tomorrow first thing, we'll look for somewhere better!