From our Diary August 2005
The Wuyang River Zhenyuan Guizhou province is a scenic area near the historic town of Zhenyuan. Locals and some (not all) tourists claim it is nore beautiful than scenery near Guilin.
The disappointed Brit
The only other foreigner on the tour was a pale, spotty Brit with his Chinese girlfriend /wife. The evasive gaze in his eyes could do nothing to hide the bitter disappointment on his contorted face, that he was going to have to share this tour with two other foreigners, and worst of all, one them another Brit. Zhenyuan in 2005 was still supposed to be undiscovered. We never uttered a word to each other or exchanged glances during the entire trip.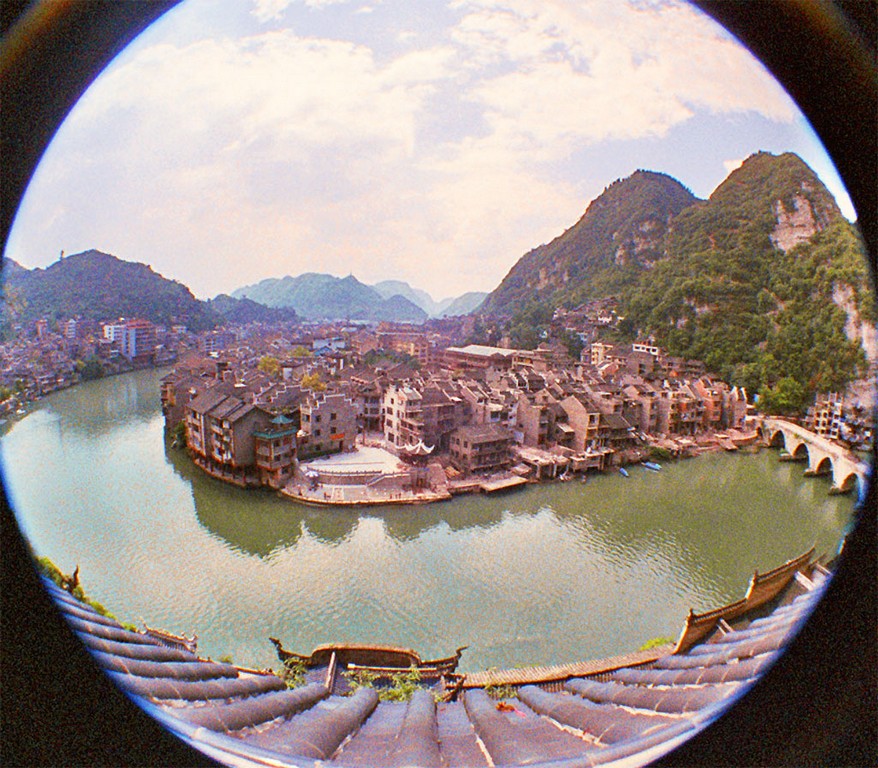 The Wuyang River / 舞阳河风景
Most Chinese tourists come to Zhenyuan to take a trip along the Wuyang River, Guizhou's rival to the Li River scenery around Guilin and Yangshuo.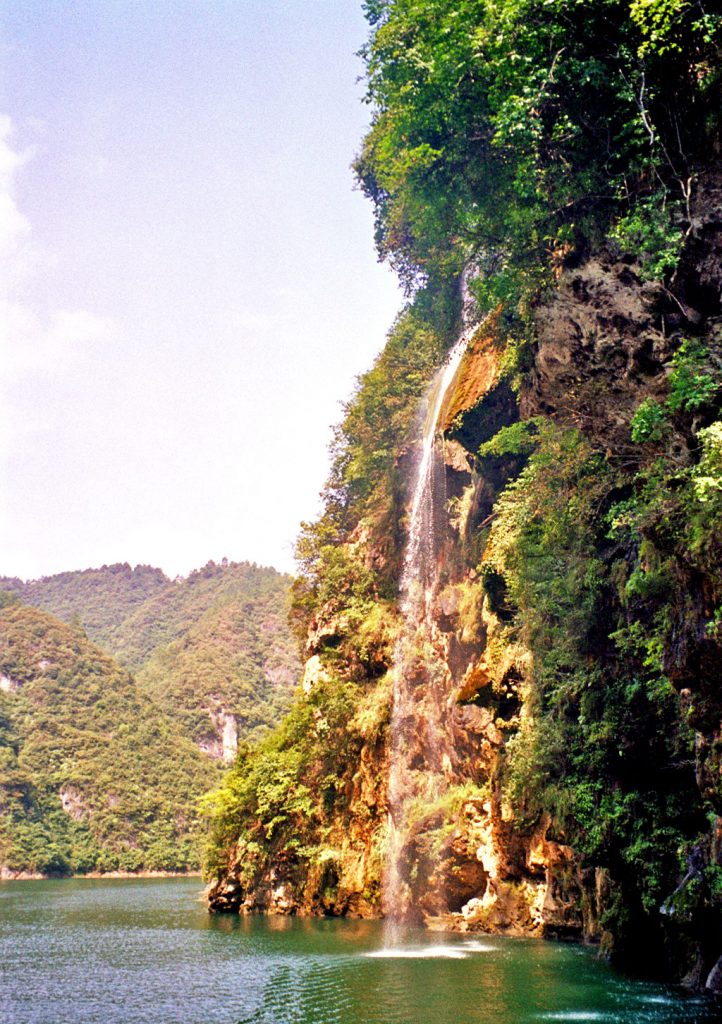 Travel agencies in Zhenyuan arrange these trips for around 35 Yuan a person (in 2005). This includes transport to the river, an entry fee to the scenic area, plus a one- and- a- half-hour cruise on a tourist boat.
The Inevitable Delay
The trip began with a delay. Usually, delays on Chinese organised tours are caused by some tourists turning up late, or by the travel agency frantically trying to find one or two more people to join the tour last minute.
Our hold up was caused by another frequent reason for delays in China: an over-turned coal truck on a mountainous bend in the road.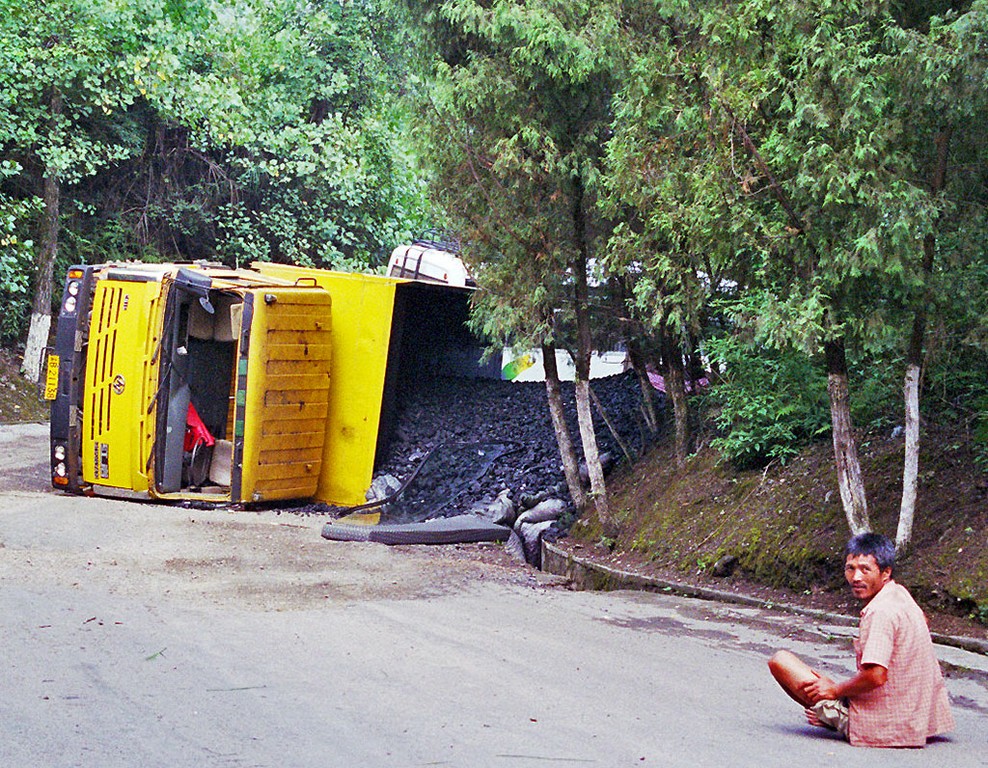 Eventually, after a lot of loitering, and with the help of other drivers, enough spilt coal was removed for our bus and other traffic to pass. We left to the hapless truck driver to fend for himself. I have always wondered what becomes of these poor fellows, abandoned by all and sundry in the middle of nowhere with an overturned lorry.
The scenery is lovely, and yes, very similar to Guilin and Yangshuo, though not quite as spectacular in our humble opinion. During entire the trip this was the hottest topic among the Chinese tourists: Yanshuo scenery or Wuyang River Scenery; which was the most beautiful.
A few came down on the side of the Wuyang River, while most remained coy. I suspect everybody was trying to be polite in order to please our overly-keen local guide.
The boat trip
The trip takes place mainly on a huge reservoir surrounded by sugar candy Karst Mountains and weirdly shaped rocks jutting straight out of the water.
Cascading waterfalls and local fishermen in sampans casting their nets add to the sense of rural tranquillity. A pleasant surprise was that even in August 2005 there was still only one boat a day with capacity for about 30 people.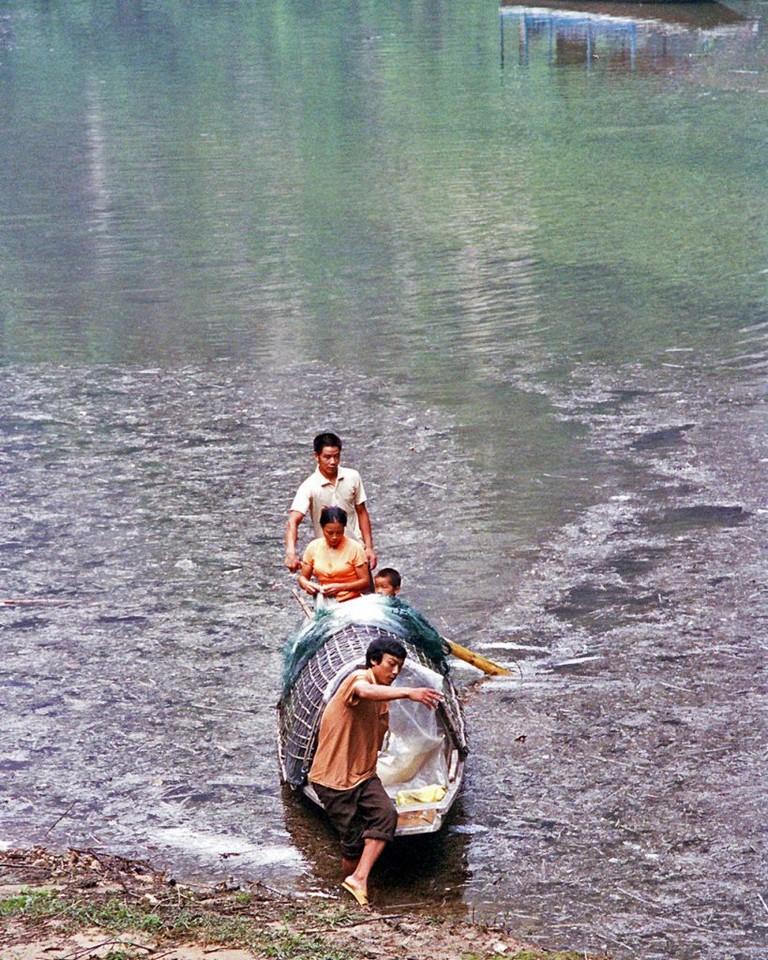 It being a Chinese tour, there was the obligatory guide, a friendly, bubbly, local chap who explained in great detail why every nook and cranny along the river had been given a poetical name. Even Adam was baffled by the lyrical expressions he was using.
When the Chinese tourists got bored of his explanations and had taken their obligitory 'I've been there' snaps, they went downstairs to watch T.V, smoke, play cards and (WAN'R 玩儿 ) to have fun.
Snacking
On disembarking from the boat you have to run the gauntlet past a gaggle of overly-pushy and entrepreneurial fishermen who have set up small benches and oil spitting woks. For the hungry; you can try the spicy fried fish, fried river prawns or the potato and vegetable kebabs. I must admit, everything is extremely tasty and cheap; but negotiate the price first or see what the Chinese tourists are paying.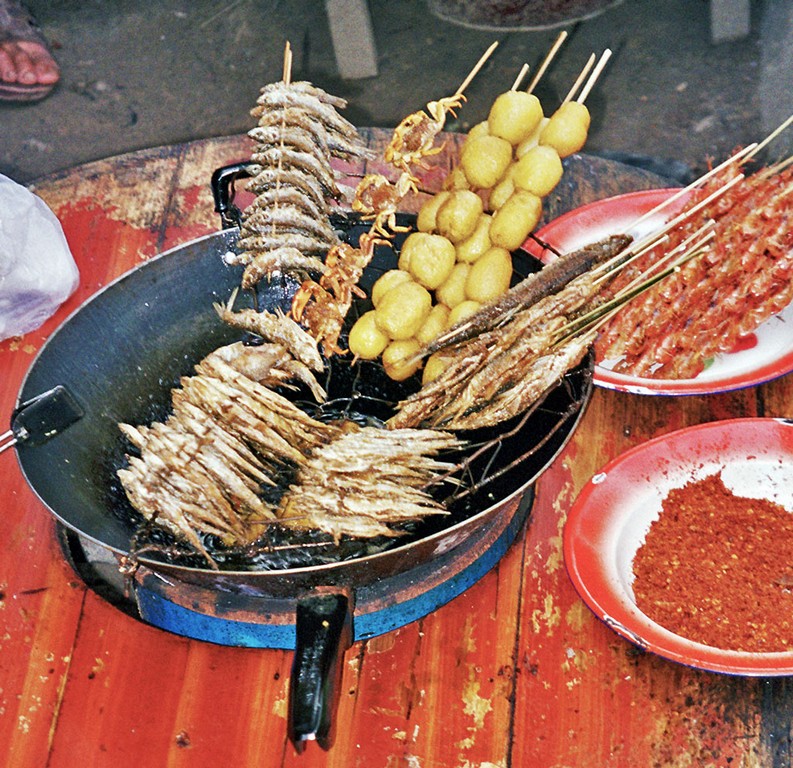 Getting to the Wuyang River Scenic Area
Getting there: there are tour agencies in the center of Zhenyuan who organise the river trips. I suppose you could take private transport to the scenic area and rent a sampan. However, we found the Chinese tour quite fun (barring the sulky Brit). See Zhenyuan for accommodation and food.