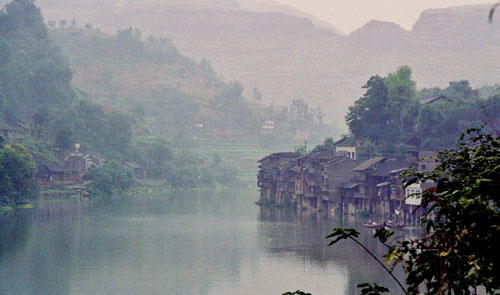 HolaChina: Your Gateway to China
The early morning mist and heavy cloud cover bestowed an eerie atmosphere over Chong'an. The river was motionless and silky smooth like a millpond. The town and the surrounding scenery seemed as if suspended in a landscape painting. Silence reigned. Then there was a shout, a curse and the haggling began. Chong'an Market was open for business.
The huge market held in Chong'an every five days is one of the best and most colourful in Guizhou. The local Miao and Gejia ethnic groups swamp the small scruffy town in a frenzy of buying and selling that lasts the entire morning and carries on into the early afternoon. Like the huge Sunday markets in Anshun and Rongjiang, Chong'an market is a farmers' market, not a place to pick up souvenirs, but an excellent spot for people watching and soaking up the atmosphere. We got there pretty early, when things were just starting to kick off. Throngs of Miao, dressed in blue tunics and black trousers and wearing huge straw-hats over small white caps, or curious, shiny turbans of a brown, metallic material, were pouring into the market area from all sides. They were accompanied by the occasional Gejia lady, distinguishable by her multi-coloured hat with pointy side-wings and embroidered apron. The men came dressed in simple farming clothes and with the same conical straw-hats. Some of the villagers were ferried across the river to the market, while others had come over on a wooden suspension bridge, a few kilometres down-stream.