Wanzhou Kaoyu 万州烤鱼. A local specialty from Chongqing, China called Wanzhou Grilled Fish (Wanzhou Kaoyu 万州烤鱼 ) is now all the rage in many restaurants in Madrid's Chinatown neighbourhood of Usera.
What is Wanzhou Grilled Fish / Wanzhou Kaoyu 万州烤鱼
It is a grilled /roasted whole fish covered in a dry dressing of Sichuan peppercorns, dried chilies and and served in a big pan filled with a soup like sauce that is not to dissimilar to the stock used in Sichuan hot pots 火锅 (huoguo).
The dish originates from Wanzhou (formerly WanXiang) in Chongqing municipality: It's now popular all over Mainland China.
The original way of making this dish is to first grill a freshwater fish (Carp 鲤鱼 is popular) over charcoal and then cover it with various condiments that you order from the menu.
Some of these condiments might include lotus roots, potatoes, bamboo shoots, glass noodles, edible fungus, and beansprouts.
In Madrid the fish is usually Sea Bass (Lubina in Spanish)鲈鱼.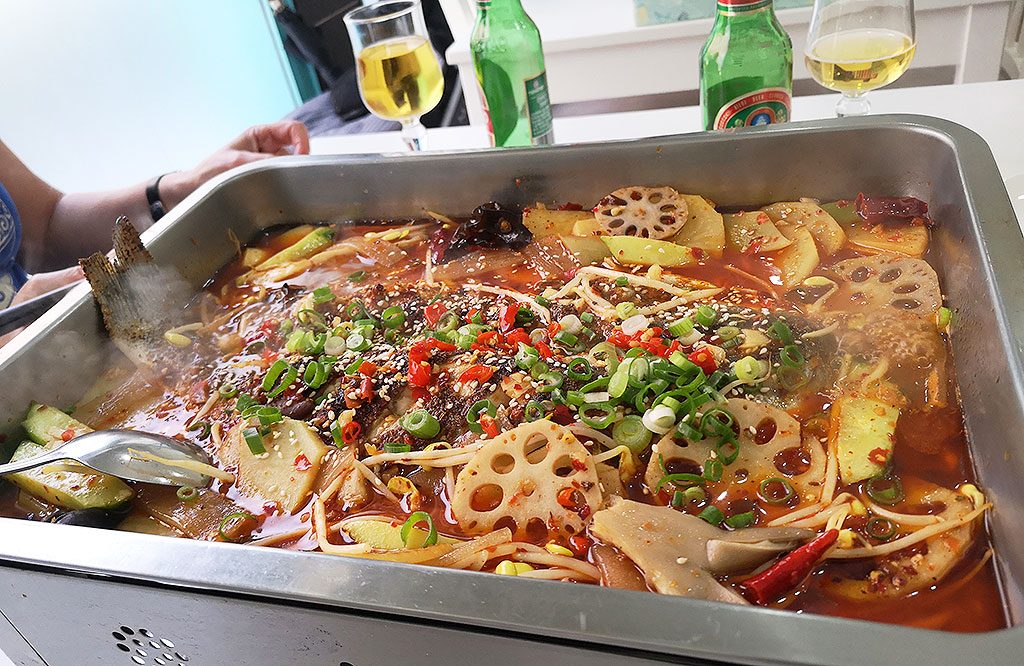 Wanzhou Kaoyu 万州烤鱼
Wanzhou Kaoyu 万州烤鱼: Grilled Fish from Chongqing 重庆: Where to eat it
A great place to try Wanzhou Kaoyu 万州烤鱼 is in the Sichuan restaurant: