Kangding 康定 / Dardo / Dartsendo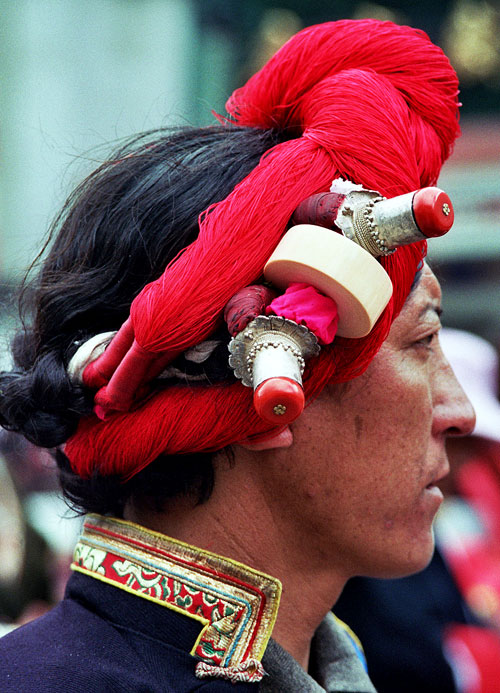 Kangding's Mind-blowing Summer Festival  was one event not to miss if you were travelling in Western Sichuan in 2004. Having just returned to Kangding from Danba, we were lucky enough to stumble upon a one-off festival aimed at celebrating Tibetan Kham culture and promoting tourism in Western-Sichuan.
The streets of Kangding were jammed packed with proud-swaggering Khampas, dressed up to the hilt in their finest clothes. One could easily have imagined that the entire population of these once warrior nomads, had rolled into town off the grasslands. And like in the wild-west of old, many had come in on horseback.
With so much going on, nobody paid much attention to me as I used up roll after roll of film. Kangding has changed and modernised radically since these photos were taken, so I hope you enjoy them. It was a magic moment.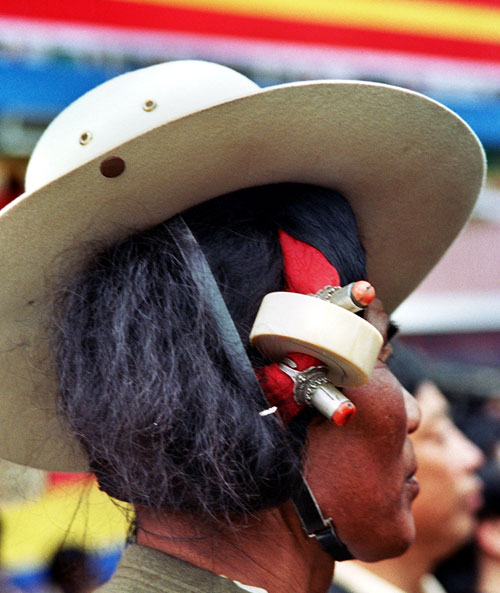 Kangding's Mind-blowing Summer Festival: About Kangding
On arrival at Kangding bus station, you are first struck by the ugliness of the surrounding buildings, mostly square apartment blocks.
Very little of the old city remains, except for a couple of leaning half-timbered shops and food stalls, and most of the new buildings, including the hotels, look rather ramshackle.
The concrete central square is rather kitch and decorated with the ubiquitous inflatable rubber arches.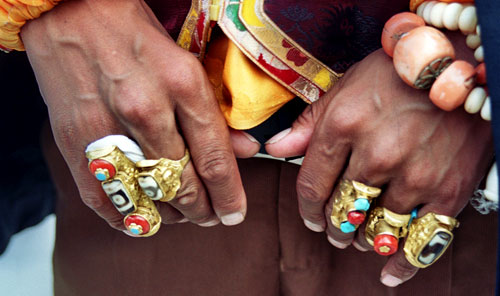 It looks staunchly Communist and reinforces the impression of the town being predominantly Chinese.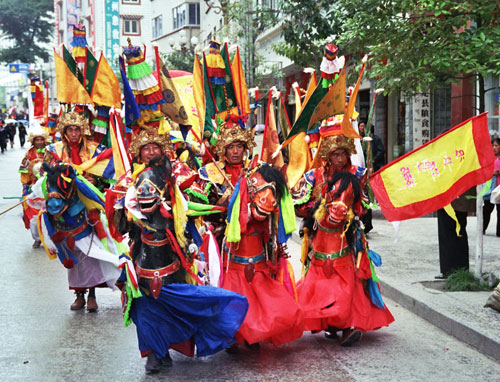 However, you won't find the charm and interest of  Kangding in its ugly centre. You have to look a little further out of town.
Lamaseries in and around Kangding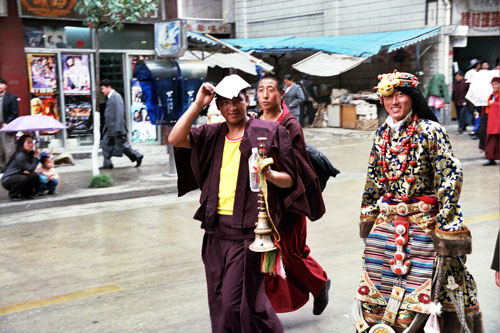 There are several lamaseries in and around Kangding. The largest and perhaps most attractive of these is the Nanwu monastery.  You will find the monastery set on a hill on the outskirts of town; surrounded by beautiful gardens and inhabited by a bustling and friendly community of monks.
At the time of our visit, they were busy creating large circular "paintings" on the floor and on low tables. Only, they weren't paintings, they were made of coloured powder (Mandalas).
It seemed a very delicate and transient art, given that the decorations were not meant to last.
Nanwu Monastery and Kham Traders
At the monastery gates, we came across a group of Kham traders who had hitched their ponies to some nearby posts and were about to visit the monastery.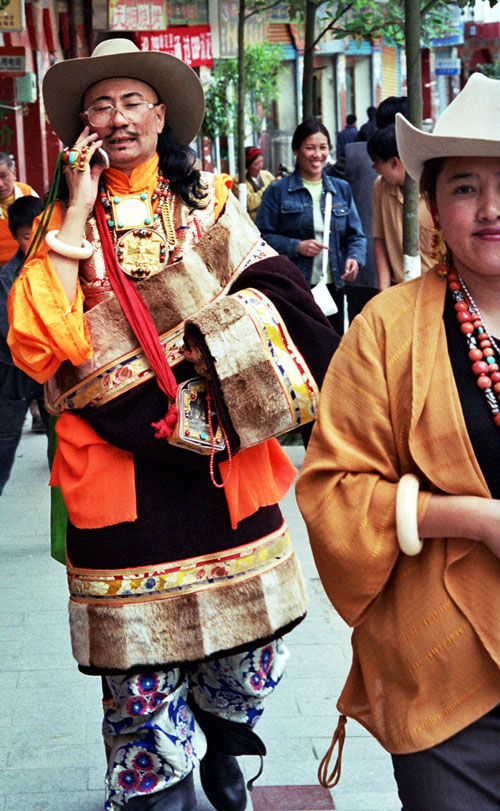 The presence of the flamboyant Kham, as well as other ethnic groups of Tibetans, is what makes Kangding such a fascinating place.
All over town you can see these tall proud people, dressed in traditional Tibetan gear. Men wear oversized greatcoats with knives strapped to their belts, and the women in wrap-around woollen skirts or pinafores. Both sexes deck out in elaborate headgear and heavy jewellery.
Markets and shops are bustling with Tibetan as well as Chinese traders, and you can see large wads of banknotes changing hands ( not so much these days; even Khampa nomads are paying with their mobiles!)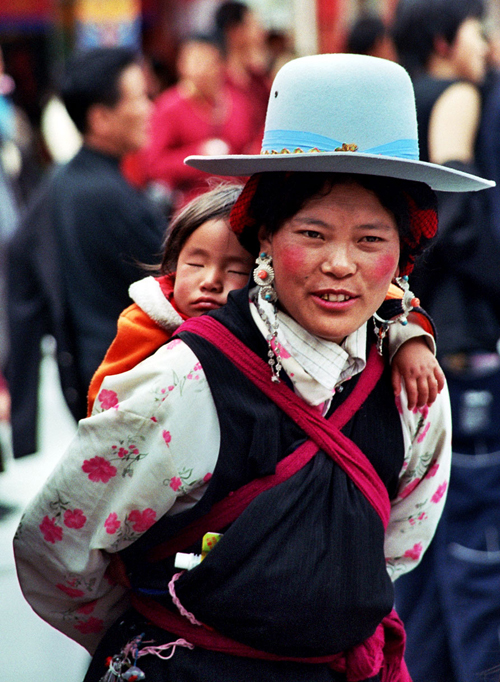 Thousands of prayer flags blowing in the wind
Dominated by the mighty peak of Gonggha Shan the scenery surrounding Kangding  (7556m) is impressive, and famous throughout China, due to a popular love song: The Love Song of Kangding.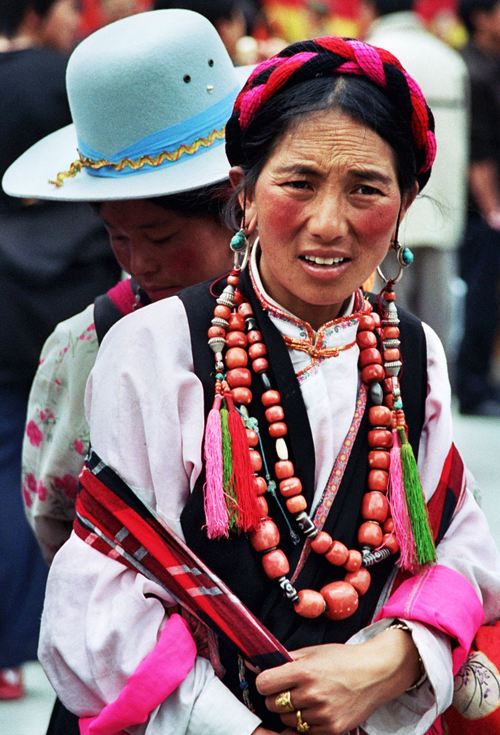 An easy one-and-a-half hour hike through forests and flower strewn meadows, or an even easier cable car ride, up Paoma Shan will provide great views of Kangding and the nearby snow-capped mountains.
Thousands of prayer flags blowing in the wind, as well as small Buddhist temples and shrines, make for a slightly mystic atmosphere all the way to the top, which is crowned by a white stupa. The scenery is breath-taking. 
Kangding's Mind-blowing Summer Festival: Kangding Practicalities:
Accommodation:
In 2004 we stayed at the "Sally´s Café", otherwise known as the "Knapsack Inn";  one of those classic Chinese backpacker hostels that we usually avoid but ended up really enjoying.
It offers / offered  (see below) clean and friendly budget accommodation, right next to the Jinggang monastery and about 5 minutes away from the Nanwu monastery.
Beds here are normally 25 Yuan in three-people dormitories, with shared bathrooms: During the Kanding Festival, end of August- beginning of September, rates go up to 50 Yuan.
The owners, who speak excellent English, can provide tourist information and arrange transport. For example to Danba or Mugecuo Lake, bus tickets and accommodation for onwards travel. Somebody from the hostel might meet you at the bus station when you get in. It's up to you whether you want to take up the offer.
Update: Not sure Sally's exists anymore. Last reference we found was 2017. Pity; it had a great location
 During the Festival, room rates in Kangding shoot up to astronomical levels.
More Recent
In Kangding we stayed at the comfortable Tibetan- run Ka-Sa hotel right opposite the bus station for 140 Yuan. There are many cheaper options if you are staying longer – or more expensive ones if you fancy a bit of luxury.
The restaurant scene in Kangding has improved. Only a few hundred meters from the bus station there are now lots of small family restaurants serving cheap and delicious Sichuan dishes.
Transport:
Kangding – Chengdu, 4 buses a day, about 7 hours.
Kangding – Litang, at least one bus a day, leaving at 7.00 in the morning, arriving at 15.30.
Kangding –  Danba, one or two early morning buses, but not daily, see Danba section.
Kangding – Ganzi, leaving at 6.00 in the morning, arriving at 18.00 in the evening.
Kangding – Dege, leaving at 7.15 in the morning, arriving at 13.15 the next day, overnighting at Luhuo.
Other destinations include Daochen and Zigong.
Festivals:
The Kangding Festival takes place at the end of August or the beginning of September and attracts huge crowds of Tibetans to the town, to do their shopping, watch the shows, and generally eat, drink, and be merry. While the Festival itself is nothing special: some rather bland folk dancing and singing, often performed by Han-Chinese rather than Tibetans, the crowds make it a worthwhile experience. There is an incredible mix of people, wearing the most variegated costumes.