In the winter of 1990 we took a local ferry along the Grand Canal, travelling from Suzhou in Jiangsu province to Hangzhou in Zhejiang province. For me, not Margie, it was one of the most memorable trips in my life. All the more so, because it is a trip that can never be repeated in the same way, as there has been virtually no local passenger transport between the two cities for over a decade.
Before I give my own version of the journey, here is how our treasured 1988 copy of Lonely Planet described the canal ferries:
"Travellers have done the route from Hangzhou to Suzhou on overnight passenger boats (with sleeping berths) or on daytime 150-seater ferries. Some people regard this trip the highlight of their China trip. Others have found the boats dirty, crowded and uncomfortable, with a fair percentage of the trip taken up by high canal banks. Some words of advice; you need a good bladder since toilets are terrible; you need some food; and try to get a window seat, both to see the scenery and escape the smokers on the boat."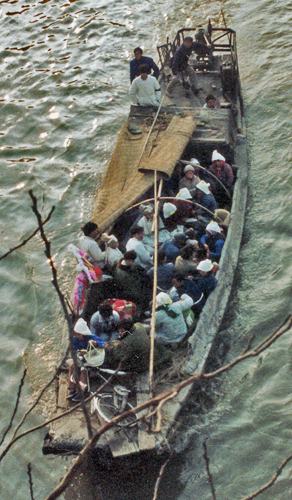 In corroboration of this rather dry comment, one reader wrote the following: "The boat is terrible, dirty, cramped, its windows just above the waterline make it hard to see anything, but the 'toilet' won the prize as the worst in all China. It was a large bucket that was not emptied during our trip, which took 14 hours (including two hours when we were stopped by fog, which is very common in fall and winter)."
'China A Travel Survival Kit' 1998, Lonely Planet.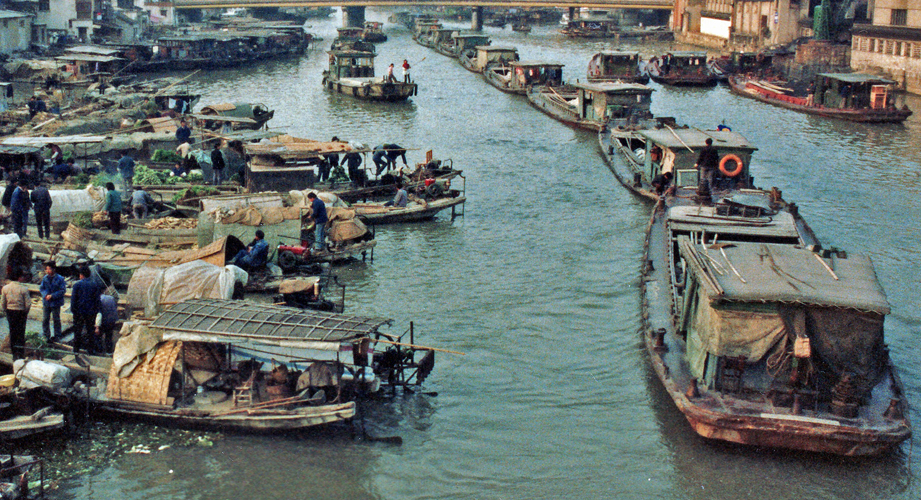 Here is our account:
A freezing fog hung heavily over a wintry Suzhou. Our spindly cycle- rickshaw rider whisked us through the dark silent streets, now and again letting out a tired groan as he heaved and hauled his rusty old bike over the many arched bridges that spanned the dank, black canals, his body tensing as he stood up to force the rickshaw over the final few centimetres, before slumping back onto the seat as the decent began. The eerie silence was often broken by the tingle of approaching cyclists' bells, who, like the spectres you pass in a ghost train, flashed out of the darkness only to vanish again into the void. We passed clusters of hunched shapes, peasants on their way to market, weighed down by bundles, sacks and laden bamboo poles. They didn't speak, preferring to concentrate on the task ahead. Bare light bulbs, or the rare lantern, lit up whitewashed houses and black slated roofs. The night hid their poverty and decrepit state and they looked romantic, as if belonging to another, more prosperous time.


It was four thirty in the morning and we were heading for the boat dock for the local five o'clock ferry to Hangzhou. Continue reading "Suzhou to Hangzhou by local ferry on the Granal Canal December 21st 1990"