Pingle 平乐 Versus Songji 松溉
Pingle and Songji
A Tale of two Towns. Pingle and Songji are two traditional ancient towns in the South West of China. The first, Pingle, is a couple of hours away from Chengdu, the capital of Sichuan, while the second, Songji, is a mere two hours from the metropolis Chongqing.
The architecture in both towns is similar: the houses have black slate roofs and white walls supported by dark wooden beams; the streets are narrow and cobble- stoned. Moreover, both towns share a riverside location: while Pingle is built along both banks of a river, the streets of. Songji run downhill towards the Yangtze. As for village life, drinking tea and playing board games are still the favourite pastimes of the locals. However, after that the similarities stop. Pingle has become a hugely popular tourist destination for Chengdu residents and domestic tourists visiting Sichuan.
As a result, it is full of souvenir shops, its streets lined with teahouses, inns and restaurants. Songji on the other hand is a slightly melancholy, time- forgotten town without a single souvenir shop, just one hotel and a few local restaurants and traditional teahouses. We visited both this summer and here are our impressions, taken from the Diary:
Pingle平乐

… First impressions aren't good. The toilets at the otherwise modern bus station that necessity has forced us to use are high up on the 'Worst in China' list: they are piled high in shit, there's no water and the stench impregnates the station and beyond. Outside a steady drizzle is falling.  The next realisation is that Pingle is far from being a hidden gem; in fact, it is entirely overrun by Chinese tour groups. Our guide book, the trusty Lonely Planet, had warned us that "modern life (was) encroaching", but had also assured us that "enough old-town life (remained) for a pleasant day-long excursion from Chengdu".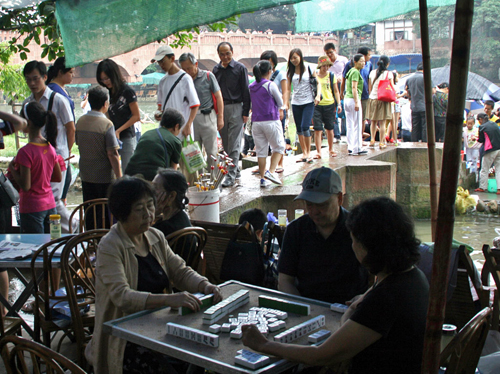 As it turns out, the whole town is one great souvenir shop, selling all kinds of crap, from giant water pistols to screaming toys. We pass the town's blacksmith (proudly advertised as the last remaining 'traditional' one) and cynically speculate whether he spends his whole day heating and whacking the same piece of metal for the benefit of the tourists, while the knives and other things on sale are mass produced in Guangdong.
Continue reading

"A Tale of two Towns"