Chongqing 重庆
A Few Days In Chongqing 重庆: A smooth two-and-a-half- hour train ride has taken us from Chengdu to Chongqing (see update below in getting there). As our taxi emerges from the modern station building we are amazed at the panorama in front of us: we can see a labyrinth of motorways and overpasses and a whole forest of gleaming tower blocks.
first visit 1991
Nothing we even remotely remember from our previous visit in 1991; that time we arrived in Chongqing by boat, all the way from Shanghai. Though we didn't stay long, we did like the city. We still have fond memories of its steep, stepped streets, its colourful vegetable markets which invaded all the pavements, and its plucky women, defying the grey winter weather with their vivid outfits.
retracing our steps
This time, we will retrace our steps and leave Chongqing by boat, going downriver as far as Yichang, to check out the changes the Yangzi has undergone since the construction of the controversial Dam. But first, we're planning to have a good look at the city itself.
Surprisingly, given the immense size of the city, the traffic is smooth. In fact, there are hardly any cars on the brand-new multi-lane motorways. In no time at all our taxi driver drops us at the Number Nine Hotel, conveniently located in downtown Jiefangbei district, close to the place where the cruise ships dock.
A bit of sightseeing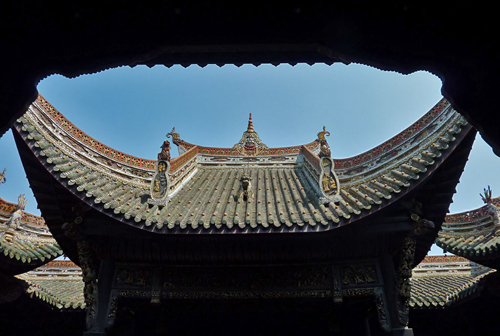 After a clean-up, we venture out into the scorching hot streets of Chongqing and head for its number one attraction: the Huguang Guild Hall. To our surprise, the most direct route to this AAAA site is down one of those steep, stepped streets that we remember from nearly 20 years ago, past a row of insalubrious, dark, dank hovels.
Continue reading

"A Few Days In Chongqing 重庆"