Chongqing 重庆
A Few Days In Chongqing 重庆: A smooth two-and-a-half- hour train ride has taken us from Chengdu to Chongqing (see update below in getting there). As our taxi emerges from the modern station building we are amazed at the panorama in front of us: we can see a labyrinth of motorways and overpasses and a whole forest of gleaming tower blocks.
first visit 1991
Nothing we even remotely remember from our previous visit in 1991; that time we arrived in Chongqing by boat, all the way from Shanghai. Though we didn't stay long, we did like the city. We still have fond memories of its steep, stepped streets, its colourful vegetable markets which invaded all the pavements, and its plucky women, defying the grey winter weather with their vivid outfits.
retracing our steps
This time, we will retrace our steps and leave Chongqing by boat, going downriver as far as Yichang, to check out the changes the Yangzi has undergone since the construction of the controversial Dam. But first, we're planning to have a good look at the city itself.
Surprisingly, given the immense size of the city, the traffic is smooth. In fact, there are hardly any cars on the brand-new multi-lane motorways. In no time at all our taxi driver drops us at the Number Nine Hotel, conveniently located in downtown Jiefangbei district, close to the place where the cruise ships dock.
A bit of sightseeing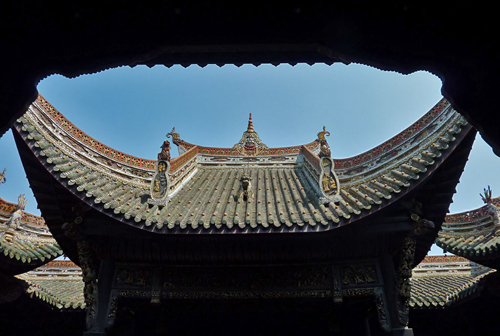 After a clean-up, we venture out into the scorching hot streets of Chongqing and head for its number one attraction: the Huguang Guild Hall. To our surprise, the most direct route to this AAAA site is down one of those steep, stepped streets that we remember from nearly 20 years ago, past a row of insalubrious, dark, dank hovels.
This is one of the first things that strike us about the centre of Chongqing: the co-existence of those modern tower blocks we saw on arrival, with pockets of decrepit and decaying houses and flats that wouldn't look out of place in a slum.
the Huguang Guild Hall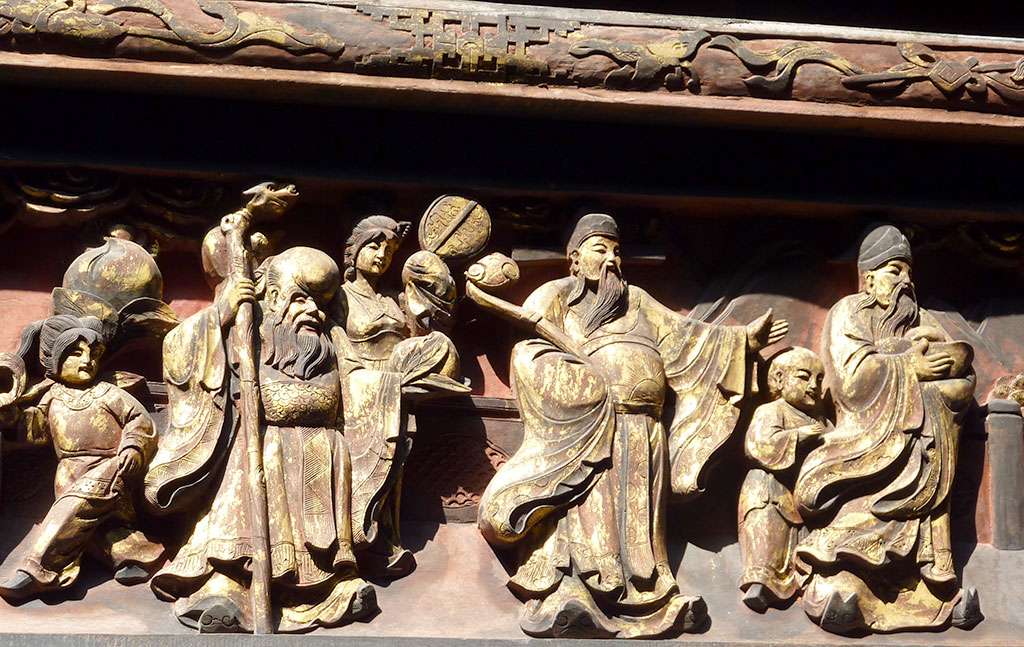 Fortunately, the Guild Hall is quite impressive; it's a rambling collection of buildings that combine the typical up-surging eaves of Southern architecture, like the ones we saw in Fujian,
with more rounded forms on the outer walls. There are several theatre stages, all with intricate wood carvings, some displays of ancient customs represented by life-size dolls, and a hall with a large collection of wooden tablets, beautifully painted or engraved with calligraphy.
Luohan Si temple
Next, we drag our overheating bodies over to the Luohan Si temple, virtually the only other sight near the centre, only to find the place half-closed, due to restoration works.
The famous 500 Luohans are all wrapped up in plastic, while some finishing touches are being made to the hall that houses them. It looks as if the temple is going to be a nice place once it's finished, but for the moment there is little to see.
After this, we almost give up on sightseeing, but in the end decide to carry on to the Liberation Monument, a rather disappointing little tower, surrounded by sterile shopping streets and malls.
skinny men with bamboo poles
There are plenty of expensive international brands on display in the windows, such as Cartier, Todds, or Armani, while fast food chains like McDonalds, Starbucks and Pizza Hut offer refuge to tired shoppers. Suddenly, we are thrown back in time: sticking out like the proverbial sore thumb among the glitzy shops are those skinny men with bamboo poles, carrying heavy loads, or standing around dejectedly, hoping to pick up another commission, just like all those years ago!
Lost in the urban sprawl
By now, we are absolutely knackered and dying for a nice terrace and a cold beer, preferably somewhere by the river, to catch a bit of a breeze. Unfortunately, it seems that there are no terraces in Chongqing. At one point we spy a multi-storied building, made to look somewhat like a temple, which seems to hold some bars, gaming rooms and internet café's, so we rush up to its flat roof excitedly, hoping to find the elusive terrace. Alas, we are disappointed again, though the piled up chairs and tables suggest that there may be some at night.
The of ordeal Finding a Beer on a terrace
Reluctant to give up the search, we lean over the balustrade and peer down. From our vantage point on the roof we can just about make out a small, simple terrace way below us, right by the river. We can also see a steep flight of stairs and the beginning of a path. Surely, it must be possible to take a short-cut and end up at that terrace?!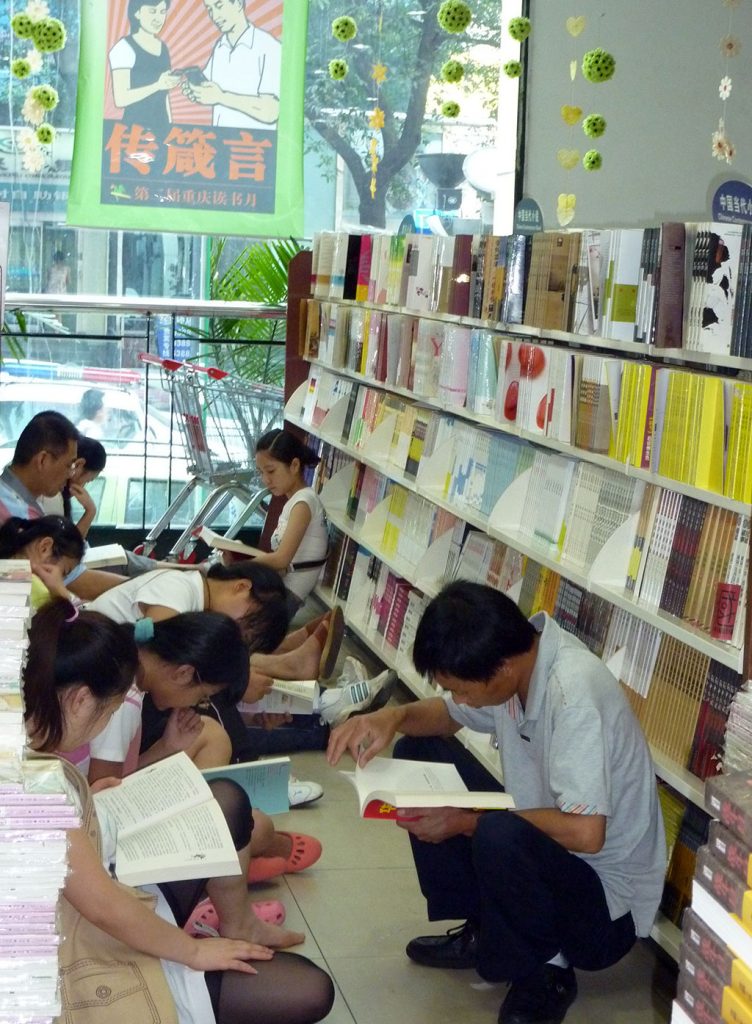 We set off down the path, only to come up against the concrete wall of an ageing apartment block. After asking several locals if there is a way around this, a friendly man takes charge of us and leads us into the building. In a state of shock we follow him through grimy corridors, down some steps, into the heart of darkness.
an urban nightmare
Experienced from the inside, the apartment building is an urban nightmare come true: there are dark and dank interior courtyards, crumbling bits of plaster, walls stained by humidity to the point of sprouting fungus, claustrophobically bulging ceilings and piles of rubbish everywhere. Can this place really be considered fit for human occupation?!
Our journey ends at a creaking lift, which our guide indicates we should take, as we're still 16 floors above the river front. Adam and I throw each other a worried look and gingerly step into the lift. I keep my fingers crossed and just pray this dodgy piece of sub-standard machinery won't crash. We both heave a sigh of relief when we emerge into the sunshine, right by our little terrace.
well-deserved beers and snacks
After a couple of well-deserved beers and snacks to cool off and recover from our little adventure, we head back towards our hotel, along the river. We pass a couple of other small terraces, half-hidden in the dusty shrubs,
each one even shabbier than the previous one, and then there is nothing but pavement.
The River Side
It amazes us how precisely this valuable riverside land has not been developed here in downtown Chongqing: here you can still find derelict apartment blocks, ramshackle old houses, demolition and/or construction sites, or even stretches of waste land, whereas the hills and slopes have been built up with unstable- looking, gleaming high-rises.

Somehow it doesn't surprise us that they have just uncovered a top-level corruption scandal here, involving administrative, police and judicial circles: this city reeks of corruption and speculation! To us, the new Chongqing with its total lack of people-friendly development seems an inhuman, impersonal and daunting place.
a weird leisure complex
Closer to the harbour, still hugging the river, we spot a weird leisure complex on the other side of the road: it's a large, multi-storey block of would-be ancient buildings with wooden decorations and trappings; housing bars, restaurants, clubs and such. There is a fake cave with colourful figures of pirates and skeletons, an artificial waterfall and even half a ship, sticking out of one of the façades – but nowhere safe for pedestrians to cross over and take a closer look at the place…
We end our day on the large, bustling Chaotianmen Square, right by the waterfront where the cruise ships dock, and from where the brightly-lit party boats that take people round at night depart. We don't linger though, as we are being pestered by an endless stream of hawkers, touts and vendors, trying to flog us "Yiengliesche mappe", boat tickets, fans, bottles of water, fruit, etc., etc.
neon lights
As we can't see anywhere good to eat, we just retire to our hotel room with a couple of beers and some snacks. We are not enjoying Chongqing very much at the moment; that much is obvious. On the bright side, the views from our room are rather spectacular: lots of neon lights, colourful party boats, and there is even a building on the other side of the river whose façade projects images of tropical fish, divers, and so on.
Chongqing Practicalities:

Getting there and away: we arrived at Chongqing's shiny new railway station on a fast train from Chengdu, which took a mere two-and-a-half hours. We left again on a cruise ship that took us down the Yangzi, as far as Yichang.
Update:
High speed trains are now taking around an hour between Chongqing and Chengdu with the introduction of Fuxing trains and 350 km/h (220 mph) on December 24, 2020. New even faster routes will include the cave grottoes at Dazu
Our Excursions from Chongqing
Accommodation
We stayed in the No 9 Inn, a newish, twenty-storey hotel, near Chaotianmen Square. Here, a spacious, comfortable double with a large window overlooking the Jialing River, cost 180 Yuan. A simple buffet breakfast is included.
Food
As real 'Huo Guo', or Hotpot, lovers, we had been looking forward to our Chongqing visit, as this city is considered the cradle of the Huo Guo, but again, we were slightly disappointed. Firstly, though we searched high and low, we couldn't find the famous Huo Guo restaurants of Wuyi Lu, or Huo Guo Street.
Trying to Find the authentic huoguo
There was a lot of building going on in the area, so perhaps the restaurants had simply been cleared. Secondly, when we did have a Huo Guo, in a modern, soulless establishment on one of the pedestrianised shopping streets around the Liberation Monument, we were only given a heavy oily dip to dunk the cooked ingredients in, not the nutty, thick sesame sauce (quite common in Sichuan) we had been looking forward to.

However, we must admit that we never made it to Nan'an Binjiang Lu, the restaurant area on the other side of the Yangzi, highly recommended by Lonely Planet.
The real Baobing
The also recommended Food Plaza, on the 6th floor of the Metropolitan Plaza, a shopping centre near the Liberation Monument, was quite good fun. The place has an excellent selection of Chinese food, as well as a couple of Korean and Japanese stalls. They also do fantastic Baobing here (Shaved ice with various toppings).
Before ordering, you need to buy a plastic debit card to pay for your food. If you can't spend the full amount on your card, they will return your money.