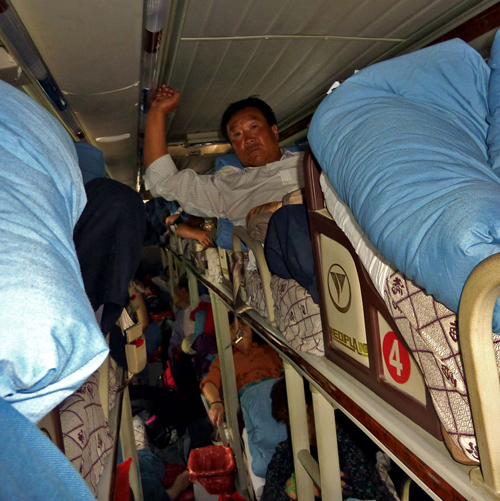 As I observed the scene from the upper berth on the overnight sleeper from Xining to Yushu, memories of China's famous scenic mountain Huangshan flooded back. The upper-tier beds seemed to be floating in a sea of clouds, just like the famous rocks and gnarled pines of Huangshan and, as happens on that mountain, occasionally everything was swallowed up by an enveloping mist. Except that the clouds and the mist on our bus were no manifestation of the bracing and refreshing mountain air, but rather a thick curtain of acrid cigarette smoke, rising up from our fellow passengers on the beds below.
Initially, Margie and I were quite relieved when we saw our bus at Xining bus station: at first sight it looked pretty new and clean; even the bedding was quite passable. Our upper berths right at the front of the bus seemed comfortable enough and, even more importantly, there were no-smoking signs everywhere. Encouraged by these favorable impressions, we began to look forward to the trip. Of course, we should have known better.
While in the more developed eastern parts of China non-smoking rules on public transport are usually enforced quite strictly, previous experience had taught us that the situation in the remote areas of western China could be very different. The Chinese have a fabulous saying that sums up how rules are enforced, or not, the further you are from Beijing: "Heaven is high and the Emperor is far away" (tian gao huang di yuan天高皇帝远). And indeed, the emperor seemed a long way away as the two drivers boarded the bus, cigarettes dangling from their mouths, and the other passengers began the customary ritual of foisting cigarettes upon each other.

I desperately looked round to see if I would be able to open a window but nope, it was a completely sealed air-con bus. When the air-conditioning system packed up after about 10 minutes, I knew we were in for a torrid night. And so we were.
The journey from Xining to Yushu takes around sixteen hours and the 18.00 sleeper bus covers most of it at night. As Xining lies at an altitude of 2275m, while Yushu has an elevation of 3680m, this means that most of the ride takes place at altitudes of over 4000 meters, with some mountain passes reaching a headache- inducing 4824m.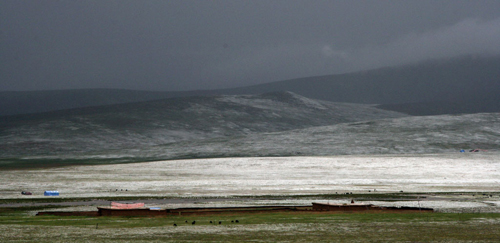 In my case, the rapid accent and the incessant smoking produced a noxious effect that was only somewhat alleviated during the occasional repair and maintenance stops, the one and only meal, or the infrequent peeing opportunities (most of which were, by the way, most inopportune for the female passengers, as they offered no privacy whatsoever). At such moments, the few non-smokers tried to gulp in as much fresh air as possible. Unfortunately, at such altitudes, air is a rather scarce commodity.
As the night rolled on, I drifted in and out of a light and uncomfortable doze. Either my head was pounding from the altitude, or I was gasping for air among the pales of smoke. My large, western frame wouldn't fit into the Chinese-sized berth and my limbs insisted on sticking out at uncomfortable angles. Moreover, the prospect of being propelled like a missile straight through the front window, in case the driver suddenly had to slam the brakes on, meant that I was never able to relax, bracing myself –as I was – against the imaginary impact. Meanwhile, most of our fellow passengers seemed completely indifferent to the discomforts; sleeping peacefully, chatting or smoking.
Speaking of our fellow passengers, they were a variegated and interesting lot. During one of our pit stops, this time to change a burst tire, I struck up a conversation with a group of elderly men. They were all from Xian and had been stationed in Yushu to do their military service in the early 1960s. They were now retired and were returning to their former haunts, to show their wives the place where they had spent so much of their youth. They told us some fascinating stories about what Yushu was like all those years ago, and how hard it had been to be stationed there.

Meanwhile, the ex-soldiers' wives just couldn't understand why we hadn't taken the plane. They had had no choice because their husbands wanted to enjoy the scenery; but we? Why had we not taken advantage of the wonderful new service between Xining and Yushu that had started up a week before? Just imagine, in less than 2 hours we could have been there! We pretended we hadn't known about it. Actually, we preferred to feign ignorance, rather than let the embarrassing truth be known: Margie and I are both terrified of flying and when the chips are down, even drowning in smoke on a 16-hour bus ride is preferable to a take-off…
As dawn began to break at last, we were greeted by the grasslands and surrounding mountains, covered in a vast expanse of white, as it had started snowing during the night; and this was the height of summer! Tibetan nomads on horseback, huddled inside their heavy coats, sodden though equally ferocious mastiffs, and shaggy snow-covered yaks all looked a forlorn sight in this harsh, bleak but yet amazing landscape.
At around 11.00 am, the bus passed the huge Mani wall just outside Yushu and we knew that our ordeal was over. How I miss those old rust buckets buses with windows that open! As we collected our bags from the bus, I sucked and gulped in the fresh air, saved at last! Little did I know that within two days I would be hooked up to an oxygen tank in a Tibetan clinic, suffering from the worst bout of altitude sickness I'd ever had….