Longxi Si & Nangchen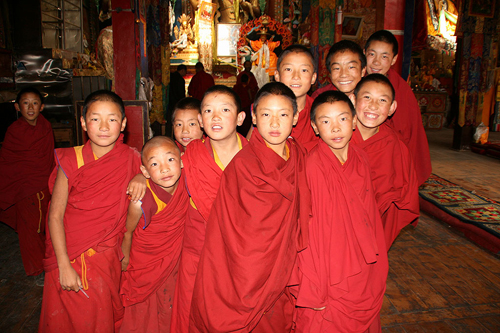 Deliberations of an oxygen-deprived traveller.
After 4 nights of me coughing, wheezing, gasping for air and not having slept a wink, we took the decision not to stay the night in Nangchen, but to just take a day trip in that direction instead.  The fact that I was hooked up to a rusty oxygen tank at the time, in a friendly, but far from salubrious, local Tibetan clinic in Yushu, had something to do with it as well. My altitude sickness was a weird phenomenon: while I was all right during the day, I spent most of my night's sleepless, and at times hallucinating and babbling gibberish.
On the road to Nangchen.
The road from Yushu to Nangchen is truly spectacular, crossing several high passes (4,500 metres) and running next to gushing rivers, including at one point crossing the Mekong River. Vast grasslands extend on either side of the road, with grazing herds of yaks, sheep, goats and horses. The lower areas, with their meandering rivers and meadows strewn with wildflowers, look almost alpine. In the distance there are rolling hills and snow-capped mountains.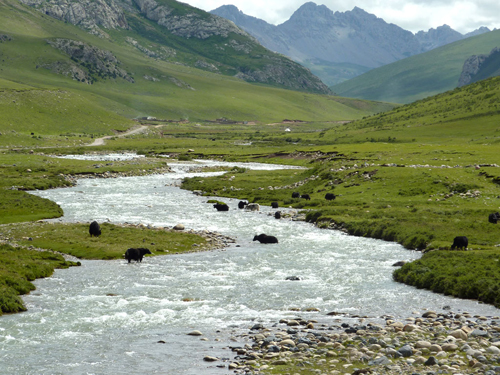 From time to time we drive past scattered nomad settlements and, curiously, the odd 'shop-tent', invariably tended by a solitary Tibetan woman, selling instant noodles, drinks and such; but in general there is very little sign of (human) life. Our enjoyment of the pastoral idyll outside the car windows is only affected by the stench of our driver's ten- year- old son' farts… He's a nice enough kid, but with a tendency to produce some of the vilest smells known to mankind. Not pleasant in a small car!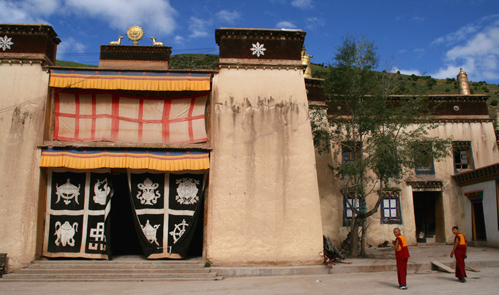 Longxi Gompa
After just over two hours we reached Longxi Gompa, just over half way to Nangchen. The monastery complex lies more or less directly on the road, instead of romantically perched on a hillside, as is usual. However, that is the only disappointing thing we can say about this wonderful place.

Our arrival at the temple was met with a lot of excitement; monks, young and old, came running out to greet us. Our ever helpful driver seemed to know several of them and was happily chatting away. Unanimously, the teachers and pupils decided to suspend the classes we had interrupted, so that they could show us around and join in the photo sessions.
The atmospheric, old assembly hall had a large collection of beautiful statues, but its highlight was a dark, slightly sinister, side chamber that housed an amazing collection of scary, ancient masks. Our visit was livened up by the child-monks, running amok in the temple and crowding around us to have their photo taken.
After the main hall, we were taken on a tour of the whole complex. Given its remote location, we were astonished to see the amount of building and restoration work going on here. New chapels, prayer halls, classrooms and dormitories for students were being erected everywhere, while a whole army of artisans was busy carving statues, printing prayers, and feverishly painting and decorating just about every inch of  wall, ceiling, or pillar available..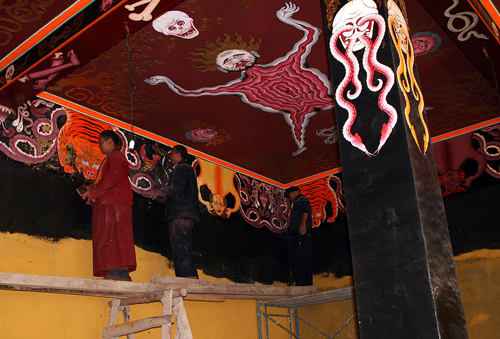 The work was being done by local Tibetan artisans, mostly young boys some of whom looked quite trendy, and the monks themselves. The artisans were all living on the premises; we even caught one napping in his sleeping bag, in the middle of the hall he was in the process of painting, while his colleagues carried on working.
It was a fantastic opportunity to see first hand how those wonderful Tibetan paintings and decorations are still being executed, according to ancient tradition. Generally, the paintwork seemed to be organised in three stages: first a draftsman drew the outlines of the paintings on the wall with pencil or charcoal, then some of the younger apprentices coloured in the larger spaces, leaving the finer touches for their more experienced partners.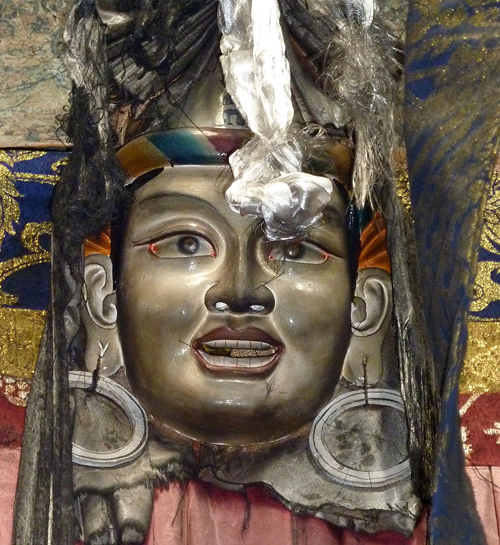 The imagery was quite varied: we saw geometric designs on the ceilings and pillars, demon gods trampling people, demon gods involved in Tantric sex, flayed people, skulls, as well as leopards, dragons and colourful birds.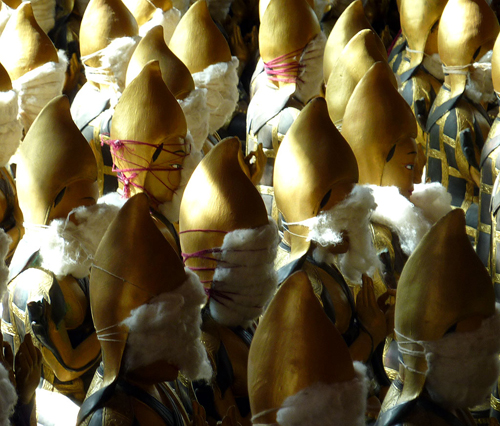 We also saw a whole room full of little Buddha's, most of them wrapped up for protection, waiting to be placed in their definite locations. Outside the Buddha store room, a group of monks were carving and preparing woodblocks to print the sutras (prayers) that were to be rolled up and stuffed inside the statues before they're placed in the temples.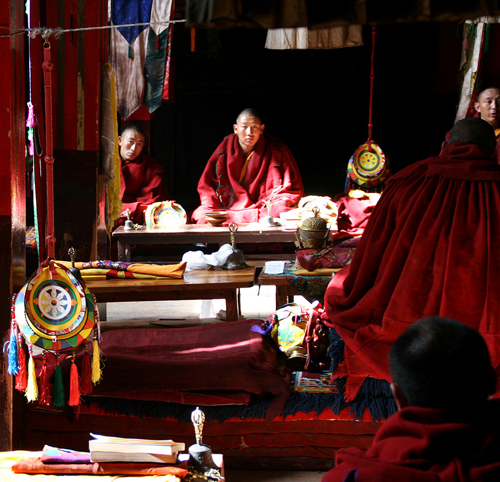 After our extensive tour of exploration we came out feeling quite exhilarated. Longxi Gompa was the first gompa we had visited for a long time that really felt like a living and working religious community. Here, we saw monks praying and reciting in many  places, little child-monks learning Chinese and Tibetan in different class rooms, monks involved in construction work, woodblock carving, painting, cleaning, etc. It was also interesting that some of the monks could speak a spluttering of English, as they had been living in India for a long time and had only recently come back; teaching skills that had been lost in China, due to the Cultural Revolution. We were under the impression that a lot of the money for reconstruction is coming from outside China, but from where exactly, we couldn't find out.
Coming and Going:
The monks told us that very few foreigners dropped in on the Monastery. This is probably because most travellers take the local minivans from Yushu, straight through to Nangchen. You can only really get there by car, or by getting out of the minivan and hoping to pick up another one later.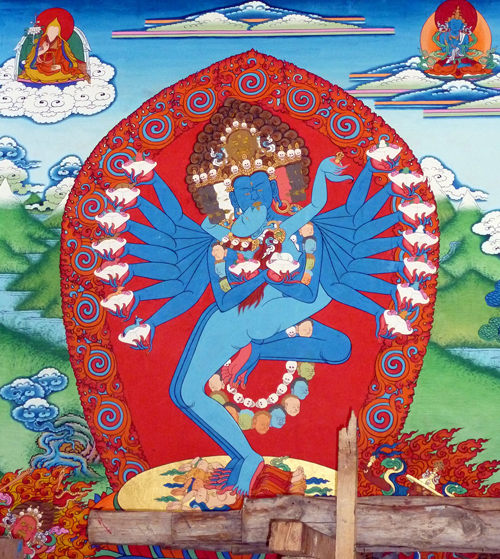 Epilogue.
We never made it to Nangchen. I needed to get down to lower altitudes, and quickly.
It was a real pity as the scenery was so stunning and we had heard some quite nice things about the place…