The Dalian Seafood Restaurant, Beijing.
It was only a Wednesday night, but the place was heaving. The smartly-uniformed waitress told us we were 4th on the waiting list. My friend David, who has been working in Beijing for several years, said that it was worth the wait and that, anyway, tables moved fast here. He was right on both counts; 10 minutes later we were assigned a table and told to go and choose our meal from the magnificent displays and amazing fish tanks.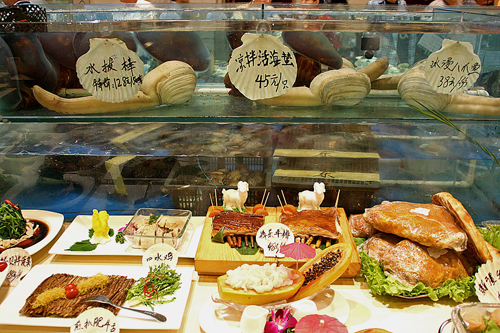 The Dalian Seafood Restaurant in the Chaoyang district, almost directly opposite the huge Landao Shopping Centre, must be one of the great restaurants of Beijing. It has certainly made it onto our list of favourites. If you are a lover of fresh seafood and fish, as we are, then this has to be one of the best bargains in Beijing. Everything looks and smells as if it has just been plucked straight from the sea. Strangely enough it is actually a Muslim run enterprise but alcohol flows freely.


The restaurant's centre-piece is a rectangular area of fish tanks, filled with all kinds of fish and sea creatures. In front of the fish tanks, there are countless trays of (live) prawns, squid, scallops, crabs, clams, razor fish and other unnameable creatures, just lying around, waiting to be chosen, gobbled up and washed down with a cold beer.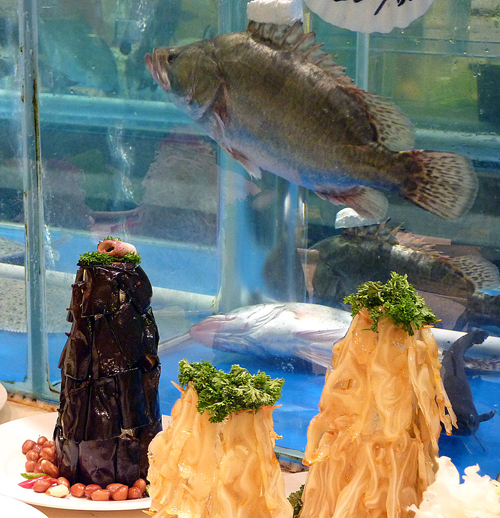 Colourful, mixed display plates, with different combinations of vegetables and sea food offer an even wider choice, as well as giving you an idea as to how a dish might be prepared. On your tour around these culinary delights, you will be accompanied by a waiter or waitress, ready to offer advice, suggest different cooking styles, and take note of your order.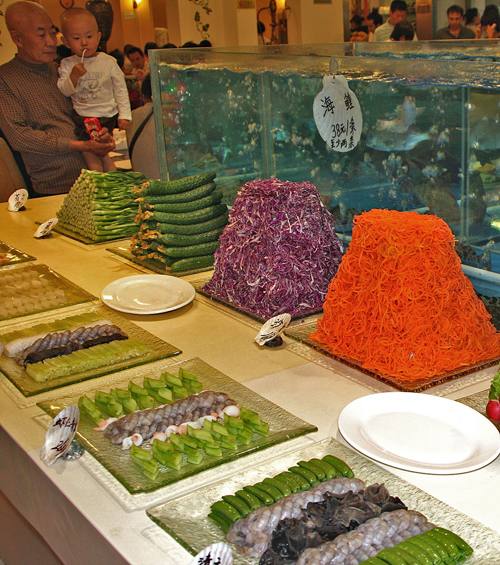 Some of the staff might try to guide you towards the expensive abalone or sea cucumbers, but don't worry, there are plenty of tasty and inexpensive dishes to be had.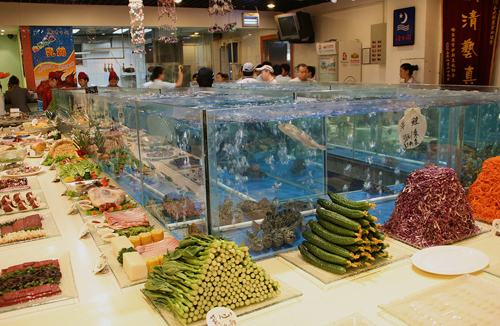 Apart from the fish tanks, there is a separate kitchen for the preparation of fresh, seafood dumplings; there is a wide range of delicious fillings available. If you are not into beer or wine, there is also a fruit bar that prepares fresh fruit juices and colourful, exotic fruit salads.


Ordering food here is a difficult choice. On our way back to the table, still accompanied by our waitress, we kept seeing other tempting dishes. "What are those?" I asked, pointing to a steaming platter. "Seafood dumplings," the waitress replied. "Liang fenr" (2 portions), David ordered immediately. Margie took a fancy to some succulent looking bamboo tips on another table. "What are those?" we enquired again.  Zhusun竹笋she answered. "Lai yi fenr", we shouted in unison!


No doubt we over- ordered, but we finished it all off. It came to a mere 350yuan for 4 people, including drinks.