This information is old. The original Mani Wall which you see in this article was destroyed in the Yushu earthquake in late 2009 a few months after these photos were taken. Click here for more photos.
The World's Longest Mani Wall. Only three kilometers from Yushu lies one of the great sights in the Tibetan world, the Seng-ze Gyanak Mani Wall (), reputedly the largest in the world. Found all over the Tibetan lands, Mani Walls are rows of piled-up stones, engraved or painted with orations. The size of such Mani Walls can vary from the humblest pile to a circuit of several hundred meters. Pilgrims walk round these walls of holy stones in a clockwise direction, uttering prayers and twirling prayer wheels.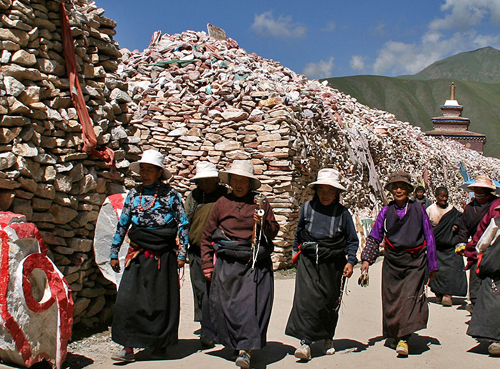 The Seng-ze Gyanak Mani Wall is /was truly enormous
The Seng-ze Gyanak Mani Wall is truly enormous; a sign by its side proudly proclaims that it is 283 metres long, 74 metres wide, 2,5 metres high and consists of 2 billion stones! What's more, the Wall is still growing, as we witnessed with our own eyes: devout pilgrims contribute new stones everyday, which are hoisted up on to the pile carefully. The billions of beautifully carved stones carry the Buddhist prayers "Om Mani Padme Hum" or, "Hail to the Jewel in the Lotus", and other orations.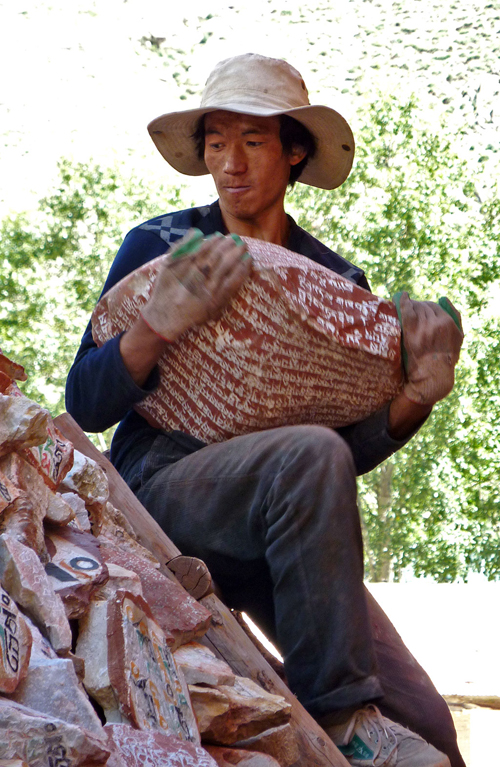 Tibetan pilgrims from all over the Kham region
Tibetan pilgrims from all over the Kham region and further afield descend on this huge Mani Wall from dusk to dawn. Dressed in their finest, they circumambulate the sacred stones in a constantly rising and ebbing flow. The early morning sees a high tide, while the crowds ebb during the afternoon, only to return again in the early evening.
Look out for ladies wearing amazingly colourful, flat, embroidered hats, which seem to be typical of the area between Yushu and Serxu. We certainly had never seen them before and found them most photogenic!
best way to take in the ambience
The best way to take in the ambience is to join in with the pilgrims and accompany them on their walk around the Wall. The more times you circle the Wall, the more fascinating it becomes. Numerous dark chapels and prayer-wheel halls, lit up by thousands of flickering yak-butter lamps, provide a diversion from the routine.
It would be interesting to know just how many kilos of yak butter get used here everyday day.
Coming and Going: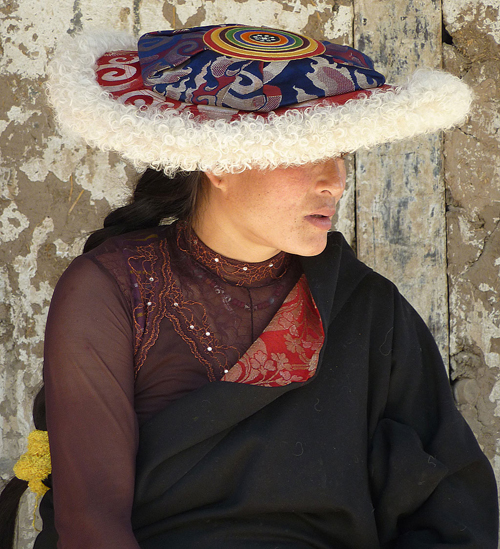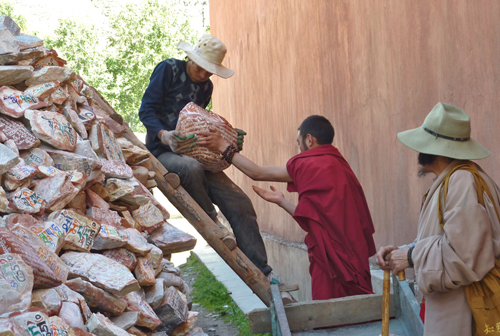 The Mani Wall is easily reached on local bus number 1 from Yushu. There are frequent buses throughout the day and the fare is just 1Yuan.