Chinese New Year in Madrid

Last week, the Chinese community in Madrid celebrated the Chinese New Year, the Year of the Tiger, right in the centre of the city. The parade started in the emblematic Puerta del Sol (where we live), and finished in Plaza de España, passing the Royal Palace on the way.

Each year the parade seems to increase in size, both in the number of participants and spectators. In years gone by, the celebration was limited to the charismatic neighbourhood of Lavapiés, where many Chinese have their wholesale businesses. These days, the narrow, hilly streets of Lavapiés have become too small for the growing celebration.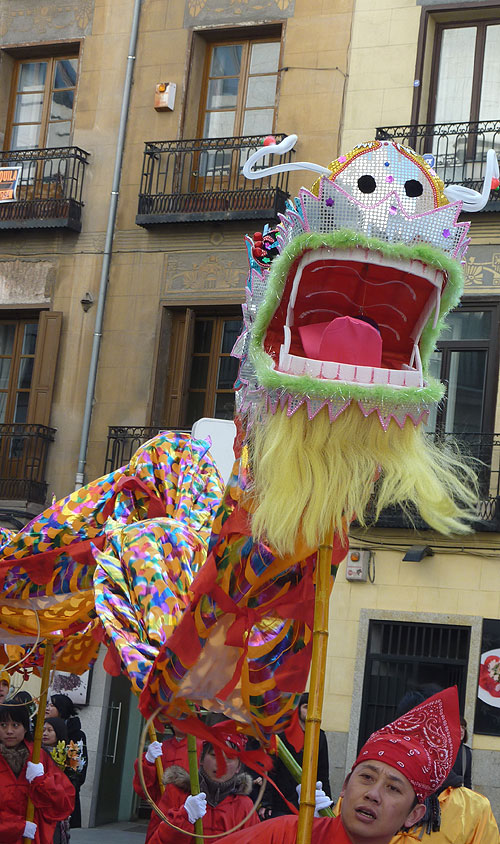 The parade included all the usual dancing dragons, lions and people dressed in folkloric costumes. Martial arts displays, mostly performed by Spanish Kung Fu students under the instruction of their Chinese master, and food stalls made up the rest of the entertainment.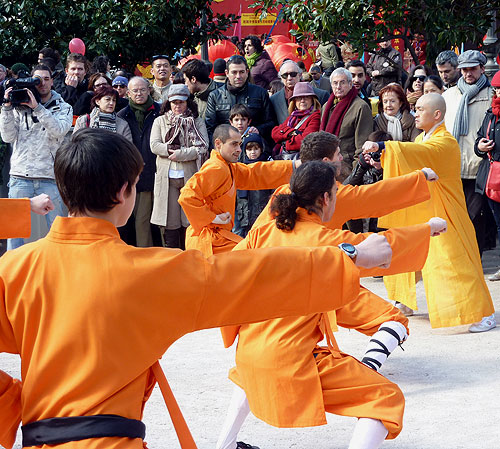 Curiously, many other stalls were dedicated to the promotion of various companies, as the Chinese always like to combine business with pleasure.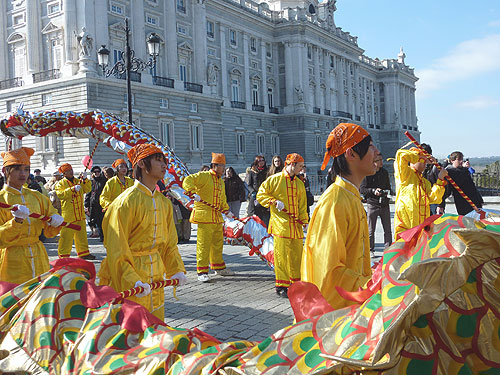 It was interesting to note that the Chinese community in Madrid is truly divided along regional lines, for example the association of Chinese from the North East
or the Fujian association, with each community having their own dragon, or particular group in the parade.
By far the biggest of these groups is the association from Zhejiang, a coastal province south of Shanghai. However, even they are divided into associations from Wenzhou, Zhejiang's main city, and others from Qingtian, a small rural area several hundred kilometres from Wenzhou. Small as the area may be, it is estimated that the Chinese from Qingtian make up 80% of the 44.000 Chinese residents, officially registered in Madrid.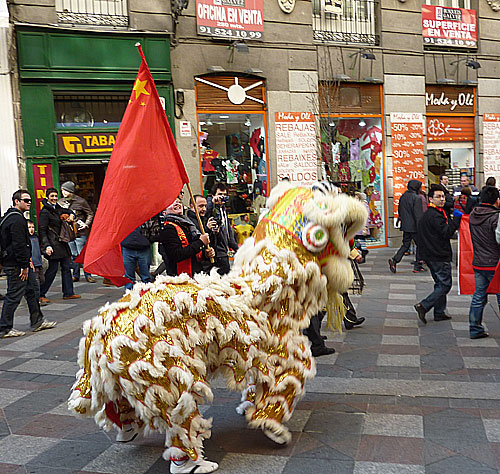 Incidentally, many Chinese from outside Qingtian tend to poke fun at their compatriots, who they see as country bumpkins (土包子). Qingtian would probably be the Chinese equivalent to the Spanish town of Lepe, whose inhabitants have been the butt of many jokes. Most likely, it has a lot to do with the thick dialect they speak, so thick it is practically unintelligible to any Mandarin speaker from outside Zhejiang and even difficult for a Wenzhou Chinese to understand.


Anyway, whatever their differences, the Chinese community in Madrid managed to pull off an excellent and colourful show.