Chongwu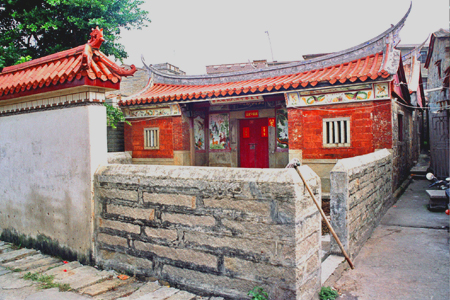 ESPAÑOL (English Version below)
La ciudad amurallada de Chongwu bien merece una visita. Básicamente, la ciudad es una antigua aldea de pescadores rodeada casi por completo por su muralla original de la Dinastía Ming. El Mar del Sur de China como telón de fondo y la muralla hacen de Chongwu un paraje realmente impresionante. En su origen, la muralla se construyó para proteger la ciudad de las incursiones de los piratas japoneses, que asolaron las costas chinas durante siglos. Además, el famoso caudillo rebelde de la época Ming, Koxinga, tomó Chongwu como base para su lucha en pos de derrocar a la Dinastía manchú de los Qing.
En la actualidad, los visitantes entran en la ciudad por una suerte de parque temático, que consiste de esculturas de personajes históricos, o fantásticos, dispuestas a lo largo de la playa. Sin embargo, no hay que desanimarse por ello. En la playa hay agradables restaurantes al aire libre que ofrecen buen marisco y un buen sitio para relajarse y descansar, tanto antes como después de visitar Chongwu propiamente dicha.
El casco antiguo de Chongwu es un intrincado laberinto de estrechos callejones….. leer mas ir a: HolaChina: Your Gateway to China
Chongwu (English Version)
The walled city of Chongwu is worth a visit. Basically, it's an old fishing village almost entirely surrounded by its original granite Ming wall. With the South China Sea as a backdrop, Chongwu makes for quite a dramatic location. The purpose of the wall was to protect the city from Japanese pirates who used to ravage the coast of China for hundreds of years. What's more, the famous Ming rebel Koxinga used Chongwu as a base in his struggle to overthrow the Manchu rulers of the Qing dynasty.
Nowadays, visitors enter the old city through a tacky theme park of sculptures, representing historical figures, that line the beach. However, this should not put you off. There are some nice open-air restaurants on the beach that offer good seafood and a good place to cool off and have a rest, either before or after tackling Chongwu itself. The old city of Chongwu is a maze of tight alleyways…..
For more go to:HolaChina: Your Gateway to China