风骚浙人 Fēngsāo Zhērén Restaurant (Beijing)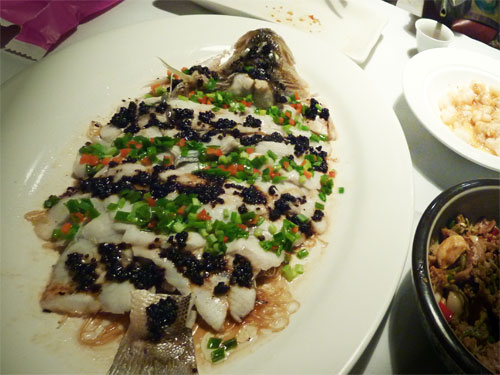 Located in Beijing's Chaoyang district, the风骚浙人 fēngsāo zhērén, or sometimes  known as Zhejiang Ren Zai Beijing (The Zhejiang People in Beijing Restaurant, 浙江人在北京) is a rather special eatery.  From the outside, you'd never guess that the modest façade conceals an ancient courtyard and some of the best Chinese food in Beijing.
The Place
Enter through a rather non-descript doorway and find yourself in a traditional Qing dynasty courtyard house with simple, but tasteful, dining rooms and a tree-shaded patio. As the weather was perfect, we chose to eat in the atmospheric patio. The clientele seemed to be well-heeled locals who were expecting nothing but the best.
The Service
The waiter was attentive and friendly without being overbearing. He took pride in suggesting the best dishes, but without being pushy.
The Cuisine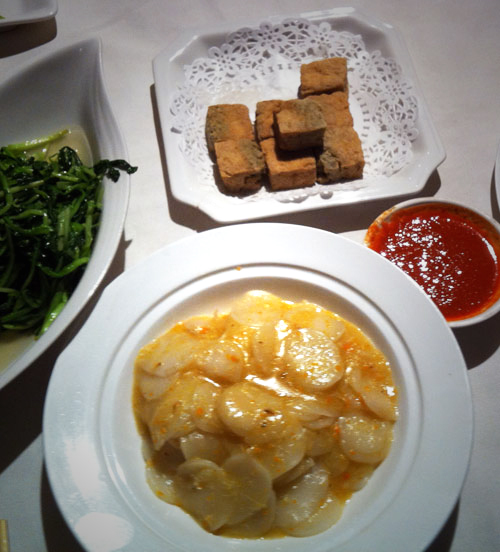 The restaurant's cuisine comes from Shanghai and the province of Zhejiang, a coastal province just south of Shanghai, and a further emphasis is placed on Zhejiang's Hangzhou and Shaoxing绍兴 regions. That means great fish, crab, smelly tofu and the best yellow wine, or Shaoxing  Huang jiu 绍兴黄酒.
Zhejiang cuisine, and Hangzhou and Shaoxing cooking in particular, is characterized by the importance placed on the quality of the ingredients. They have to be super fresh. Strong spices are used sparingly, and cooking methods like stir frying, braising and steaming are used to bring out the natural flavours of the raw ingredients. In spite of its mildness, this cuisine  can be characterized by three important flavors.
Mei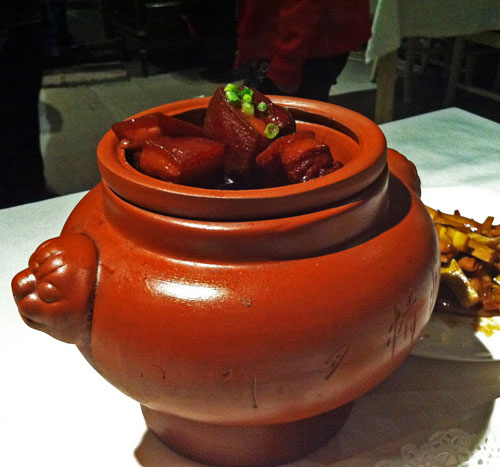 Meaning preserved vegetables; these are used to enhance the flavor of the dishes. A particularly popular dish in the Zhejiang Ren Zai Beijing is clay- pot steamed pork with preserved vegetable.  Bean curd is also popular cooked in this style.

Zui
Zui is 'drunken' cooking; this refers to the marinating and stewing of ingredients in yellow rice wine. Prawns and chicken are particularly tasty when cooked in this style.

Jiang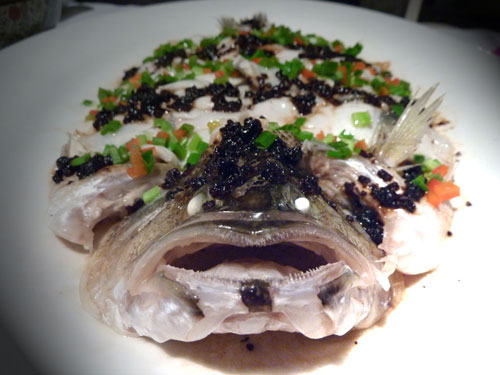 Jiang is bean sauce, and while duck in bean sauce is probably one of Shaoxing's most famous  dishes, we had fish in bean sauce, which was fantastic as well.
Specialities
The stellar dishes in the Zhejiang Ren Zai Beijing are anything with crab roe, especially the prawns and crab roe蟹粉虾仁 (xièfěnxiārén), or the fried rice cakes and crab roe蟹粉年糕 (xièfēnniángāo). The roe is silky, creamy and salty and adds a flavour that seems to bless any ingredients it comes in contact with.
Other dishes that tempt the taste buds are the smelly tofu (though perhaps an acquired taste), the previously mentioned fish or duck in black bean sauce and, of course, the clay- pot pork.
The wine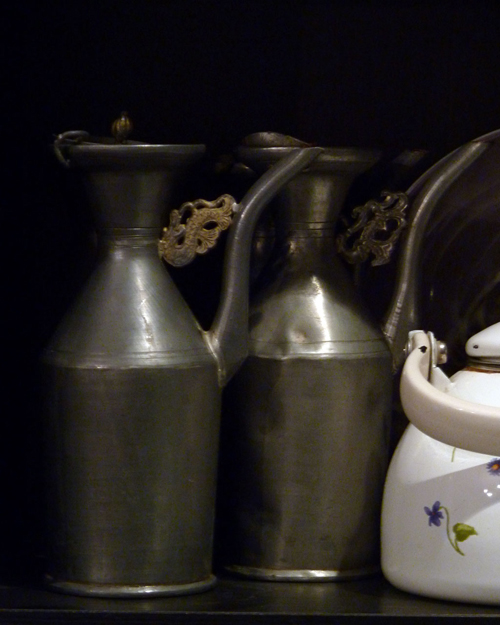 All this delicious food should be washed down with Shaoxing wine (Huangjiu 黄酒); best served warm, in old-style tin decanters. As with European wines, the quality of Huangjiu improves with age. The restaurant cellar stocks vintages of more than 20 years of age, which will have you pining for more, once you get used to Huangjiu's distinct flavour. Sherry drinkers may be reminded somewhat of a fragrant 'oloroso'.
The Cost
If you go for the more expensive crab roe dishes and drink the better vintages, this restaurant can be a little expensive at around 60 to 80 Yuan a head (3 people). However, the food is worth every Yuan。
Opinion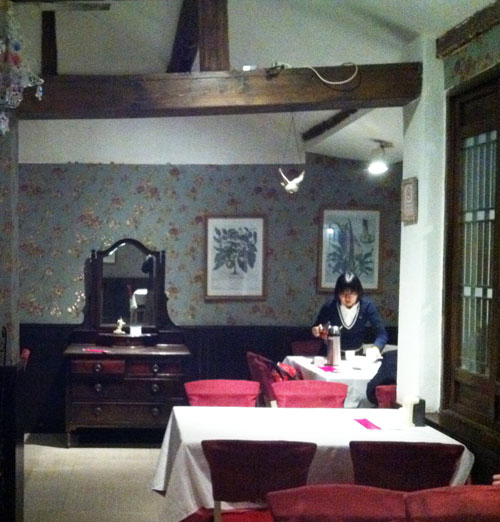 We haven't been back to Shaoxing since 2001, which is why the Zhejiang Ren Zai Beijing provided a great trip down memory lane. The food was delicious and the restaurant atmospheric.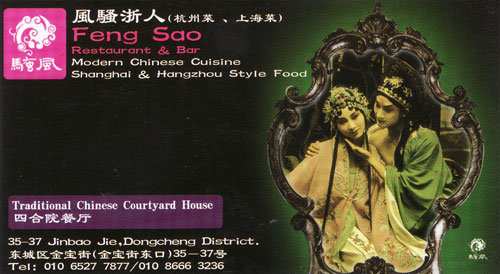 I must admit that I missed a bit of chili, but that may be because my taste buds have been ruined by too much Sichuan dinning.
Address
风骚浙人 Fēngsāo Zhērén Restaurant(or浙江人在北京Zhejiang Ren Zai Beijing).
35 -37 Jinbao Jie (金宝街) 35-37, Chaoyang District, Beijing.
北京市东城区金宝街35-37号.
There didn't seem to be an English menu.