Luzhi 甪直 An Authentic Canal Town (more or less)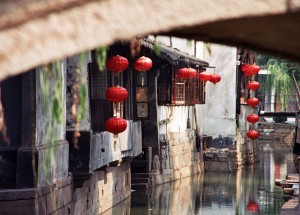 I have a nostalgic hankering for Jiangnan towns (Jiangnan 江南 means south of the Yangtse River). I suppose this feeling comes from our first visit to Suzhou and Hangzhou in 1990, when we made an amazing trip along the Grand Canal on a local boat, on the now discontinued service between those two towns. There was something dreamlike about the mishmash of canals, white buildings, eave roofs, arched bridges and winding cobbled lanes.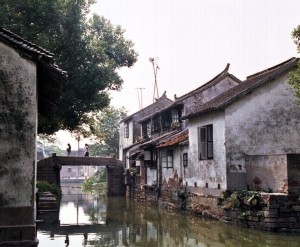 For the Western traveler in China 1990, the Jiangnan towns provided a glimpse into old world China. In the back lanes time seemed to had stood still. From the kitchens of beautiful white-washed houses with their decorated doorways and stunning courtyards, smells of garlic, soy sauce and sesame oil wafted out. People lived and worked on the canals as had their ancestors.
Things have changed since then. In recent years, due to their proximity to Shanghai, many of the water towns have experienced a tourist boom that has altered their character beyond recognition. Many have a ticket to enter, and then one souvenir street after another. Some of them, like Wuzhen in Zhejiang Province, offer themed versions of a China that in reality no longer exists.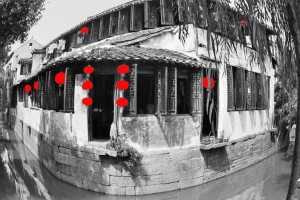 However, Luzhi, approximately 30 kilometers from Suzhou, on a quiet September day, gave us that old China feeling again. There were no tour groups, or other tourists for that matter, only local people going about their business. A late afternoon sun shone a magical light that brought out the best of the houses, bridges and canals.
I know that in high season, Luzhi is used to relieve the tourist pressure on other canal towns such as Zhouzhuang and Wuzhen. But at that moment, it was the China of 1990 revisited. Enjoy the photos.
Getting There:
Take bus 518 from in front of Suzhou Train Station. It takes about one hour and the buses run from early morning to around 8.00 p.m.