Wulingyuan 武陵源  /  Zhangjiajie张家界
"Please speak Mandarin".  "I am speaking Mandarin".
Zhangjiajie / Wulingyuan / Hunan Province
Please speak Mandarin" "I am speaking Mandarin. From Zhangjijie city 张家界市we boarded the bus for the half hour trip to Zhangjiajie Village 张家界村 and the Wulingyuan Scenic Area 武陵源风景区. We are in Hunan Province 湖南省, in central China, also the birthplace of China's first communist leader, Mao Zedong毛泽东.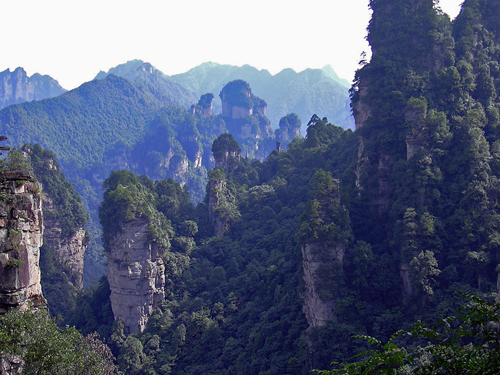 Joining us on the bus was a young Chinese backpacker from Guilin 桂林 (China's other famous natural scenic area). We soon got talking in standard Mandarin. The ticket seller, a friendly- chubby- bumpkin type chap with a ruddy face, cottened on that the foreigners could speak Chinese and joined in our conversation. He seemed able to understand us, but we and the young backpacker from Guilin were, completely at a loss as to what the conductor was trying to say. His voice high pitched and squeaky, the tones all over the place, was just incomprehensible.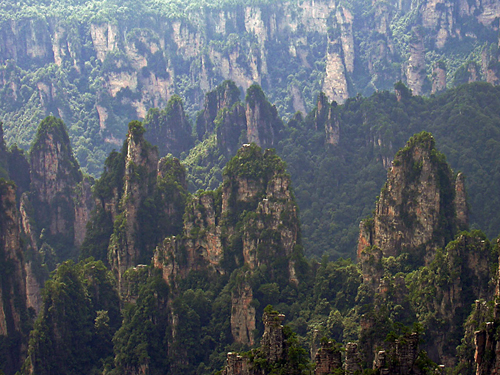 Eventually, out of desperation, I asked the conductor if he would switch to Mandarin (普通话), and not speak Kouyin (口音 local dialect). To which the conductor indignantly answered " I am speaking mandarin".  The young Guilin backpacker added that he also didn't understand what the conductor was saying. The conductor insisted again that he was speaking Mandarin and so our conversation continued in a Kafkaesque manner.  The conductor understanding perfectly what we were saying; and we not understanding a single word from him.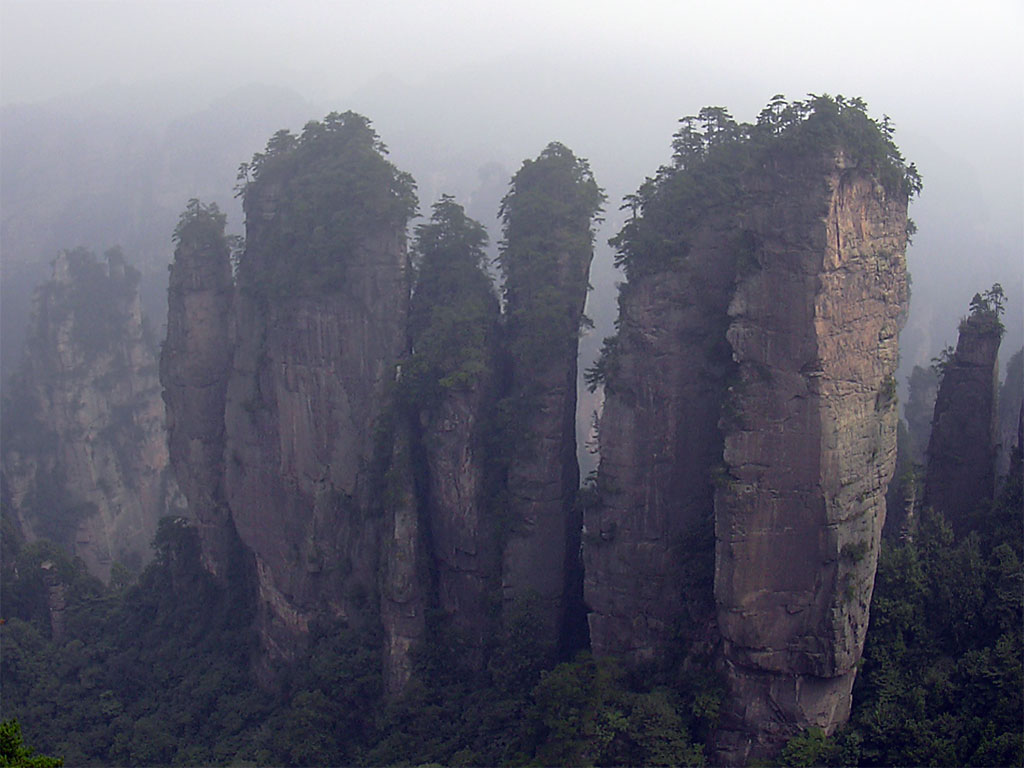 When we got off the bus, the young backpacker reminded us that Mao Zedong was from Hunan, and that nobody in the rest of the country could ever understand what he was saying either.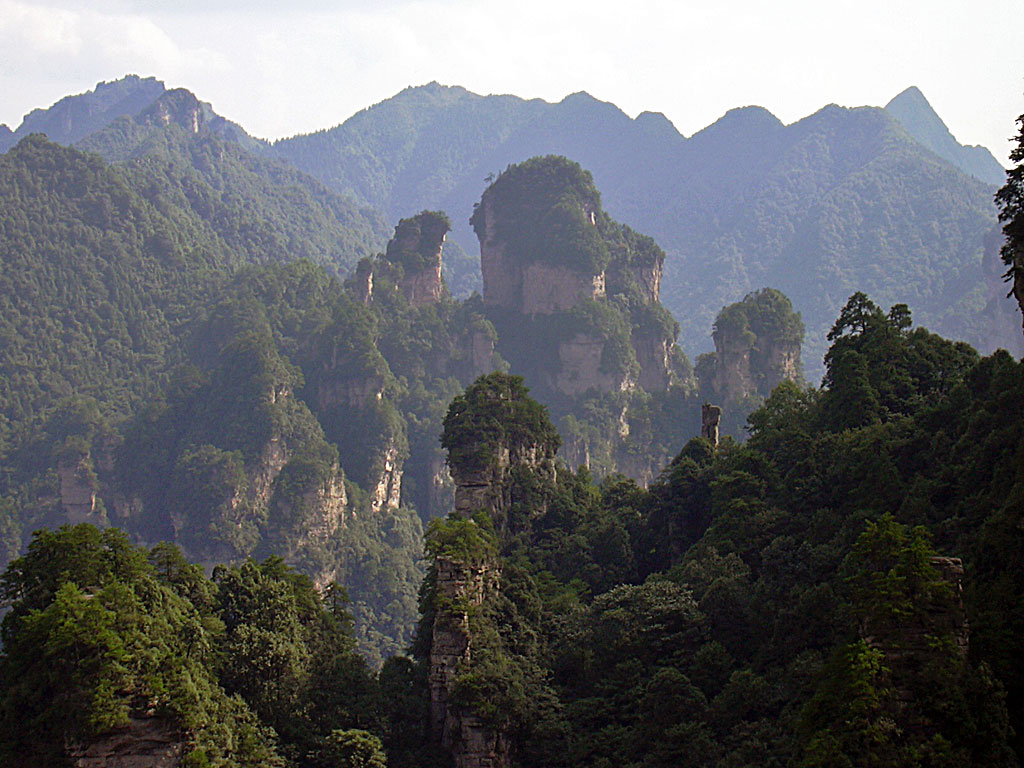 Wulingyuan 武陵源 / Zhangjiajie 张家界 Practicalities
Wulingyuan 武陵源 is one of China's most incredible natural parks and hosts some of the country's most spectacular and unworldly karst secenery. We got there from Fenghuang 凤凰 in one day. First a Morning bus to Jishou 吉首, then a rapid shuttle across that sprawling city to connect (just!) with a train that stopped in Zhangjiajie City. From Hunan's capital Changsha, there are various trains, some fast and others overnight.  Buses do the journey on the motorway in about 3½ / 4 hours.
Buses run frequently between Zhangjiajie City and Zhangjiajie Village (about 40 mins). Entrance tickets to Wulingyuan are an astronomical 248 Yuan (138Y for students). The ticket now seems to allow you to stay in the scenic area for 3 days.
Buses inside Wulingyuan can whizz you from one scenic spot to another. However, try to walk and you'll soon lose the crowds. The trails are amazing.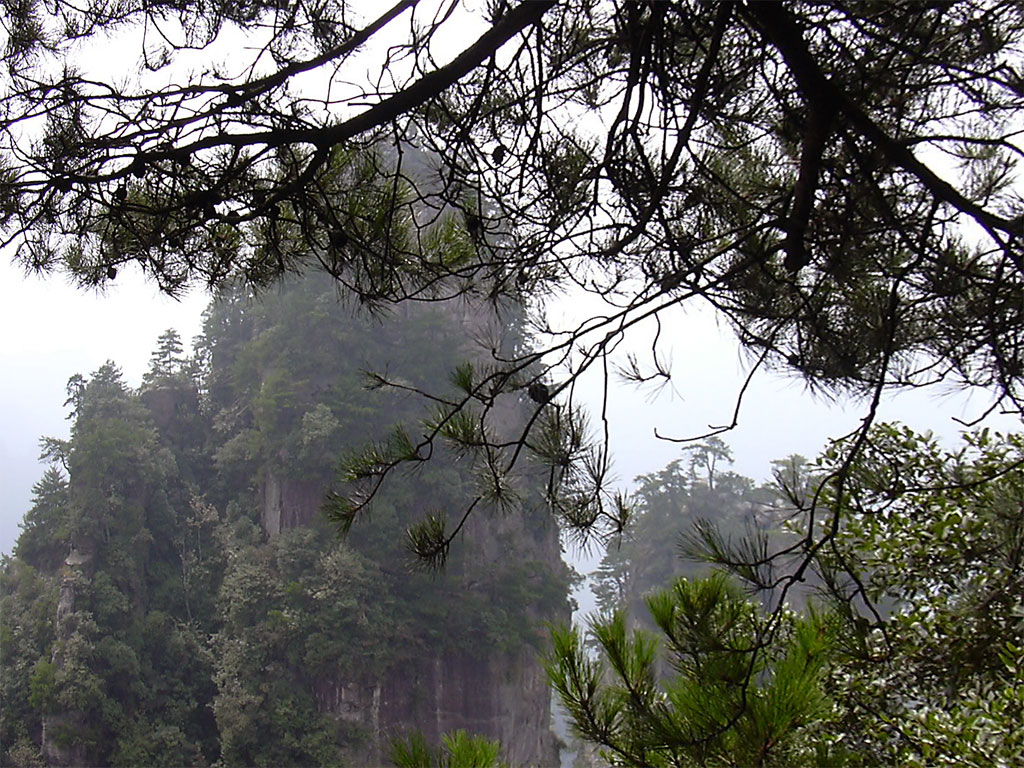 Food and Accomodation
We stayed in the Minzu Shanzhuang 民族山庄 . We thought it was quite cool with nice balconies and cold beers. Recent reviews seem to say it has gone downhill. You can stay in many places inside the park, accomodation touts will find you as soon as you enter. It's advisable to ask the prices of every thing you order in the restaurants in Zhangjiajie Village as over charging seems to be the norm.