YuanYang
During the first two or three months of every year, thousands of professional and would- be professional photographers descend upon this remote town in Yunnan province to take photos of one of nature's most beautiful phenomena, the changing of winter to spring on some of the most spectacular rice terraces in the world. At this time, the paddies are full of water, and their beauty is enhanced by the shifting contrasts of light and rolling mists that provide stunning vistas. At sunrise and sunset the water in the paddies can take on a myriad of colours, ranging from an eerie blue, to pink, yellow and bright red, thus providing the perfect hunting ground for those in search of the ultimate shot.
Unfortunately, our work schedule left us with no choice but to visit Yuanyang in summer, when the terraces have taken on a bright emerald hue, but are devoid of water. They are still an awesome sight, especially at dawn, but they are no match for those glossy photos, adorning the multiple coffee-table books and postcards that you can find all over town. The locals, who seem to be fairly obsessed with rice paddy viewing, constantly remind us that this is the wrong time to visit and insist that we should come again in February, to see the real thing!
The most popular terrace viewing points are:
Longshubao: particularly recommended for sunset. It is 6kms from Yuanyang and only accessible on foot.
Qingkou: 9kms away.  A model Hani village with traditional mushroom houses and a 30 Yuan entrance ticket.
Laohuzui: 18kms away and one of the best view points for sunsets (unfortunately also rather popular with Yi ladies flogging embroidery). You can visit the nearby, very rustic and authentic Yi village of  Mengping, as well as the Hani village of Panzhihua, which has a former chief, or headman's mansion, now converted into a hotel.
Duoyishu: 25kms away. At its best at sunrise and dawn. The trek down to the pretty and rustic Hani village at he bottom of the mountain is a highlight.
Ba da: 15kms away and one of the most dramatic viewing points, provided there is no heavy mist obscuring the terraces…
All of these places are easily visited, using a combination of transport. To some of them you can walk, or take a small motorised rickshaw, for others you will need a car. There are innumerable shared mini-vans travelling between the villages during the daytime and they are very cheap. Otherwise, you can charter one for yourself, for as little as 80 to 100 Yuan for half a day.
Minorities:
Luckily for the summer traveller, there is more to Yuanyang than just rice paddies. The area is home to various ethnic minority groups, such as the Hani, the Yi, Miao and Yao, each with their own, distinctive style of dress, and their villages dot the slopes of the  rice terraces. The Hani villages are particularly attractive, with their round adobe huts topped by thatched roofs, which are aptly called 'Mushroom Houses' (Mogu fang). There are endless hiking opportunities around the terraces and some villages, such as Qing Kou, provide basic food and accommodation.

Markets:
Wherever there are ethnic minorities, there are colourful markets and Yuanyang is no exception. The town hosts a big market every five days, an excellent opportunity to see Hani and Yi women dressed in their finest.
While the Hani and Yi men mostly wear westernised clothes and are hard to distinguish, their ladies wear markedly different clothes. Hani women tend to wear a loose tunic or jacket over trousers, with a kind of protective apron at the back (to protect their clothes when carrying loads or squatting down). Their colours are subdued, blue and black are the favourites, but some green and petrol- blue can be seen too. If a Hani lady's headdress is very colourful and decorated, this means that she is single. On the other hand, if her jacket is decorated with silver coins, she is married.


By contrast, the Yi ladies wear brightly coloured jackets, often with short sleeves.  The colours can vary, but light blue, pink, yellow and mauve appeared to be all the rage. The top part of the jacket is covered with a semi- circle  made of embroidered flowers. At the back, instead of an apron, they tend to wear two embroidered lozenge-shaped appendages.
Incidentally, the way of dressing of the Yi around Yuanyang is completely different from that of the Yi around Panzhihua, on the Sichuan–Yunnan border. (Pictures). There they dressed in a much less colourful way and almost blended in with the Han Chinese. In fact, it is very common for ethnic minorities belonging to the same group, but living in different areas, to develop their own styles and varieties of dress, which makes it even harder for the bewildered visitor to tell them apart.


The great variety of people and costumes is one of the reasons why Yuanyang ranks high on our list of top Chinese markets, such as Anshun or Chong'an in Guizhou province. Another reason is that, for the moment at least, the market caters only for locals. For tourists, there is absolutely nothing to buy, it's just a great excuse for people watching and wandering around.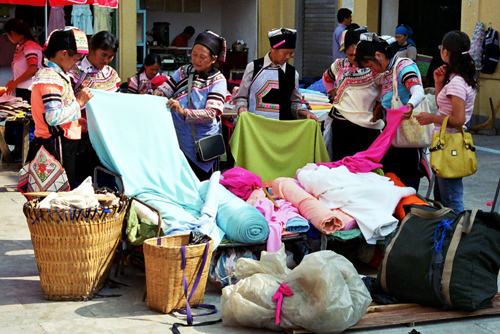 The market is a fairly large affair, which runs the length of the steep shopping street that traverses the centre of the town and spills into the side streets and small squares. Shops along the main street are quite modern, with big, glass shop-windows and mannequins. What catches our eye is the fact that most of them have shop signs with strange translations in English, such as: "The centre, drink milk more" (a milk bar), "It is designed that the new image of strength flies" (you probably guessed it… a hairdresser's), or this marketing gem "Thing on the bed" (bed covers). In front of the shiny shops, street dentists, hairdressers and hair sellers continue plying their trades as of old.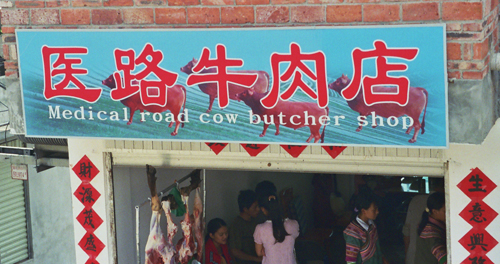 The market is roughly divided into sections, with clothes, cloth and embroidery materials at the top end, most popular with the younger ladies, then hardware and domestic products in the middle, vegetables and animals at the bottom, and finally food stalls in the side streets and squares.


If you are a fan of markets, like us, Yuanyang is by no means your only option, as all the surrounding villages hold their own. Most markets take place every five days or so, so make sure you check in advance.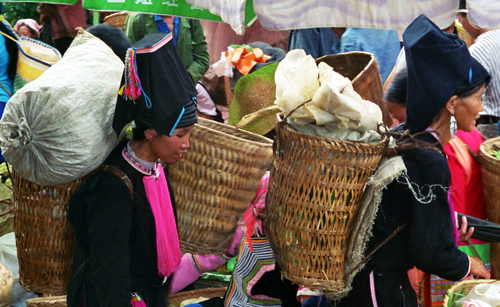 The Laomeng Market, some 53 kms from Yuanyang is undoubtedly one of the best (see our section on Great Markets). This large, unspoilt Sunday market  brings together Hani, Yi, Miao, Yao, and Black Thai minority groups. Hiring a mini-van to take you there should cost around 150 Yuan. It's important to go early, as the market starts breaking up around one o'clock, due to the fact that many of the minority people have to walk all the way home, especially those that live high up the hills.
Practicalities:
For the moment, Yuanyang doesn't receive too many tourists, either foreign or domestic, and facilities are fairly basic. (Update: Things will have changed since Yuanyang was included in the last two editions of Lonely Planet) Most foreign travellers are French, as Yuanyang features strongly in the 'Guide du Routard', the main French travel guide. One word of warning: don't be put of by the extremely ugly, grey concrete outskirts of town, things do get better towards the centre!
Where to Stay and Eat:
Lodging is in basic family-run hotels and it is a good idea to check out rooms and washing facilities (or lack of) before committing yourself.
By far the best of the pick is the Chen Jian hotel (mobile: 1376 9492816), situated in a narrow street just off the main square and right next to the old bus station. Rooms with basic, but working showers, are large and clean, plus the rooftop offers great views over the rice terraces. The extremely helpful owner will hand you a basic map of the area and he can provide you with a mini- van and driver for excursions, at the usual, very reasonable rates.
As for eating, there are several small family restaurants around town. The food is simple but tasty. The restaurant next-door to the Chen Jian Hotel cooked up some great veggie dishes. Just point at the ingredients on display or in the fridge and they'll do something marvellous with them.
Coming and Going:
There are direct buses from Kunming to Yuanyang, including an overnight sleeper. However, we would recommend taking a slower route and breaking up the journey in Tonghai and Jianshui (see our section on Hidden Gems,). Both towns have some fascinating sights and make for an interesting off the beaten-track route. If you decide to take this route, beware that some of the local buses from Jianshui will drop you at Nansha, where you will have to change buses for the final climb up to Yuanyang.
There is one bus a day to Hekou (the border crossing for Vietnam), which takes about seven hours and currently leaves at 6.45. Travelling time will be reduced significantly  in the near future, when the new motorway from Gujia to Hekou is finished. At the moment it is a scenic, but bumpy ride.
At the time of our visit, in 2006, the bus station situation in Yuanyang was slightly confusing. Buses from Nansha tend to drop their passengers off in the centre of town, near the market and central square. There is an old bus station next to the Chen Jian Hotel, where the Kunming sleeper-buses ended up and from which our Hekou bus departed. However, there is also a brand-new bus station, rather inconveniently located at an isolated spot at the bottom of the town, which may well become more important in the future.
For more go to: HolaChina: Your Gateway to China