See the photos on holachina views
All photos by Alvaro Paredes Palacios
It's coming to that time of year again, when thousands of budding photographers descend on the southern Yunnan town of Yuanyang to capture the amazing rice terraces at their best.


Cultivated over hundreds of years by the Hani minority, the rice terraces near Yuanyang form a stunning sight at any time of year, but it is in January and February when they are at their most magnificent. We visited the terraces in the summer of 2006, and while in summer the terraces are a spectacular blanket of verdant green, they are still no match for their winter spectacle.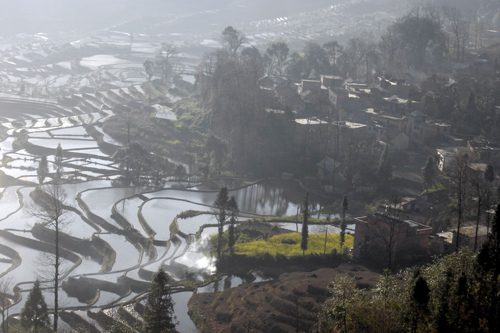 In 2008 we met two Spanish boys, Alvaro and German, on the bus between Luang Nam Tha and Nong Kiauw in Laos. This year Alvaro and German were fortunate enough to visit Yuanyang at the right time (middle of February) and have given us permission to put up some of the fantastic photos Alvaro took. I hope you enjoy them.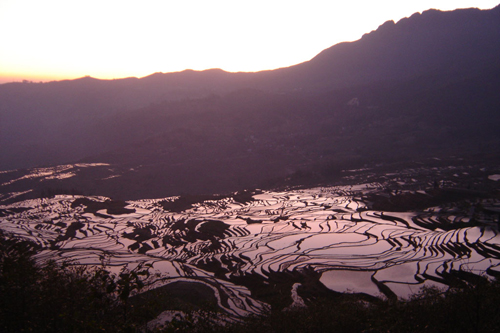 Yuanyang Update
When we visited Yuanyang in 2006 there were hardly any tourists, foreign or Chinese. The situation has changed radically in recent years. Yuanyang has now been included in the latest editions of Lonely Planet and Chinese photographers and tourists have also become more abundant. Some of the best scenic spots have become rather over crowded at peak times e.g. Sunrise and sunset. However, just walk away from the crowds and dive in and amongst the paddies and in a few minutes it will just be you, the views and the local Hani farmers.


Accommodation options have also widened recently. However, if the Chen Jian hotel (mobile: 1376 9492816) is still in good order, I can't think of a better place to stay.