Maijishan 麦积山
Haystack Mountain:
Tianshui 天水  Gansu Province 甘肃省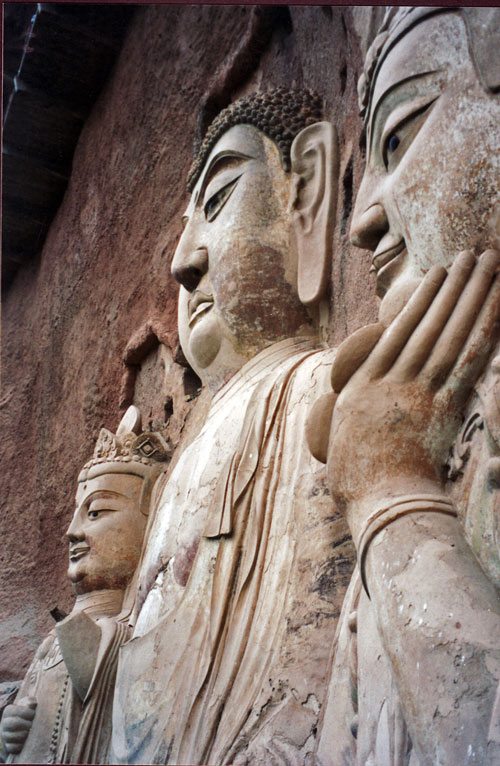 There is nothing quite like Maijishan 麦积山 in China. The bizarre, haystack shaped mountain rises majestically up over a subtropical zone of greenery and rivers.  Other Buddhist sites might have enormous statues or high ceiling-ed painted caves, but the views they offer are often more restrictive and it may be difficult to get up close, due to barriers or hordes of visitors.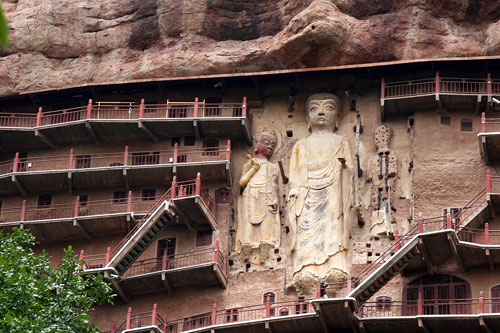 At Maijishan 麦积山, the cave art and statues are right in your face and you can almost touch them, though you mustn't, of course!  And, in addition, there is the mountain itself: a honeycomb of caves and statues reached by climbing up a snakes and ladder board of incredible staircases that cling precariously to the side of the mountain.
The first Chinese character of Maijishan, "mai" (麦), means wheat or grain resulting in the mountain being called Haystack Mountain, because of its uncanny resemblance to the ubiquitous stacks you can see all over the fields of Gansu province.
To fully appreciate Maijishan you should first have a look at it from a distance to get some idea of the difficulties the monks and artists must have faced when they were creating their masterpieces.
It beggars belief how more than 1500 years ago and with rudimentary technology, artists were able to hang down from ropes and carve out or paint these amazing statues, or – in many cases – hoist up previously made clay sculptures.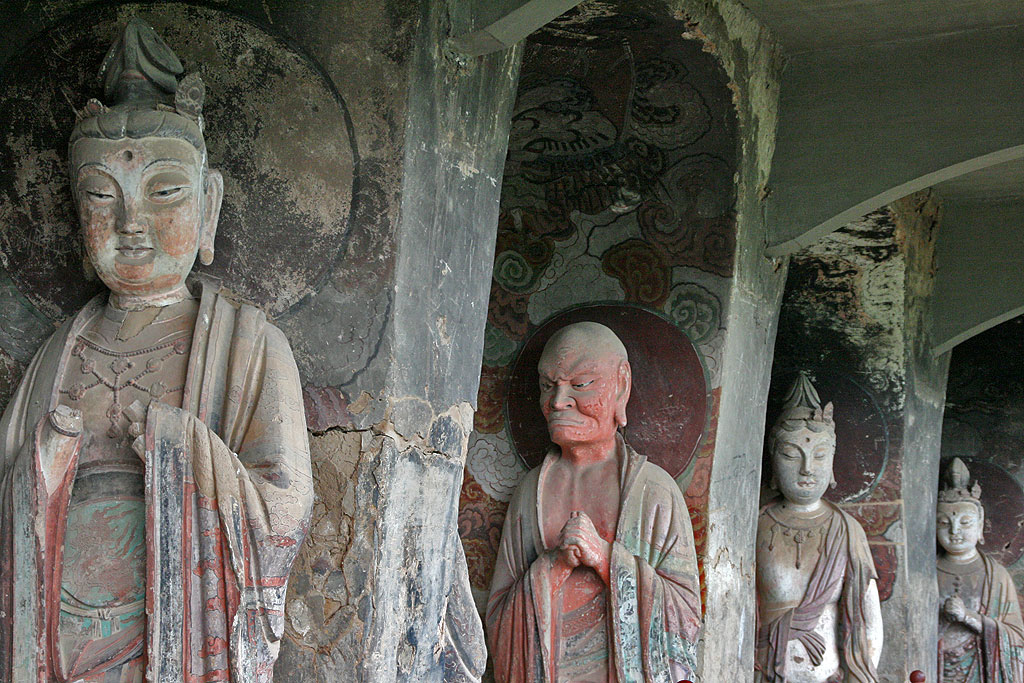 The next step is to climb up the zig-zagging staircases and delight in the art up close. There are over 7000 sculptures and more than a thousand meters of murals on the mountain.
When we re-visited the site in 2009, the rickety, old, wooden stair case and creaking planks we remembered from our first visit in 2002 had been replaced  by  sturdy metal stairs, making the experience of visiting Maijishan more pleasant for vertigo sufferers.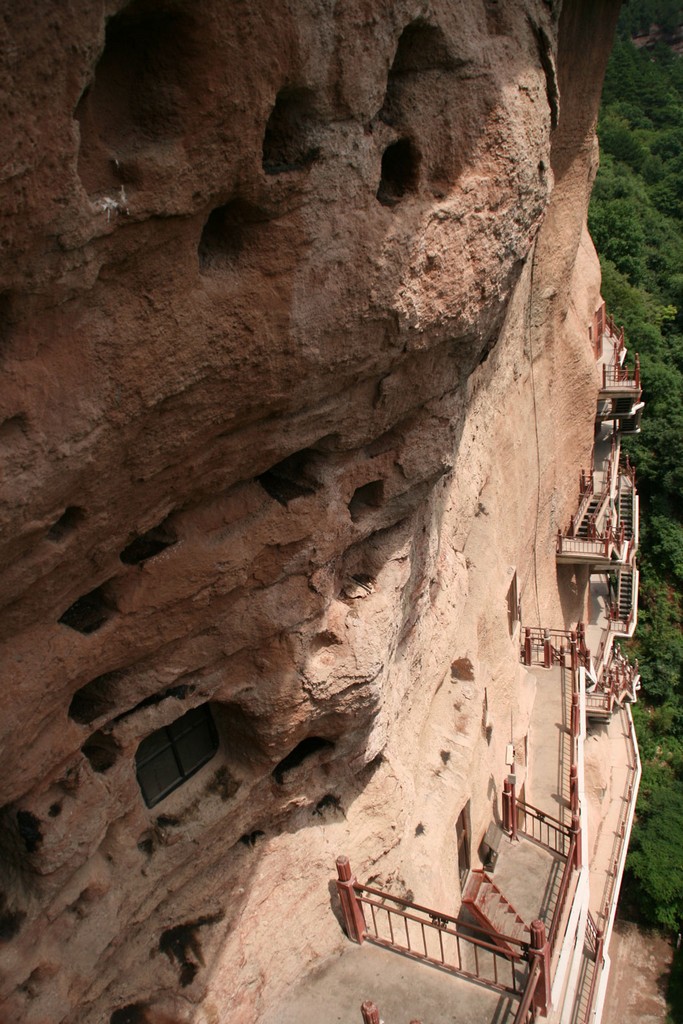 Work on Maijishan began at the end of what was known as the 16 kingdom period, 304 CE to 439 CE, a turbulent time in China when various kingdoms rose and fell in quick succession and violence and wars were prevalent.
Maijishan 麦积山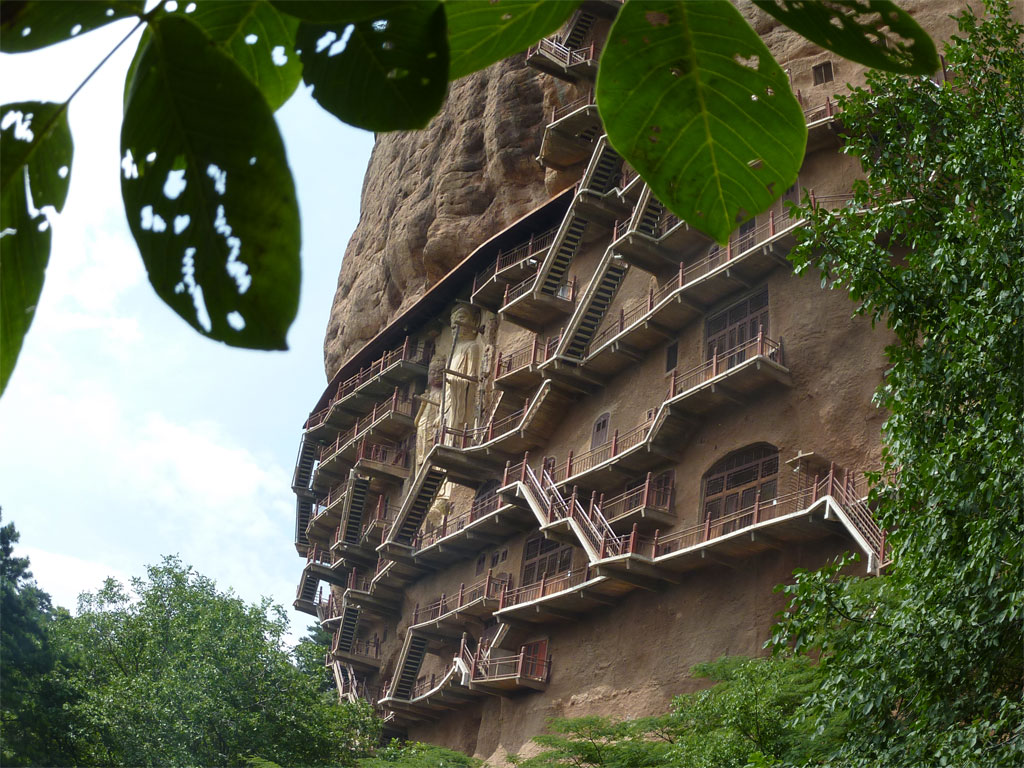 The last of the 16 kingdoms was the Northern Liang; a dynasty favorable to the dissemination of Buddhism, which allowed the work at Maijishan to flourish.
However, work and restoration on Maijishan continued over at least 12 dynasties: including such illustrious ones such as the Sui, Tang, Song, Yuan, Ming and finally the Qing.
For us, the highlight of our visit was to get up so close to the three enormous Sui-dynasty statues of Buddha and the Bodhisattvas, who serenely contemplate the surrounding countryside.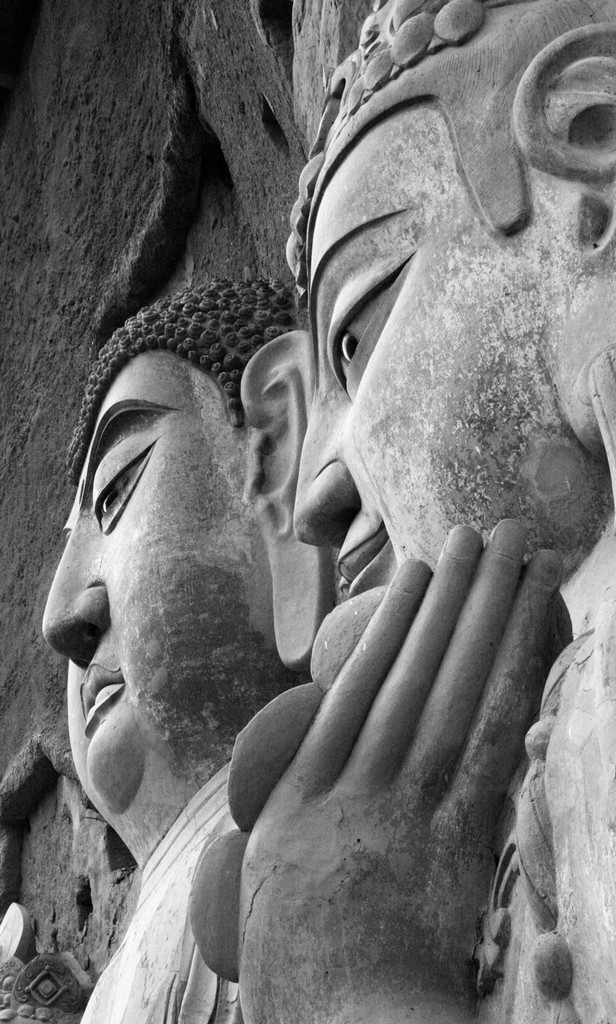 Getting there and away :
First, visitors have to get to Tianshui. Many trains from Beijing and Xian heading west to Lanzhou and beyond stop in Tianshui. There are also regular buses to / from Lanzhou.
Things to do in and around Tianshui 天水
Tianshui 

Water Curtain Caves 水帘洞—拉稍寺
Tianshui to Maijishan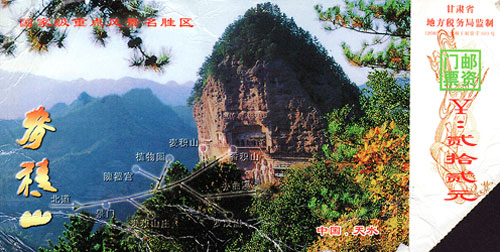 Between Tianshui 天水 and the magnificent Buddhist caves at Maijishan (Haystack Mountain) there used to be a quiet country road along which a battered old bus rattled through a rural landscape largely unchanged for centuries. Villagers hopped on and off, their wicker baskets over- loaded with local produce, such as monster cabbages, dark green spinach and a variety of tubers.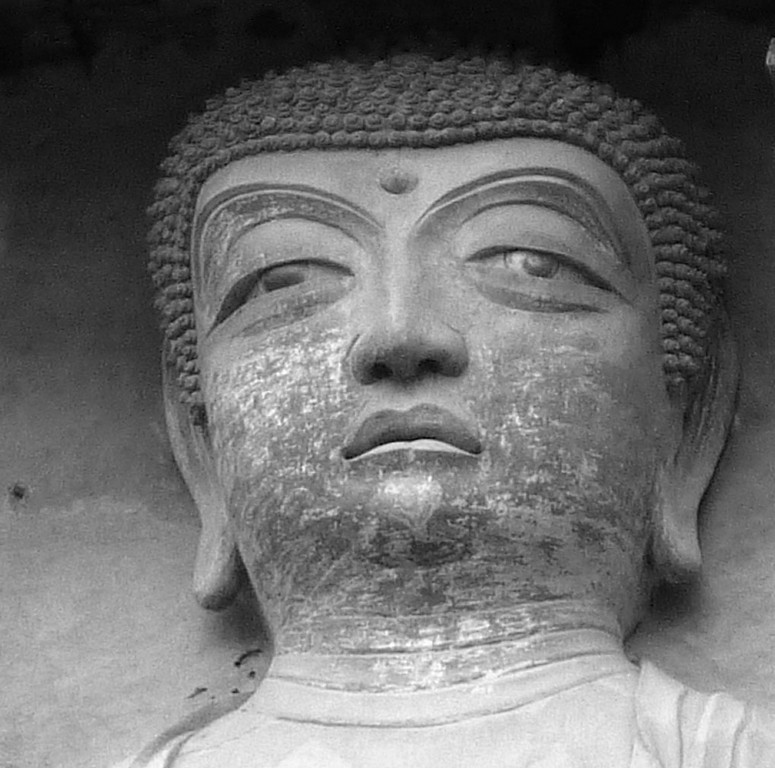 The friendly conductors laughed and joked with the passengers, shared local gossip and knew when a passenger wanted to get off without them pressing the stopping button.  I still remember the friendly banter we had with the conductors on the two days we went up to the mountain. When our bus eventually arrived there in the pouring rain, we found we had Maijishan almost to ourselves for our entire stay. This wasn't that long ago: in 2002!
Returning to Maijishan several years later, gone were the country road and the old buses. Now, a three lane highway whizzed – mostly Chinese – tourists on air-conditioned buses to the mountain. Outside the entrance, there were a coach park, camel rides and the usually accompaniment of tacky souvenir stalls; how things change in China! However, don't let these changes to the area around Maijishan put you off from going. The caves and statues on the mountain are magnificent and it is still a wondrous place to visit.

Bus number 34 leaves from in front of the train station for Maijishan every 15 minutes, from around 6.30 to 18.00 / even later in high season.
Sleeping:
On both occasions we stayed in one of the hotels around Tianshui Train station  (there are many and they are virtually all the same) for around 120 Yuan. You can stay in small hotels near Maijishan, but you might be a bit isolated with limited food choices. We tried to stay at the Hotel Arboretum (Zhiwuyuan Shanzhuang 植物园山庄) near the grottoes, but it was closed at the time of our visit.