Places to visit around Ganzi 甘孜
Dagei Gompa大金寺, Began Gompa, Beri Gompa白利寺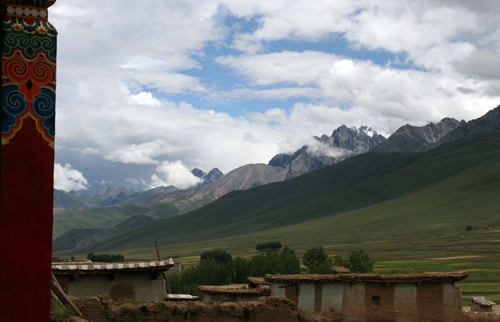 Monasteries around Ganzi are well off the beaten track and make a great day trip if you hire a taxi. We visited 3 monasteries within a 30 kilometre radius of Ganzi: Dagei Gompa, Began Gompa, or Baigei Si, and Beri Gompa, or Baili Si (all names are approximate).
Hire a taxi to see all three in a day
In order to do this, we hired a taxi for a half day for 250 Yuan. Our driver was a friendly chap who seemed to be of mixed Chinese- Tibetan origin and could speak both Mandarin (of sorts) and Tibetan. More importantly, he seemed to get on well with everybody.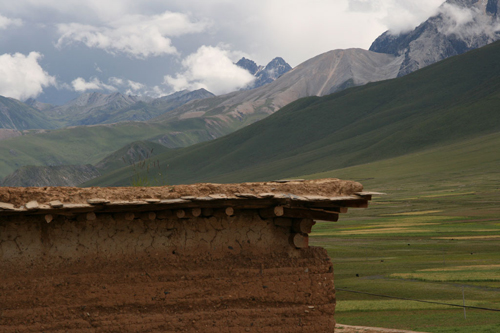 Monasteries around Ganzi: Our first stop, Dagei Gompa
Our first stop, Dagei Gompa, is about 30 kilometres back towards Manigango. The landscape along the way is glorious: lots of grazing animals, imposing mountains and small villages, their houses and walls covered in vertical beige and white stripes.
Dagei is quite large, almost a monastic village. Hidden away above the main Hall there is one of those Protector or Guardian Chambers – a feature that has impressed us on this trip and that we had never seen in Tibet proper.
All its walls and the door are painted black and covered in frightening images of demons and dragons,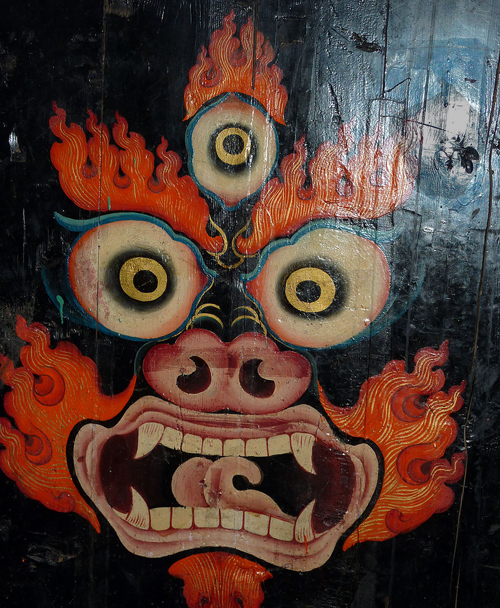 and there are lots of swords dangling from the ceiling.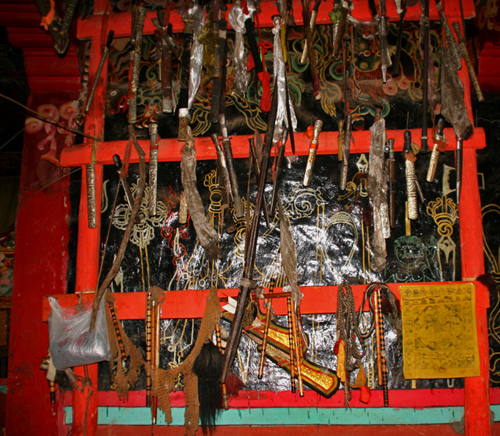 Besides, there are two curious, standing figures with terrifying expressions on their faces, who seem to be fighting each other.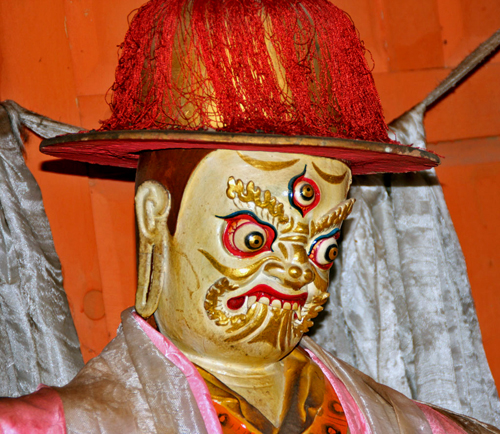 The Hall itself has the usual collection of large statues, including one with long, Khampa-style hair, a Mandala made of coloured grains of sand, as well as numerous golden Arhats that strike a variety of poses.
On the outer wall of a neighbouring building we can admire the complete process behind the colourful temple paintings we have seen so many of: starting from the left there are simple pencil drawings which then evolve, through various stages of colouring-in, towards fully-fledged paintings on the right.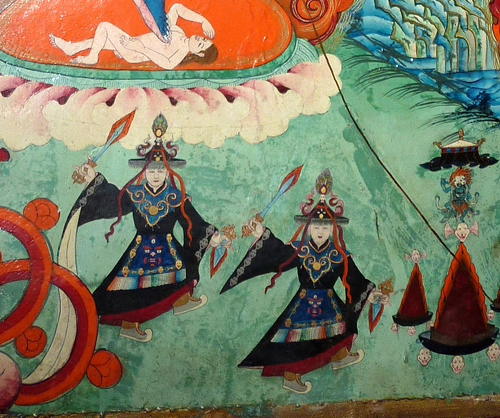 Like at the Den Monastery in Ganzi, the Dalai Lama is in full view here, as he is included in several of the paintings.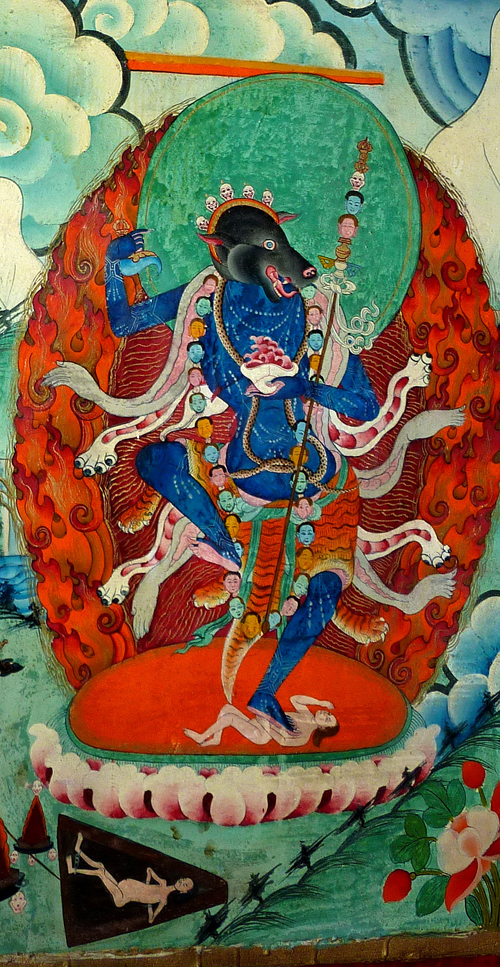 On our relaxed but thorough tour, we have been accompanied by a monk who can speak some rudimentary English.
He told us that this is because he studied in Karnataka in Southern-India.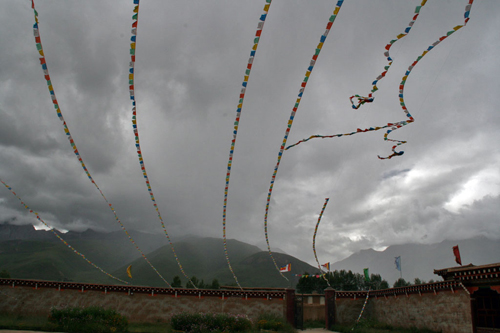 Monasteries around Ganzi: Began Gompa
Five kilometres further down the road, there is a turnoff to the right: we cross a small bridge and come to another temple. This, apparently, is Began Gompa.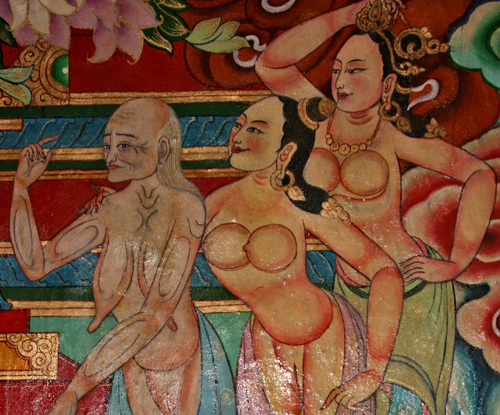 The interior of the small temple is nothing special, but outside we have another nice chat with a monk who has studied in India, in Sikkim, near Rumtek to be precise. He is scratching a rough outline of a Mandala into a slab of stone.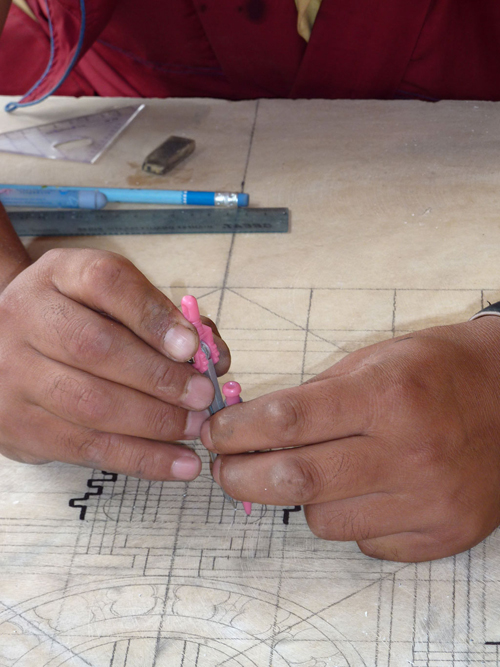 One of his colleagues then cuts along the lines he has drawn, with the aid of a hammer and chisel, to make a relief. They say that they can finish one Mandala a day in this way.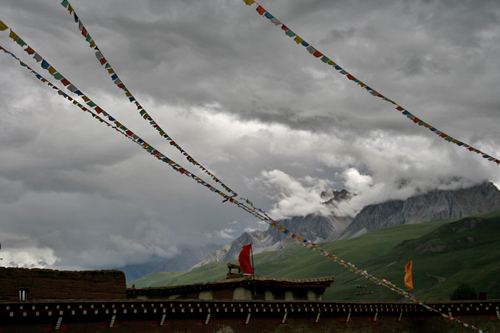 Beri Gompa of the Gelukpa Sect
For the next monastery, we have to backtrack a little, back past Dagei. Then we cross another bridge and hobble along a road that is quite precarious at times.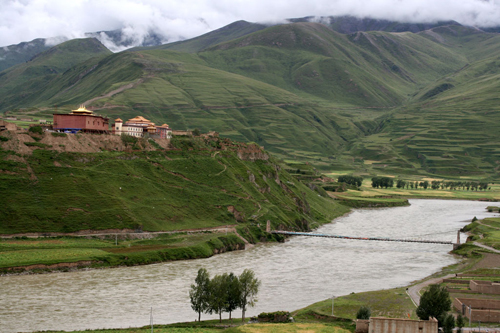 Evidence of this is the car wreck we can see lying in the meadows below us, surrounded by serenely grazing yaks.
According to our driver, the accident happened only yesterday, but nobody was killed. I can only think: 'God help them if they were taken to Renmin Hospital!'
The 16th century Beri Gompa of the Gelukpa Sect is crowned by heavy golden roofs and spires, but seems otherwise a quiet, subdued kind of place. This might just be the hangover of the Festival that took place here only yesterday; again, according to our driver.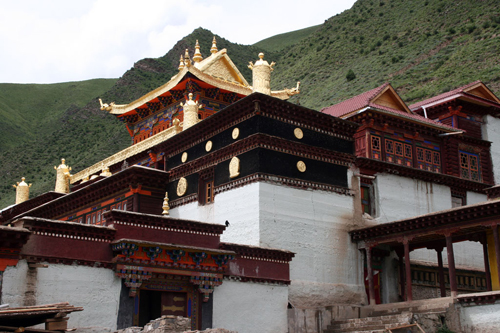 The key-monk on duty here is serious and taciturn; he speaks no English and hardly any Chinese, so it's hard to get information. We can see for ourselves that the frescoes, statues and doors are all ancient and in need of a bit of care.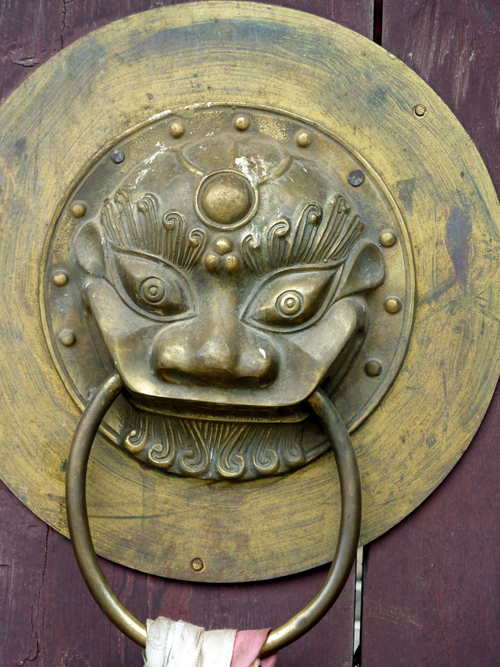 Upstairs, where you are level with the faces of the largest statues, there is a venerable collection of religious books, as well as some very large horns and trumpets.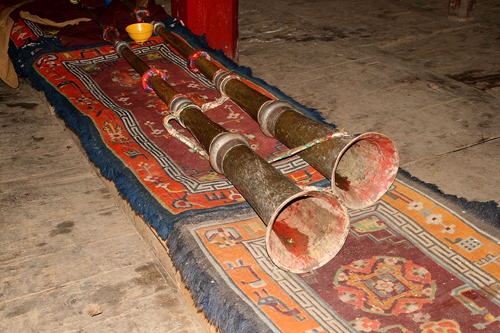 Our companion graciously allows us to photograph these objects, but nothing else. It's curious how the atmosphere and the behaviour of the monks at different monasteries can vary so much: from colourful, cheerful and light-hearted in some places to serious, gloomy and even sinister in others.
We head home along the same bumpy road, keeping the river to our right all the way back into town. This way, our driver has turned our excursion into a proper round trip.