Yunlong 云龙 and Taijitu 太极图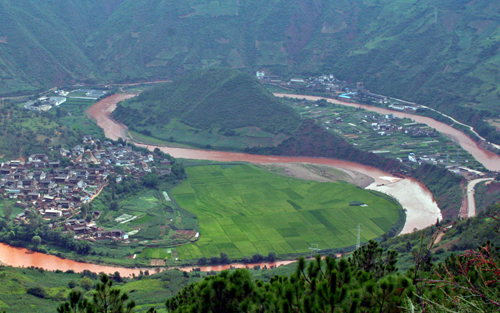 China, Yunnan province, 150 kilometres Northwest of Dali.

Yunlong 云龙 and Taijitu 太极图: Having arrived safely in Yunlong after a long and somewhat eventful journey from Xiaguan (Dali City), we set about visiting the sights and exploring the town, which to be honest doesn't take very long, as there is precious little to see or do.
It's not an unpleasant place, but definitely a little dull. There's a nice area by the river for strolling and people watching, but entertainment options and restaurants are conspicuous by their absence.
Yunlong's attractions lie outside
Yunlong's attractions lie outside. The ancient salt town of Nuodeng 诺邓, probably one of the most unspoilt places in China (see next article), and the scenic marvel of Taijitu are the highlights close by.
Further afield, there are other historical villages, crumbling pagodas and ancient bridges.
Taijitu太极图

Taijitu is one of those natural phenomena that can only be found in China. Here, the classic Yin and Yang symbol, representative of both Taoism and Chinese culture, reveals itself in a surprising freak of nature. When contemplated from a viewing point far above the river valley, a series of meandering bends in the Bi River conspire with the rest of the otherworldly topography to form a perfect Yin and Yang circle.
What's even more amazing is that from ground level, you can walk right past it and never know it was there. In order for the symbol to be visible to the human eye, you have to travel up a steep 7 kilometre switch- back road to the viewing point. It is only from there that this uncanny marvel unfolds itself before the stupefied onlooker.

Our photos don't really do it justice. The sky was a dull grey that morning and locals later told us that the afternoon light generally was even better for viewing Taijitu. Anyway, we hope you enjoy the pictures.
Yunlong Practacalities

Getting there and away:

We got to Yunlong by bus from Xiaguan (Dali City). See previous article. There are several daily buses in both directions.
From Yunlong we carried on to Liuku六库 at the entrance to the Nujiang Valley. There's no direct bus. You have to take the morning bus to Caojian 漕涧, get off on the main road outside the town and flag down passing buses. We only had to wait about 15 minutes. It's a spectacular, and at times hairy, ride that crosses the Bi River and Lancang (Mekong) River valleys, before eventually dropping down to the Nujiang Valley.
Transport to Nuodeng and Taijitu is easy to arrange in Yunlong. Describe little rickshaws and price. The walk back from Nuodeng to Yunlong is very pleasant and it actually takes you right past Taijitu, though you won't notice it from ground level.
Accommodation
The Yunlong Binguan, 160 Yuan for a very decent, clean double room, is a great place with lovely quiet grounds and super balconies for sipping beer and watching the temple lights on the surrounding hills.
Eating
Disappointing: there are several small, hole-in-the-wall places along part of the river walk, but none of them looked too salubrious, or appetizing.
The hotel receptionist recommended the Jiachang (home cooking) restaurant near the Bijiang Binguan (Incidentally, this hotel was recommended in the Lonely Planet, but was being restored at the time). The food was okay, but rather oily, and the antics of a large group of drunk, local men were somewhat off-putting.
The large, cavernous Muslim restaurant next to the Panlong Temple 潘龙寺 is a much better option. They serve huge, tasty portions of wild mushrooms and other delicious and exotic vegetables. There is plenty of meat for the carnivores. They also serve cold beer. It's very cheap as well.