Route 2011
Inner Mongolia / Ningxia / Gansu
Over the next few months we'll be putting up articles about the places we visited in China this summer.
The trip began in Hohhot (呼和浩特), in Inner Mongolia (内蒙古自治区), where we had arrived on the train from Ulaan Baatar (乌兰巴托) in Mongolia.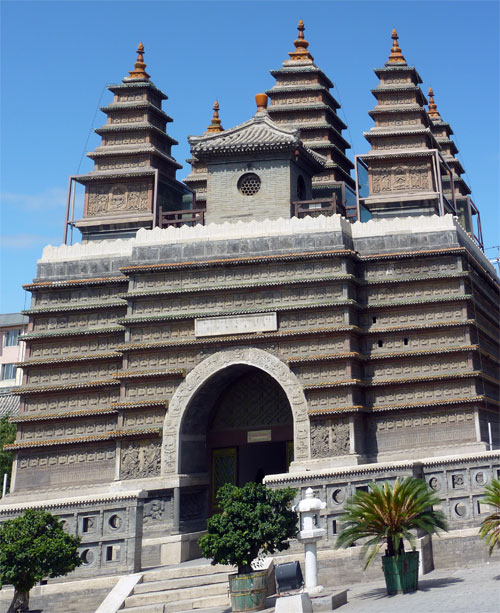 After exploring the city's eye-catching Wuta pagoda 五塔寺 and Da Zhao 大召 and Xilitu Zhao 席力图大召temples, an overnight train took us to Zhongwei (中卫), in Ningxia Hui Autonomous Province (宁夏回自治区), where we visited the Desert Research Center at Shapotou ( 沙坡头) on the banks of the Yellow River (黄河) and also the Sikou Scenic Area(寺口风景区).
From Zhongwei (中卫), a quick bus ride led north to Yinchuan (银川), from where we explored the amazing sights that surround Ningxia's capital.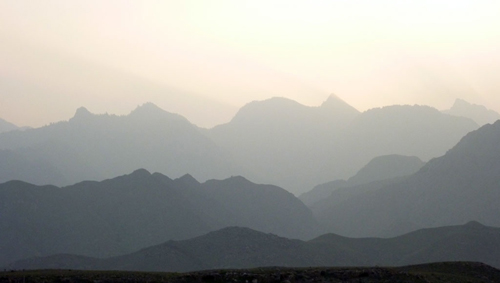 From Yinchuan we headed off into Western Inner Mongolia, passing the isolated ruins of the Great Wall at Sanguankou (三关口), and the enormous Mongolian temple complex Guangzongsi (广宗寺), also known locally as Nan Si (南寺), before finally arriving in fast developing and friendly Bayan Hot (or Alashan Zuoqi 阿拉善左旗).
It's a long and hot seven hour bus ride across the Gobi Desert from Bayan Hot to Alashan Youqi (阿拉善右旗), the base for expeditions into the Badain Jaran Desert (巴丹吉林沙漠) , probably the most beautiful desert we've ever seen, and home to the highest sand dunes in the world with its other-worldly landscape of dunes, lakes and temples.
From Alashan Youqi, a comfortable three hour bus ride takes you from the wastes of the Gobi Desert to the fertile Hexi Corridor under the shadow of the Qilian Mountains (祁连山) and the pleasant city of Zhangye ( 张掖).
We made two excellent excursions from Zhangye: the first to the hanging temples of Mati si (马蹄寺), set in a wondrous alpine valley in the Qilian Mountains.
The second trip was to a recently opened geo-park, Zhangye Danxia Dimao(张掖丹霞地貌), famous for its weird, coloured rock formations.
The renowned film director Zhang Yi Mou ( 张艺谋) recently shot a film here; a take on the Coen Brothers' "Blood Simple", called  "A Noodle Shop Story", or as it is sometimes known" A woman, A Gun And A Noodle Shop"( 三枪拍案惊奇).
From Zhangye we headed to Lanzhou (兰州 ) on an overnight train. With train tickets to Beijing (北京) in short supply, we decided to spend a few days in Xiahe (夏河) and have a rest; it was our third visit. This gave us the opportunity to explore the spectacular Ganjia Grasslands (干加草原).
We had crossed them 7 years earlier on the way to Tongren (同仁), but now we had the chance to get out and discover some of the most beautiful scenery we have seen in China; the highlight being the ancient walled city of Bajiao(八角).
Having made it all the way to Beijing (北京) overland from Saint Petersburg, we decided to just chill out and explore some new restaurants.  However, to our surprise China's National Museum (中国国家阿博物馆), which had been under restoration for years, had just opened its doors again, thus adding some culture to our stay. The free admission must be one of the greatest travel bargains in China.