Excursions from Xiahe; there are so many, here are just a few. Once you have seen all there is to see in Xiahe, you should go and explore the grasslands. Though some of the areas nearest to town have become quite commercial, there is still plenty of scope for exploring.
We went on a great day trip, for which we hire a car through our hotel. At first, the price of 400 Yuan for half a day's sightseeing seems a bit steep. However, when our vehicle appears, a shiny, brand-new black Sedan, driven by a sleek young Tibetan guy with shoulder- length hair, a golden tooth and lots of big rings, we are quick to appreciate the difference between this car, and any old taxi.
We drive out of Xiahe, which takes so much longer now that there are traffic lights and lots more traffic, and head towards Tongren. Immediately, and almost imperceptible, we start climbing and before we know it, we come to the Naren-Ka Pass .
There are fluttering prayer flags and majestic, rolling grasslands all around. Huge, puffy clouds throw long shadows over the meadows, dotted with flowers. A busload of Austrian tourists are tramping across the grass, looking for Edelweiss and other alpine plants. This just goes to show things can never be perfect…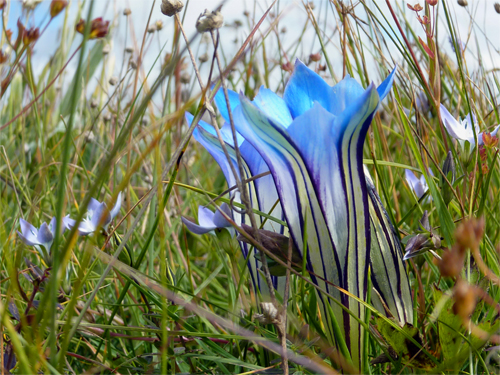 Excursions From Xiahe: over the pass and onto the Grasslands
On the other side of the pass, quite literally in the middle of nowhere, two parallel blocks of concrete apartments appear, not quite a street. There is a primitive basketball court, where some youngsters are shooting hoops in a desultory way. Several bikes are parked nearby, and that's it. It just makes me wonder: how do people live around here? What do those kids do for entertainment? Are they bored?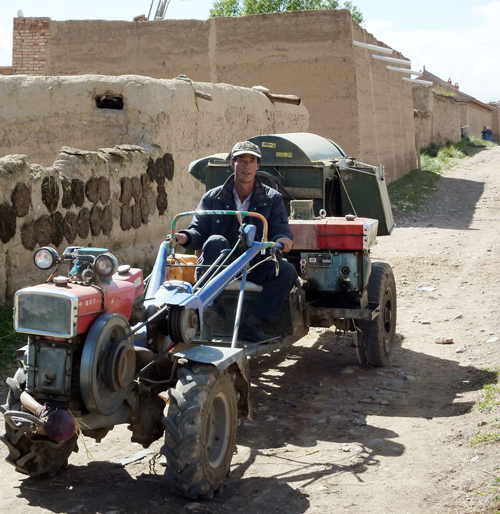 Next, we come to Ganjia village, entry point to the Ganjia grasslands. We now discover that you can actually get up here by public bus, though we have no idea about the timetable, and we spot a basic hostel as well. Still, we are glad to have the luxury of our own wheels, because the road beyond deteriorates quite rapidly and there isn't another vehicle in sight.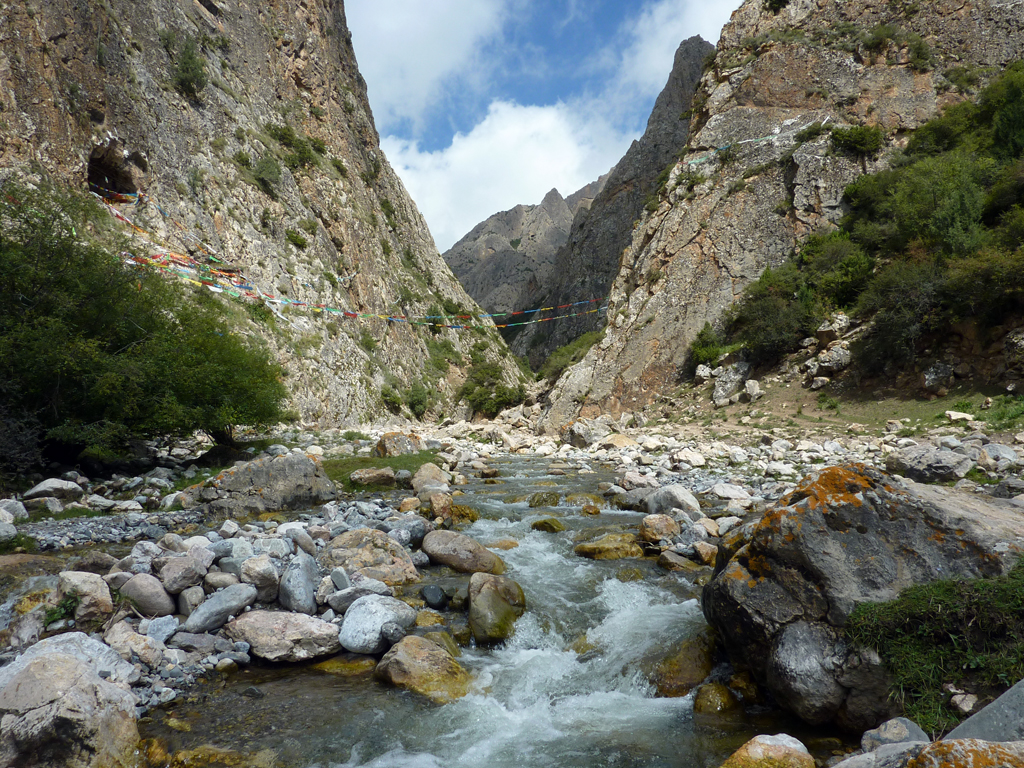 Our next port of call is the Nekhang Cave, nestled in a beautiful gorge with a boulder-strewn stream gushing through it. There are oodles of prayer flags intertwined in the trees and bushes and even a couple of prayer wheels that are driven by the water. It reminds us of the Leba gorge near Yushu, especially when we spot a couple of playful marmots.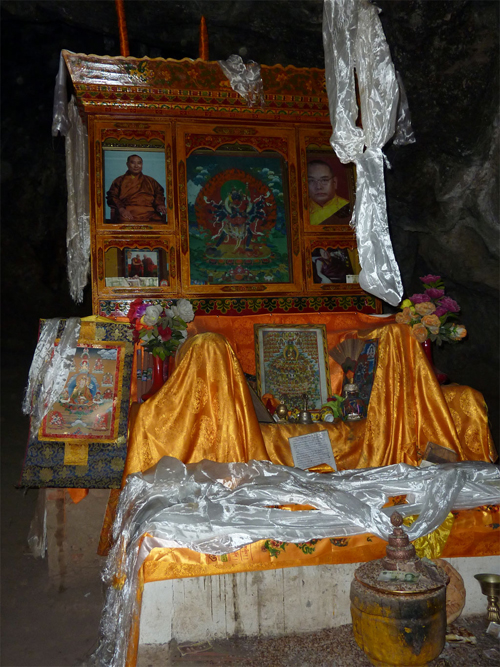 Apparently the Tibetan pilgrims let themselves down in the pitch-black cave on ropes, which is quite dangerous. At least one tourist is said to have died here. We decide to go no further than the mouth of the cave, where there is a small altar with a portrait of the Dalai Lama. We are more interested in the glorious scenery anyway, with herds of yaks grazing by the river and nomad families picnicking on blankets nearby.
Excursions from Xiahe: Trakhar Gompa
From here it's just a short drive to Trakhar Gompa and village.
The Gompa, or temple, is nothing special, but the village is a real rural idyll: all soft beige mud-brick houses with flat roofs and courtyards, haystacks, fruit trees, grazing donkeys and yaks… including one scary black one who doesn't seem to like foreigners…
Excursions from Xiahe: Bajiao Walled Village八角
We drive on to Bajiao walled village, an ancient Han Dynasty village, now inhabited by Tibetan farmers. The entire village is still circled by crumbling earthen walls.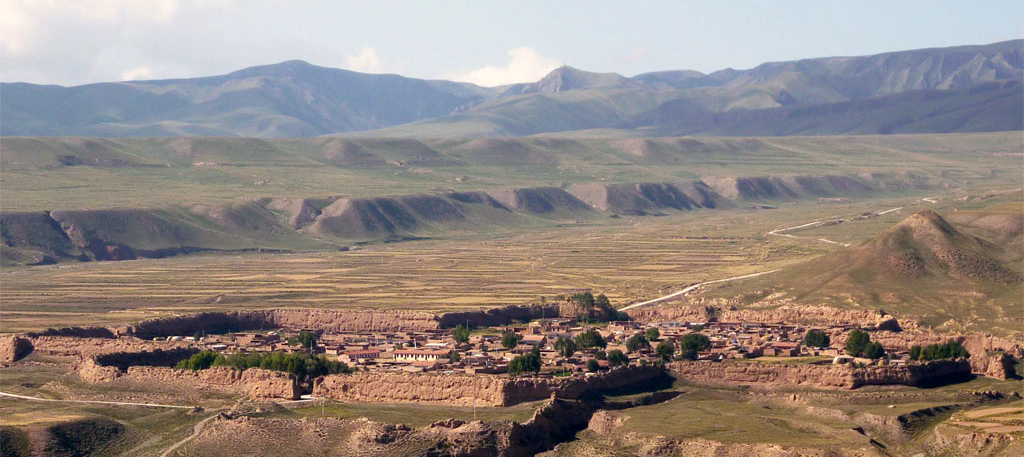 You can climb up onto the walls and overlook the village; a privilege for which the clever villagers now charge. High up on the wall, another picture of rural bliss awaits us: neat mud-brick houses, haystacks, some women with babies strapped to their backs busy threshing,
a wooden gate with hundreds of tiny twittering birds perched on it, a guy on a small tractor put-putting past, a couple of old men leisurely smoking their pipes in a courtyard… At ground level, the entire place looks spotlessly clean and quite prosperous; most farms have one of those little tractors, or another vehicle parked out front, and the village even boasts a school!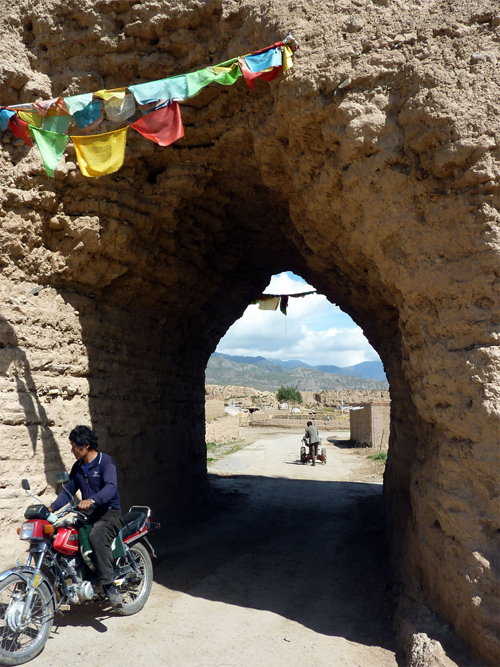 Bön temple of Tseway
Our final destination is the Bön temple of Tseway (Bön was the ancient Tibetan shamanist and animist tradition from before the arrival of Buddhism, said to have had a strong influence on Tibetan Buddhism). Our driver had misgivings about going there because he thought the road was too bad, but luckily the people at Bajiao told him it had been improved, for Tseway turns out to be another highlight.
Like so many others we have seen today, the village around the gompa is clean and pretty, with lots of wildflowers growing everywhere. The voices of young monks, practising their debating skills, come drifting out from the monastic school building. Unfortunately, the monastery itself is a bit of a disappointment. We had expected a Bön temple to be dark and mysterious, but this one is brand-new, colourful and brightly painted!
Our main reason for coming here, however, is to climb the hill above the monastery, up to the massive stack of prayer flags and beyond, and enjoy the magnificent views. Rolling grasslands stretch out in front of our eyes, only bounded by the forbidding mountains in the distance. Bajiao and its perfectly outlined walls are clearly etched against the azure sky.
On the way back, Adam chats to our cool Tibetan driver, who is relieved to be going home with his car in one piece. He wants to know if we can ride, or have any horses. He proudly tells us about his own horse and how much money he has won with it in the races; several tens of thousands of Yuan apparently…
Practicalities
Labrang monastery: tickets for obligatory guided tours cost 40 Yuan. You'll need the guide to unlock the temple halls for you. There are English tours around 10:15 and 15:15; the quality of the guides' English varies, but seems to be improving. You will have to buy additional tickets for some of the outlying temples that can be visited without a guide. (Continue below)
Accommodation
Overseas Tibetan Hotel: we headed straight for the Overseas Tibetan Hotel, conveniently located at the monastery end of town, which we fondly remembered from our previous visit. We found the strongly-built, rather handsome Nepali owner busy distributing rooms to a Dutch tour group (Xiahe seems to be very popular with the Dutch). After a little bit of insisting we managed to secure a room for three nights for around 200 Yuan a night. Unfortunately, when we got to our room, it wasn't quite the way we'd remembered: the brightly painted ceilings and colourful rustic furniture were still there, but the paint was peeling, the wallpaper held on with Sellotape and the bathroom verging on the decrepit… It was also bitterly cold. Morale: you might be better off checking out some of the more recent hotels in the Chinese new town; though nothing looked very atmospheric. (Continue below)
Food
There are plenty of cheap eateries all along the main street, serving a mix of Tibetan, Chinese, Muslim and Western dishes, but our favourite was the Nomad, both for its food and atmosphere.
Nomad restaurant
Climb up the dirty stone staircase and rickety metal one to emerge in a large, glass-fronted dining room with an adjoining rooftop terrace. The Nomad serves a hearty mix of traditional Tibetan dishes such as dumplings, or momos, thick noodle soups, and steaming plates of yak meat, Chinese ones like stir-fried vegetables and hot pots, and even some Western favourites like pizzas and chips. The clientele are an equally eclectic mix of local Tibetan nomads, red-robed monks and tourists.
The weather
One word of caution: our last two visits to Xiahe took place between mid and end of September, which is one of the best months for visiting China. But even then, the weather in Xiahe is extremely changeable: you may wake up to glorious sunshine, get caught in a cold drizzle at midday, and huddle in your unheated room in the afternoon, while the snow falls outside! So, come prepared.
Getting to and From Xiahe
From Lanzhou's southern bus station there are many buses daily. You can also take a bus to Linxia and change to one of the many buses that ply the route between Xiahe and Linxia.
Heading South to Sichuan across the grasslands there are regular buses to Hezuo and the odd one to Zoige and Langmusi.
There is an early morning bus (7.00) to the interesting Qinghai town of Tongren. This bus crosses the Ganjia grasslands and passes through spectacular scenery.