Zhira Gompa no Sky Burials Please! What's a Sky Burial?
Zhira Gompa no Sky Burials Please! The plane is landing. Sky burials have been banned at Zhira Gompa due to vultures putting planes at risk.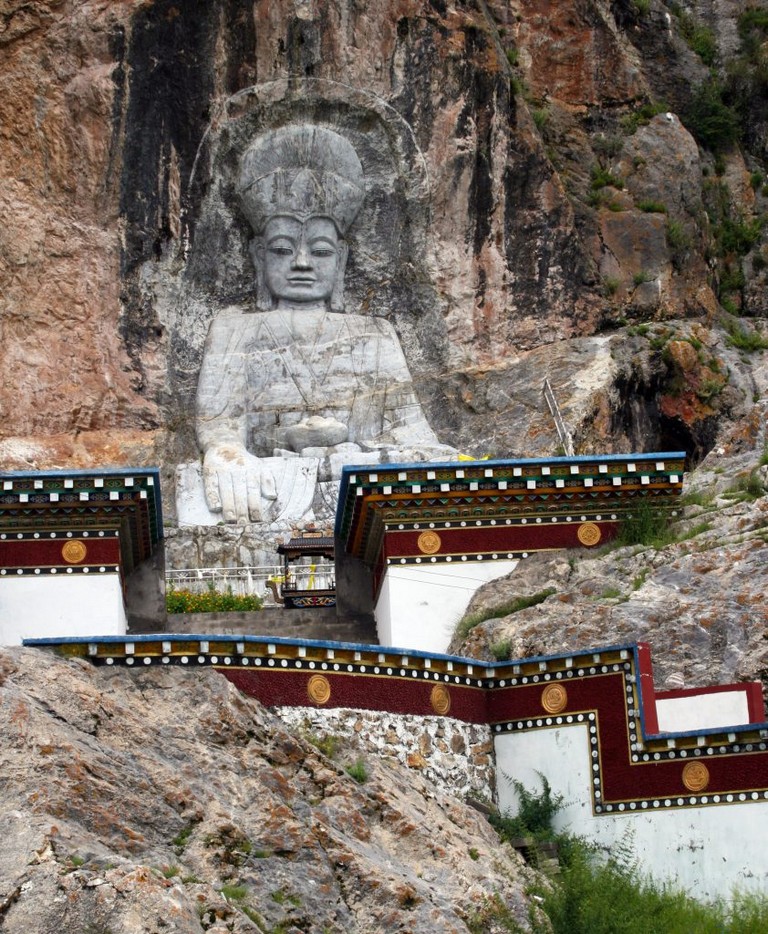 "Sky burial or ritual dissection was once a common funerary practice in Tibet wherein a human corpse is cut in specific locations and placed on a mountaintop, exposing it to the elements or the mahabhuta and animals – especially to birds of prey. In Tibet the practice is known as jhator (Tibetan: བྱ་གཏོར་; Wylie: bya gtor), which literally means, "giving alms to the birds."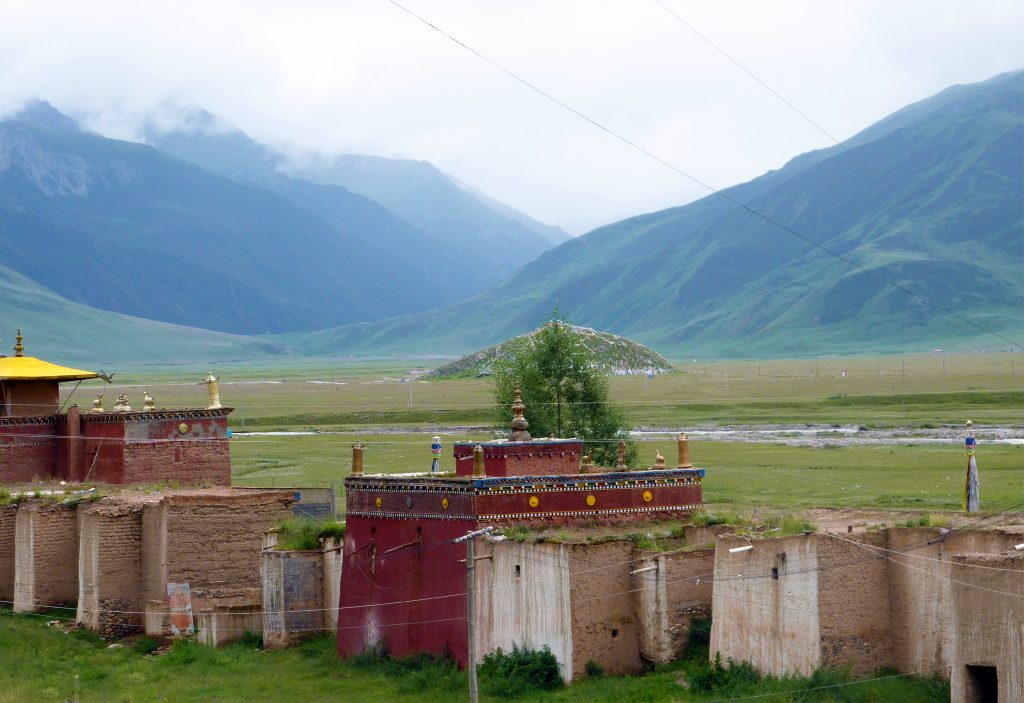 The majority of Tibetans adhere to Buddhism, which teaches rebirth. There is no need to preserve the body, as it is now an empty vessel. Birds may eat it, or nature may let it decompose. So the function of the sky burial is simply the disposal of the remains. In much of Tibet the ground is too hard and rocky to dig a grave, and with fuel and timber scarce, a sky burial is often more practical than cremation." (quote taken from Wiki-pedia)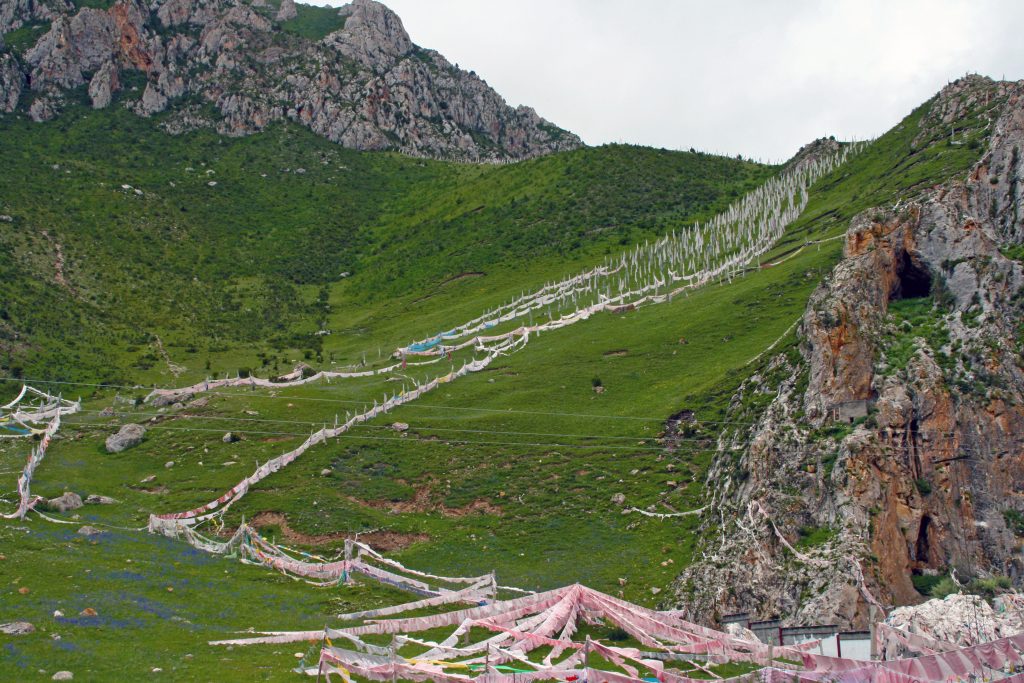 The grisly details and other considerations
I've never gone out of my way to see a Sky Burial, though I've had the opportunity. In Litang, Ganzi, Serxu, Zharu, Yushu and many other Tibetan areas, the practice is still common and it would have been just a matter of asking around. However, I've always felt that if a tourist turned up to the burial of a member of my family, to get some cool photos, I'd probably be far from pleased. I admit; I have been tempted. I'm not squeamish and I like gore (as anyone who has seen my grisly temple pictures can confirm).
Tales from others who have witnessed the burials describe rolling heads, cracked jaws, hammers breaking the spinal cord, saws hacking off limbs, the mixing of the chopped-up bits of the deceased with barley flour to aid the vultures' digestion… All these lurid scenes have their morbid appeal, especially the culminating moment when the vultures come swooping down and steal away with their carrion. So far I have resisted the temptation, as it still smacks of voyeurism to me. I know the Tibetans have another way of looking at the body, once life has gone out of it, but still…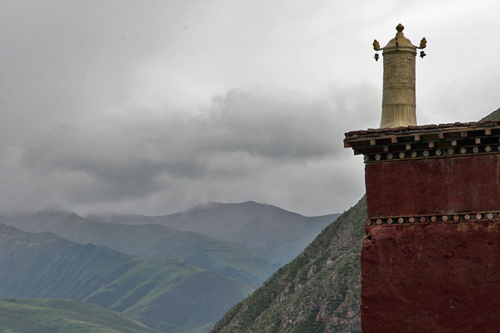 Zhira Gompa no Sky Burials Please! On vultures and planes.
On arriving at the Zhira Gompa, I asked our driver if he knew where the Sky Burial site was, as it had been mentioned in our guide book. He laughed and asked if I really wanted to see such a gruesome place. I replied that if it was on the Kora, I'd take a peek. He laughed again and said that the authorities had closed it. "Why?" I asked.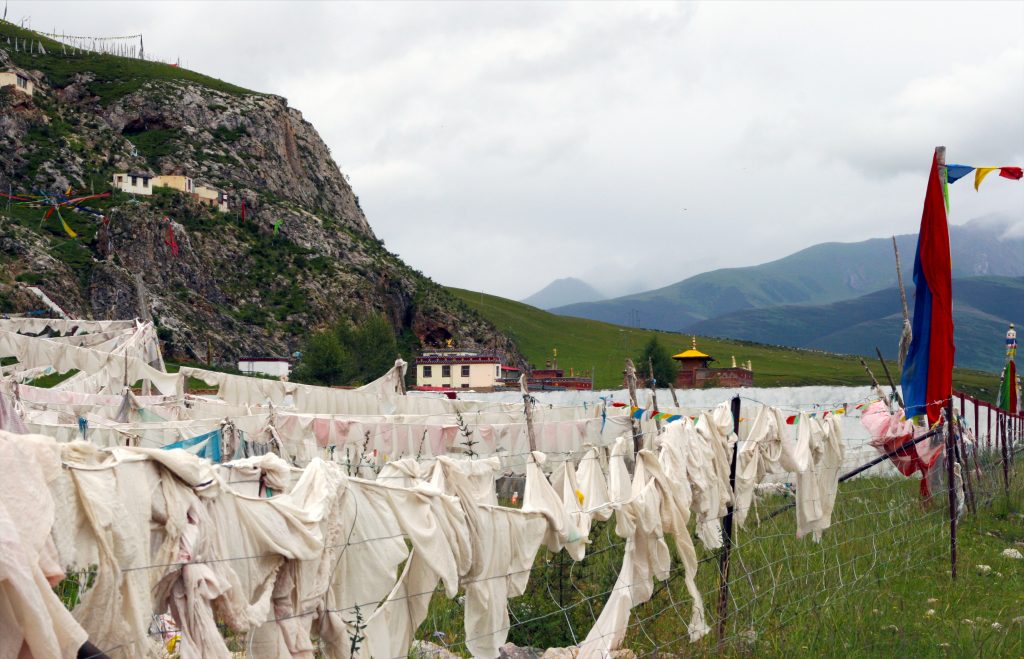 "The new airport," he replied dryly. Why would the authorities close a Sky Burial site because of an airport, I wondered? According to our driver, the authorities were worried that so many vultures circling the sky so close to the airport would pose a grave risk to out- going and in- coming planes. Having seen the size of the vultures in the Yushu area, I can appreciate that if they entered the engine of a plane, they might well cause a problem or two.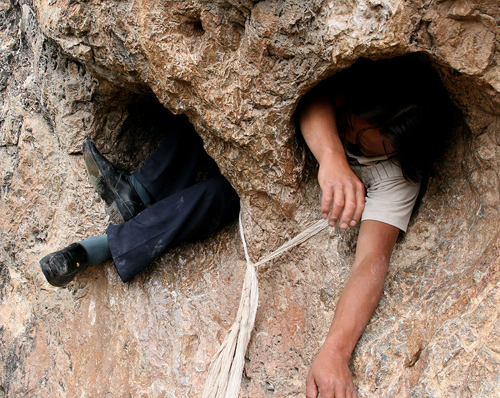 Zhira Gompa
As for Zhira Gompa itself, it's a lovely place. Several squat monastery buildings and white-washed stupas are spread out over a meadow, nestling amongst wild flowers. There are magnificent views of the verdant, wide open plains surrounded by soaring peaks. We couldn't find anyone to open the buildings and chapels for us (very unusual in Yushu, where most monks were exceedingly friendly and helpful), but we managed to bump into a small group of pilgrims, who were entertaining themselves by trying to squeeze their bodies through a small tunnel in a sacred rock.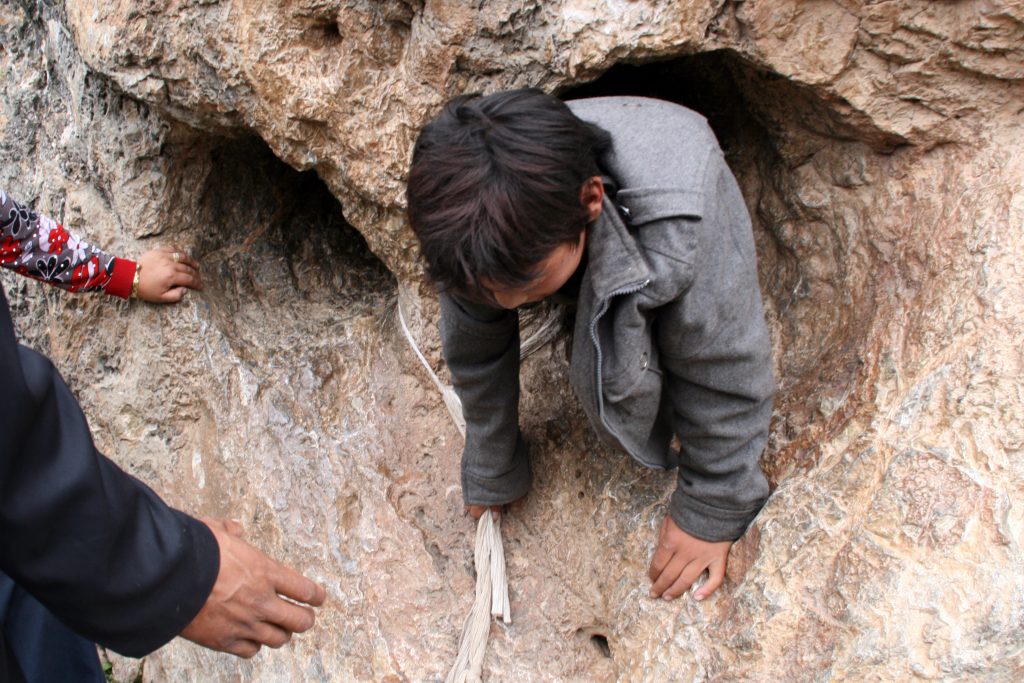 One of them actually got stuck and had to be pulled out by his companions. Having seen what happened to this slim young guy, I, with my bulky western body, resisted all their attempts to get me to go through this Houdini act. The pilgrims invited us to walk the Kora with them but, having just completed the circuit at the Princess Wencheng Temple, neither our legs nor our lungs were up for it. It was a pity in a way, because the Kora, which climbed above the Zhira Gompa and trailed off towards the mountains, certainly looked beautiful.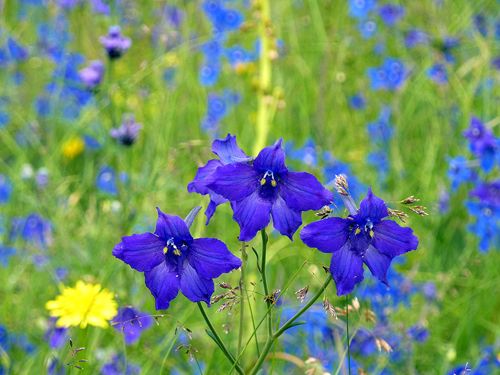 Apart from our meeting with the pilgrims, the other highlight of Zhira Gompa was the large Buddha statue, carved out of the rocks, next to another, small cave.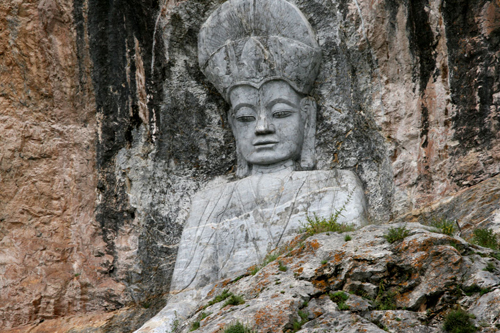 Zhira Gompa no Sky Burials Please! Sky Burials in Yushu
Don't worry too much if you are desperate to see a Sky Burial: there are other Gompas in the vicinity of Yushu that still carry them out. One traveller we met enthusiastically told us of the still- bloody human jaw, complete with a full set of teeth, he had found lying around at the Sky Burial site near the Domkar Gompa (see future article). Each to his own, I thought …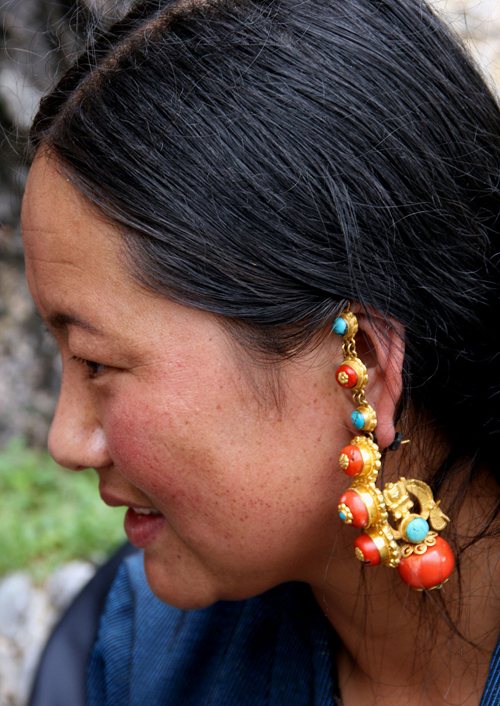 Zhira Gompa no Sky Burials Please! Coming and Going:
Zhira Gompa is only a few kilometres from the famous Princess Wencheng Temple and about 15 kilometres from Yushu. There is little if any public transport, so hiring a car might be your best option. Otherwise, you could take the Princess Wencheng monastery bus from Yushu, walk to Zhira Gompa and then hitch a lift back. Once the airport road that passes close by is finished, there will be much more traffic.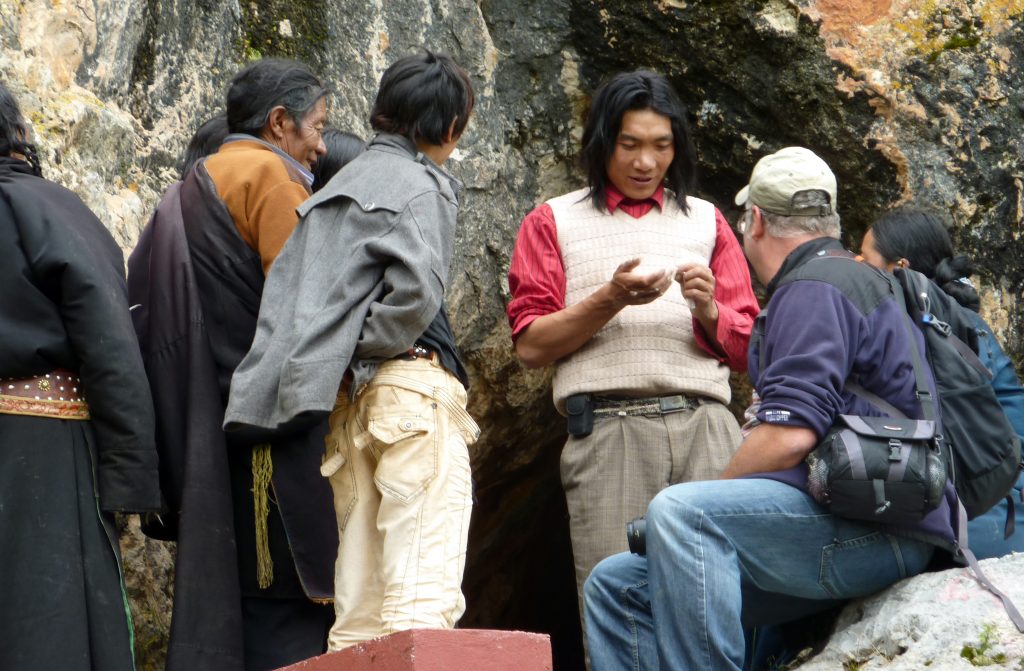 Note for further reading: Sky Burial by Xinran (author of the renowned, The Good Women of China).
If you are interested in sky burials, you should read Xinran's novel, Sky Burial. It tells the moving story of a young Chinese woman, whose soldier husband goes missing in Tibet.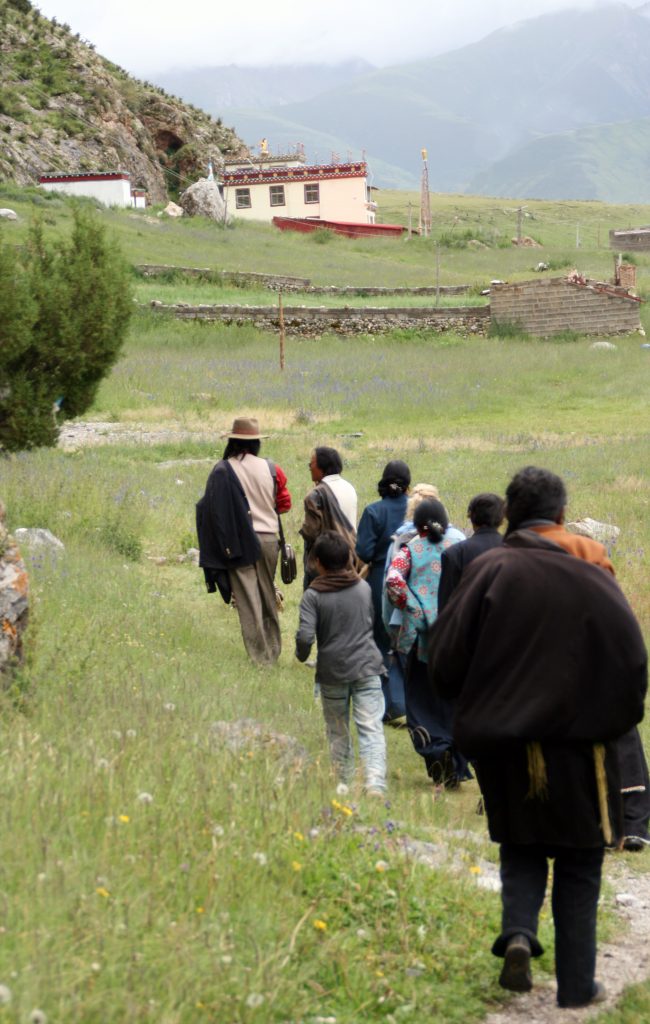 According to the official version, he was killed in action. However, other rumours suggest that he was brutally slaughtered by a gang of Tibetan 'savages' and fed to the vultures… Not satisfied with the official explanation of her beloved's disappearance and anxious to know what really happened to him, the young, inexperienced widow sets out for the inhospitable grasslands of Tibet, completely on her own.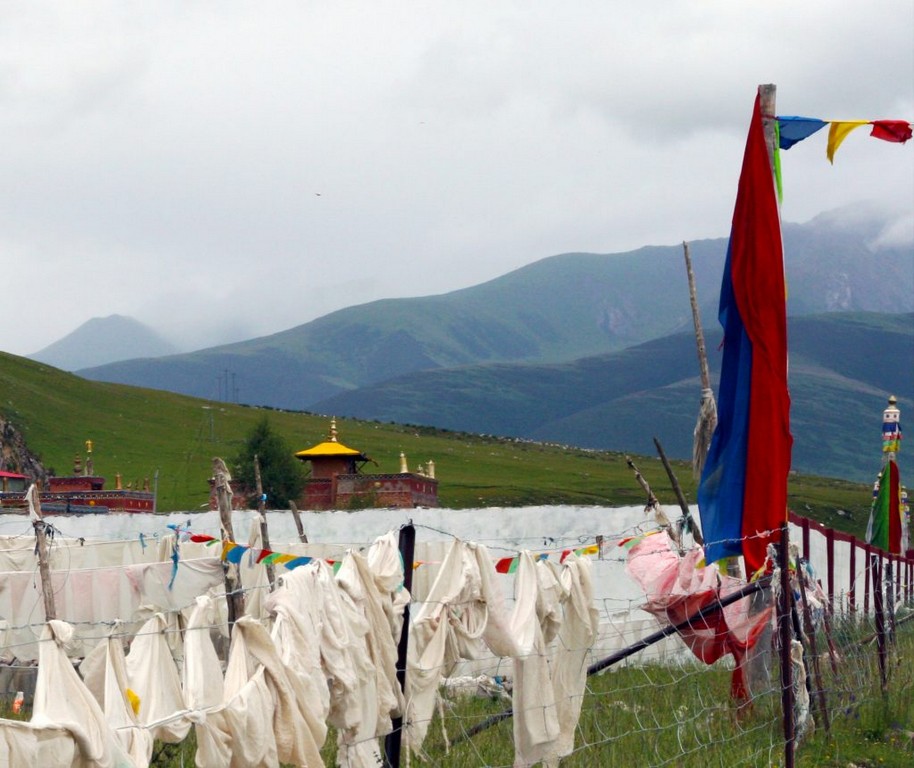 She'll spend most of her life there, living with the nomads, learning about the Tibetan way of life, and tirelessly asking questions about her vanished husband. Eventually, after a relentless, thirty-year quest, she'll find out what really happened to him.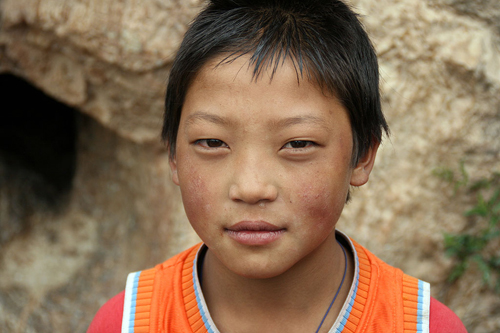 Links to other places around Zhira Gompa